Dead Ringers: Prime Video Posts Teaser for Rachel Weisz Limited Series
With the limited series hitting Prime Video on April 21, here's a teaser trailer & key art for the Rachel Weisz-starring Dead Ringers.
---
Earlier this month, viewers were treated to the first set of preview images for Prime Video's highly-anticipated psychological thriller Dead Ringers. Created, written, and executive produced by Emmy-nominated writer & playwright Alice Birch (Normal People, Succession, The Wonder), the modern take on David Cronenberg's 1988 Jeremy Irons-starring thriller features Rachel Weisz playing the double-lead roles of Elliot and Beverly Mantle, twins who share everything: drugs, lovers, and an unapologetic desire to do whatever it takes—including pushing the boundaries of medical ethics—in an effort to challenge antiquated practices and bring women's health care to the forefront. With the series set to debut in April, we're getting a look at not just the official key art for the series but also an official teaser trailer that offers just enough to have a better sense of the series while leaving you wanting more.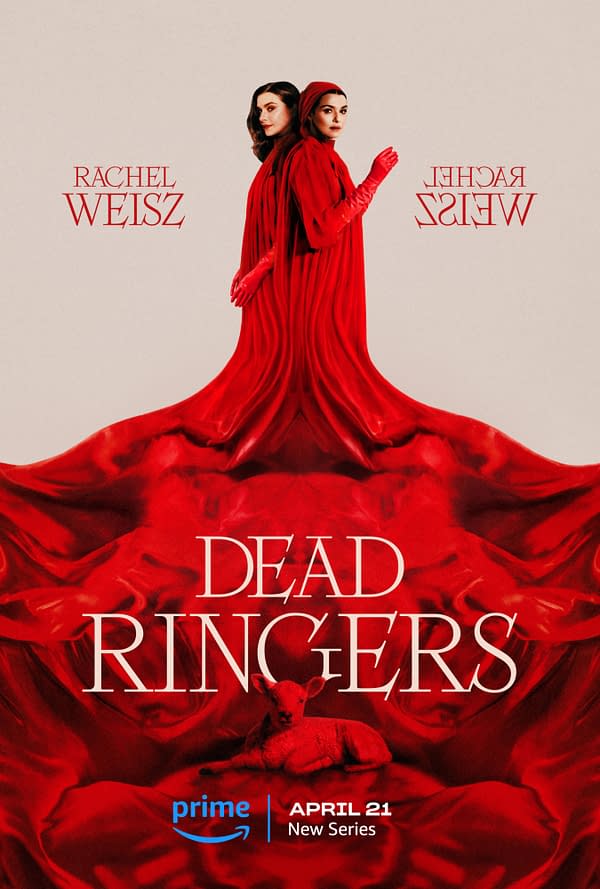 Joining Weisz are Britne Oldford (The Umbrella Academy, American Horror Story: Asylum) as Genevieve, Poppy Liu (Hacks, Better Call Saul) as Greta, Michael Chernus (Severance, Orange is the New Black) as Tom, Jennifer Ehle (Zero Dark Thirty, Saint Maud) as Rebecca, and Emily Meade (The Deuce, The Leftovers) as Susan. With the six-episode streaming series premiering exclusively on Prime Video (we're talking 240+ countries & territories across the globe) on April 21st, here's a look at the official teaser trailer for Dead Ringers:
Sean Durkin (Martha Marcy May Marlene, The Nest, The Iron Claw) directed the series' first two episodes and co-directed the last episode of the series. In addition, the directing team also includes Karyn Kusama (Jennifer's Body, Girlfight), Karena Evans (P-Valley, Snowfall), and Lauren Wolkstein (A Friend of the Family, Y: The Last Man). Weisz and Showrunner Birch also serve as executive producers for Astral Projection. Ali Krug executive produces for Annapurna Television, while James G. Robinson, David Robinson & Barbara Wall executive produced for Morgan Creek. In addition, Durkin, Stacy O'Neil, Sue Naegle, Erica Kay, Anne Carey, and Polly Stokes also serve as executive producers.