Digimon Adventure 2020 Season 1 Episode 1 Tokyo: Digital Crisis Review
As fans of the franchise have known for some time now, Digimon Adventure is back but there's a slight catch. While the series may be returning, it's going the reboot route and taking us back to square one. The original digi-destined still have that feel to them just like all those years ago. This first episode felt like a mix of the first Digimon season mixed with the first film, even the visuals made that level of connection. I wonder if it will go the distance and make the movie canon as it deviates from the source material, with us getting some sense of how this may go in the meeting between Tai and Agumon (which hit me with that same level of "Awww" as I remembered it the last time).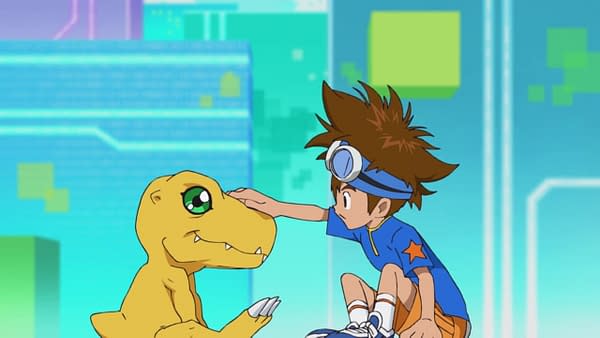 As opposed to the original series' backstory, this one is a bit different. We see Tai getting ready for Summer Camp when weird things start happening all over Tokyo and he runs off to the train station worried about his mom and little sister. Tai meets Koshiro (Izzy) along the way and while running gets transported to cyberspace while Koshiro is still in the real world trying to communicate with him. One scene of particular interest took place when Agumon met Tai and tells him he is very happy they finally have met him. Does this mean Agumon remembers even if Tai does not? Because if that's the case, then the movie now becomes cannon.
This first episode is packed with action and Tai joins Agumon in putting up a fight. Agumon seems to digi-volve right away, which also shows some type of bond is already there between the two of them. I hope they revisit this in the future. For now, it seems they want to flesh out the world and the characters a bit before fully introducing us to them. So far, I am all in for this reboot even if it does not follow the same storyline. I do hope they remain faithful to the characters I love so much and to the material even if they stray from it.
I first watched Digimon when I was a kid. In Latin-America, it was shown as part of FOX Kids and I remember all those mornings, afternoons, and evenings sitting with my brother pretending to be part of their world and singing the songs to the top of our lungs. This anime, along with Cardcaptor Sakura, is one of the biggest inspirations behind me becoming the person I am today. I love the lessons taught and learned from it, and I am very much looking forward to seeing this new take on the series I grew up fond of. It was an excellent start that had my skin covered with chills and my eyes tearing up. The only thing missing was the "Brave Heart" song being played while Agumon "digi-volved." Oh, and for Wizardmon and Ken Ichijouji to return is this edition. *Ahem*