Well, now we know in the Doctor Who universe that "early 2020" means New Year's Day as the Doctor (Jodie Whittaker) and her companions Ryan (Tosin Cole), Yasmin (Mandip Gill) and Graham (Bradley Walsh) materialize back on to BBC One and BBC America screens with two-part series-opener Spyfall. Written by showrunner and head writer Chris Chibnall, the second-half of the series premiere will air on Sunday, January 5 – with subsequent episodes airing on Sundays.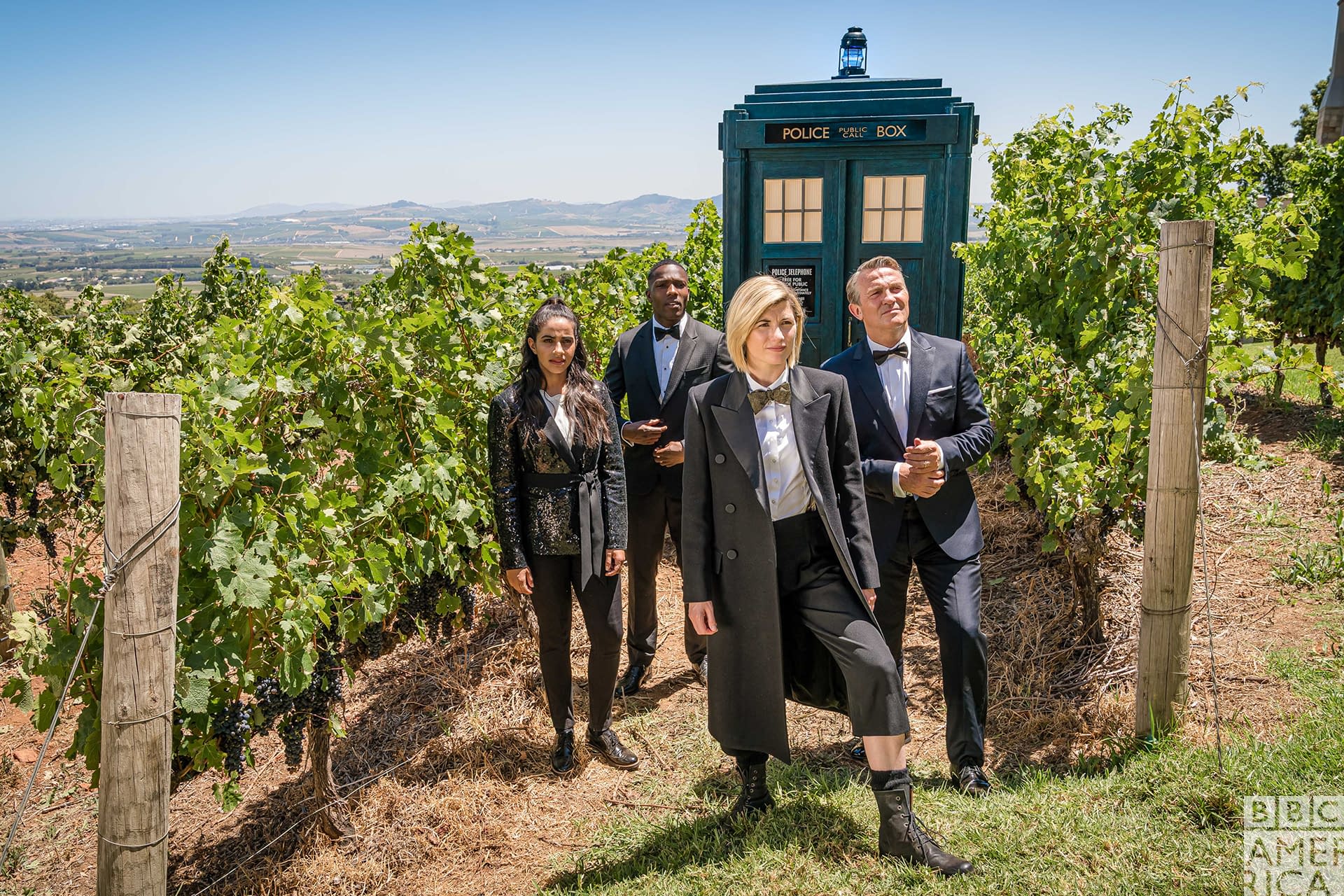 Last month, Doctor Who fans learned that Stephen Fry, Sir Lenny Henry CBE, Goran Višnjić, and Robert Glenister would be joining Jodie Whittaker's 13th Doctor during Series 12, and received a new teaser with tagline ("Space. For Everyone."). Since then, the network released an official trailer, a release date trailer, and a "Spyfall" sneak preview – and now, Chibnall is talking all things "nuWho" with The Onion's AV Club.
Here are some of the highlights:
● Ryan and Graham will continue trying to figure out the new dynamic of their relationship:
"Well, they're still having to navigate that, and the incredible thing about family relationships, particularly a step-family relationship, is [they're] like no other. So you'll see them continue to encircle each other, navigate each other, irritate each other, adore each other—it's a constantly in flux relationship, really, in no small part due to that love and chemistry between [Bradley Walsh] and [Tosin Cole] who play Graham and Ryan. They also have a great comic timing together. I think it was something that really came out last year; I first noticed it when we were filming the Rosa Parks episode with the little scene they do by the river, where they're ensnaring the bus driver in what we call a fishing take down.

They're a great duo, and there's all sorts of flavors that you can play with there. As you say, there's a lot of pain in that relationship, but equally there's a lot of humor and warmth and love as well."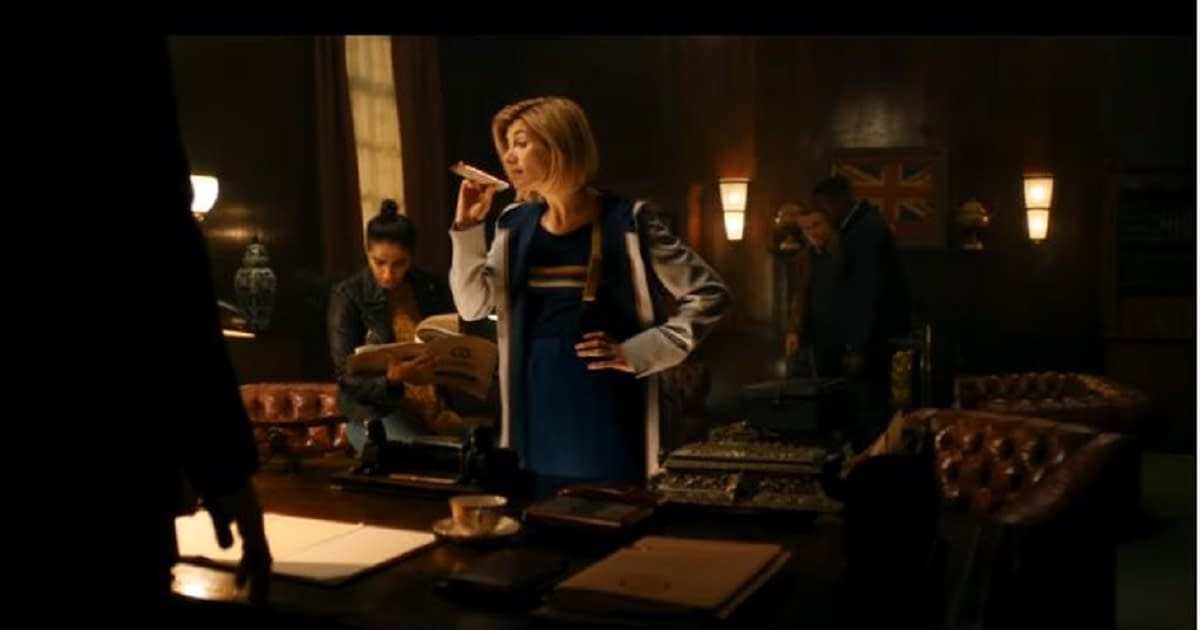 ● As the Doctor continues to trust her with side missions, Yaz will begin to come more into her own as an independent operator – and not always waiting for the Doctor's orders:
"I think for Yaz, it's that sense of, how far can she go? She's been on quite a few adventures, quite a few missions now, she's getting more independent. The Doctor trusts her to go off and do stuff by herself. So that thing you can see growing in her: She won't always be doing exactly as the Doctor tells her, she's got ideas of her own. She's becoming an independent investigator on her own, occasionally."
● Referring back to the list of guest stars, we learn who Glenister will be playing (Thomas Edison) and a confirmation of Bleeding Cool's Adi Tantimedh's theory that Višnjić was set as Nikola Tesla:
"Yeah, he's already been in one of the greatest ever stories of Doctor Who. So your knowledge is excellent. You get another five gold stars. Yeah, from "The Caves Of Androzani," which was apparently his second ever screen appearance, I've been told. I've worked with him previously on a film, The Great Train Robbery. He's just one of the greatest British actors, to be honest. So, again, he hadn't been in 21st century Doctor Who, so it was a great opportunity to bring him in. He plays Thomas Edison in a story about Nikola Tesla. Tesla is played by Goran Višnjić, so we've got a couple of amazing acting heavyweights in that episode, going toe-to-toe. He's a beautiful, beautiful actor, Robert, and I'm really pleased he said yes to that and it's a lovely little nod to the past, going, "Oh, you go all the way back to Peter Davison's last story.""
Speaking with RadioTimes recently, Chibnall explained that the goal of this season is to give both new and long-time Doctor Who fans a better appreciation of the scope of the Doctor's universe:
"Last year was a recruiting year for the show, and I think we managed to recruit some people for the show. That's exciting. And obviously we kept the existing audience and built on that. I think this year we're developing that, so for all the people who are new to Doctor Who we're going to go 'Look at the amazing world of Doctor Who, look at all the treats that are in there.'

So we're building on last year. There are lots of new faces, a few old faces. There are some things trickling through which might be important. It's different! I think you always need to take new, big risks from a storytelling point of view.

Doctor Who has to exist in the modern television landscape. There is so much drama, there are so many shows. We have to continually find new reasons to be existing. But also there's loads of things the show hasn't done before. I think you saw last year that we took a lot of risks, and I think that they paid off, and I think that we'll continue to take some big risks this year.

But you can do that and also give people all the stuff they love about Doctor Who as well. You balance the two.

Risk is built into Doctor Who, from day one in 1963. No question of that."