"Doctor Who" Series 12: Jodie Whittaker, Chris Chibnall & More Tease What's to Come [VIDEO]
Well, now we know in the Doctor Who universe that "early 2020" means New Year's Day as the Doctor (Jodie Whittaker) and her companions Ryan (Tosin Cole), Yasmin (Mandip Gill) and Graham (Bradley Walsh) materialize back on to BBC One and BBC America screens with two-part series-opener Spyfall. Written by showrunner and head writer Chris Chibnall, the second-half of the series premiere will air on Sunday, January 5 – with subsequent episodes airing on Sundays.
Last month, Doctor Who fans learned that Stephen Fry, Sir Lenny Henry CBE, Goran Višnjić, and Robert Glenister would be joining Jodie Whittaker's 13th Doctor during Series 12, and received a new teaser with tagline ("Space. For Everyone."). Since then, the network released an official trailer, a release date trailer, and a "Spyfall" sneak preview – and now Whittaker, Chibnall, Cole, Gill, and Walsh are on hand to share their thoughts (and throw out a tease or two) on the series' return: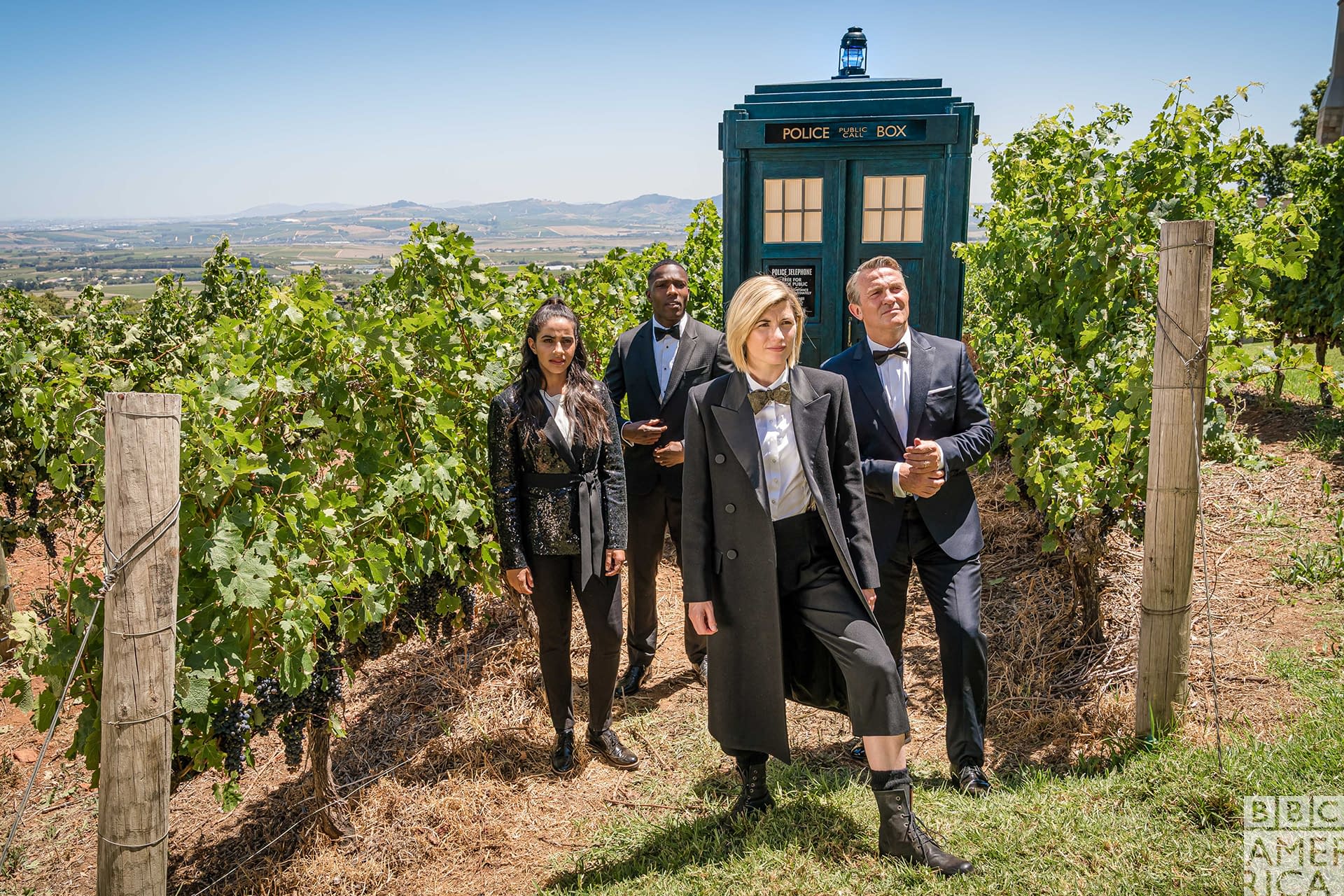 Chibnall opened up exclusively to Deadline Hollywood to discuss what fans can expect with Series 12. Here are some highlights that caught our eyeballs:
● Fan should expect action movie-level action and suspense from series-opener "Spyfall" – but it won't lose sight of what makes it Doctor Who:
"Episode one is probably the biggest episode of Doctor Who we've done, or has been done, I would imagine. Physically, there's a lot of stunts, there's a lot of locations, it's a globe-trotting action thriller. But you don't want to lose sight of character and intimacy and emotion. You can't do everything at 11."
● While Chibnall admits that it's important to keep the show ambitious and growing, there is still one major advantage the show has over most genre shows:
"Doctor Who has a thing that those shows don't have, which is that we go somewhere new every week. So every week, we're in a new world, we're in new locations, we've got new guest actors, got a new guest cast, got new monsters, we've got a new threat, got a new story. So the incredible thing is Doctor Who has already structured itself like that. Our responsibility is to make sure the production standards are up to scratch."
● The success of Series 11 has clearly emboldened the show's creative effort, with Chibnall teasing "different narrative structures" and an episode-connecting theme running throughout the new series:
"The success of last year really emboldens you. All that audience we gathered up last year, we're now going to take them on a journey into the toy box of Doctor Who"
Speaking with RadioTimes recently, Chibnall explained that the goal of this season is to give both new and long-time Doctor Who fans a better appreciation of the scope of the Doctor's universe:
"Last year was a recruiting year for the show, and I think we managed to recruit some people for the show. That's exciting. And obviously we kept the existing audience and built on that. I think this year we're developing that, so for all the people who are new to Doctor Who we're going to go 'Look at the amazing world of Doctor Who, look at all the treats that are in there.'

So we're building on last year. There are lots of new faces, a few old faces. There are some things trickling through which might be important. It's different! I think you always need to take new, big risks from a storytelling point of view.

Doctor Who has to exist in the modern television landscape. There is so much drama, there are so many shows. We have to continually find new reasons to be existing. But also there's loads of things the show hasn't done before. I think you saw last year that we took a lot of risks, and I think that they paid off, and I think that we'll continue to take some big risks this year.

But you can do that and also give people all the stuff they love about Doctor Who as well. You balance the two.

Risk is built into Doctor Who, from day one in 1963. No question of that."