Donald Trump is thePresident of the United States most associated with pro wrestling since Abraham Lincoln, a man Trump has said was treated better than he is. A member of WWE's Hall-of-Fame, Trump's association with WWE goes all the way back to WrestleMania 4 and 5, which were hosted at Trump's Atlantic City casino, Trump Plaza. Trump himself has been an in-storyline owner of WWE and even participated in a record-breaking WrestleMania as part of the Battle of the Billionaires, where Trump pitted his champion, Bobby Lashley, against Vince McMahon's champion, Umaga, at WrestleMania 23. The McMahons have spent millions supporting Trump's presidential campaigns, earning Linda McMahon a spot on Trump's cabinet which she only left to head up a super PAC supporting Trump's reelection efforts.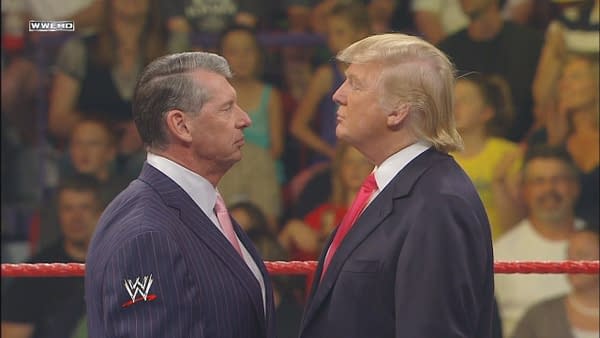 So it's only natural that Trump should look to WWE to solve his crowd size problems. The President, just like WWE, AEW, and other wrestling promotions faced a big problem with the start of the coronavirus pandemic: social distancing measures and stay-at-home orders inhibited a large part of the appeal of his shows. Spouting divisive rhetoric in front of a two-thirds-empty arena just doesn't have the same panache as doing it in front of massive crowds of Trump marks.
Trump tried to recreate the magic of a live crowd by holding his rallies in front of reporters during daily coronavirus briefings, but the mostly critical reporters in attendance just didn't have the same fervor of Trump's most fervent supporters. When Trump returned to allowing fans into live shows at a rally in Tulsa, Oklahoma this past weekend, the turnout was disappointing, with only about 6,000 supporters showing up, far less than the one million Trump promised would be trying to get into the event, and not even enough to fill the 19,000 seat arena to capacity. Oops!
Luckily, the pro wrestling industry has been paving the way for how Trump could handle things moving forward. Just as pro wrestling shows by AEW and WWE have been using wrestlers to provide ambient crowd noise, Trump could use his own lackeys to do the same. A small venue filled with Republican congressman and Senators, as well as administration officials like Bill Barr and Jared Kushner, could easily provide a comparable level of excitement as an arena full of screaming Trump marks. Sure, Trump's Tulsa rally may not have been as packed as some of Trump's past events, but Trumpamania still runs wild over most of the Republican Party, who have proven willing to do just about anything to stay in the good graces of the Commander in Chief.
And speaking of that crowd-size, half-full arenas are a problem pro wrestling was tackling even before the pandemic set in. While the great sport of pro-wrestling has sold out giant arenas in the past, the fact is that in the year leading up to the pandemic, ticket sales were not what they once were. Frequently, episodes of AEW Dynamite, WWE Raw, and WWE Smackdown were unable to sell more than half of the seats in any given arena. Even WWE PPVs sometimes had trouble selling out before the pandemic. Wrestling has solved this problem by making use of a hard camera and moving all of the fans to one side of the arena.
If Trump does play a 19,000 seat arena and only 6,000 fans show up, as happened in Tulsa this weekend, that's more than enough to fill up a single side within the narrow range of cameras, with the opposite side tarped off. As long as cameras avoid showing empty seats, it will look like the arena is packed on television. And just as WWE has been known to inflate the numbers of its crowd sizes at events, often announcing record-breaking sellouts with completely made-up numbers, Trump could have Donald Trump Jr. head out to the podium to announce that one billion jillion people are in the crowd tonight, breaking all records for whatever venue he's playing. Any reports to the contrary could be easily dismissed as fake news.
There's one more option only recently explored by the wrestling business that Donald Trump could use to enhance his rallies. WWE recently promoted a match between Randy Orton and Edge as The Greatest Wrestling Match Ever. It seemed like a ludicrous way to promote a match between two aging stars who aren't even on the same level as some of the performers who most fans would consider as candidates for holding such an honor. But that kind of boasting would actually be right at home in Donald Trump's repertoire. Would any Trump supporters even bat an eye if Trump promoted every rally as "The Greatest Political Rally Ever?"
And at "The Greatest Wrestling Match Ever" between Edge and Orton, WWE solved the lack of a huge crowd by simply editing the footage to include crowd noise and chants from past events that got massive cheers. Sure, it would be a change for Trump to pre-record his rallies, but it would not only provide the ambiance required to make an event truly great, but it would open up the possibility for even more cinematic techniques, such as those used in WWE's Boneyard Match at WrestleMania 36, where Trump could perform stunts such as arriving at the rally on a motorcycle and tossing stuntmen dressed as CNN reporters off of the roof of a barn. Trump could draw from other wresting storylines of the past as well, such as Vince McMahon's Kiss My Ass club. Ted Cruz would definitely do it.
As Donald Trump looks to recapture the electoral magic of his first presidential campaign, he should look to his roots in the pro wrestling business for inspiration and ideas on how to proceed, rather than simply relying on the monetary donations of the billionaires behind WWE and AEW to boost his prospects.
Enjoyed this article? Share it!