Drag Race All Stars Season 5: Bob The Drag Queen & I Spill Some Tea
Bob The Drag Queen is back with her drag sister Monet X Change to "kiki" about this week's episode of RuPaul's Drag Race All Stars. To quote Bob, "I'm helmed." This episode was fine, but it was a stand-up challenge and we all knew that Blair St. Clair wasn't long for this competition going into it. There was nothing big and exciting, it was just a means to next week's final-three finale. I could listen to Bob and Monet talk about anything all day long, but the fact that they're talking about Drag Race makes it just that much better.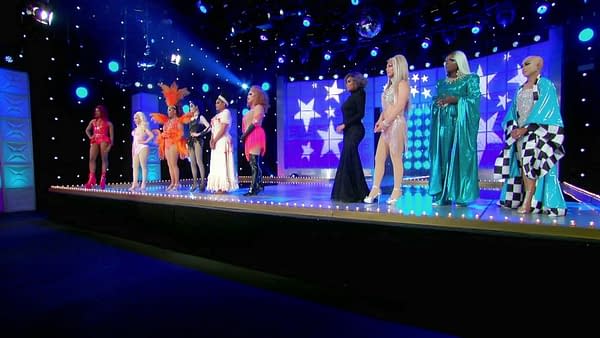 Now, jumping into it, goodbye Blair St. Clair! It's about @%!&ing time! I'm just miffed she took up space for this long and we didn't get to hear Alexis Mateo's stand-up set, but at least she's gone. Focusing on the actual queens who have potential now: Jujubee, Shea Coulee, and Miz Cracker are a well-deserving top three and I absolutely cannot wait to see what challenges RuPaul puts them through next week.
But first, we have this week to talk about. Bob is back in another color of the rainbow Pride flag, and "orange" you glad this week's look has matching pants? If you don't like my jokes, Blair St. Clair wrote them. So, Cracker killed it this week: as they put it, of course NYC queens are funny, that's just what you have to be as a queen in The Big Apple. Besides, she's Bob's drag daughter, so you know she's got a sense of humor. Shea did pretty well, Jujubee did alright, and Blair completely bombed and basically laid down and let a bulldozer just run right over her this week.
On the runway, the category is "freaky": Juju, Blair, and Shea all did colorful club kid looks circa the 1990s and Juju's was great, Blair's and Shea's were fine. Cracker came out of left-field with a plague doctor shroud, then revealed a sexy blinged to death well…death look. She embodied lady death and it was everything. Her risk paid off and she won for a second week in a row – but this time the lip sync assassin was Kennedy Davenport and honestly? It was meh. I expected more from Miss Davenport, but I'm glad Cracker won this week. And of course, I don't ever think there was a chance Blair wouldn't be leaving this week.
Bob screaming that she loves Alexis Mateo and Monet sassing her sister for being old is legendary and I am in love. Absolutely gagged and in love. With only a handful of days until the All Stars 5 finale, I absolutely cannot wait to see how this finishes strong. Of course, I'd love to see Jujubee win after seasons upon seasons of delivering grade-A content, but there is not a single queen in the final 3 who does not deserve that crown. Can they pull a Mean Girls and split the crown up so everybody is a queen?