"Fear the Walking Dead" Season 5 Episode 7 "Still Standing": Where "The Road to Rick Grimes" Led Us This Week [SPOILERS]
AMC's Fear the Walking Dead took a break from all of the "Rick Grimes" conspiracy theories from the past few weeks to focus on some of the major storylines still dangling – and we weren't disappointed. Dorie (Garret Dillahunt) continued helping Dwight (Austin Amelio) with his search for Sherry – even if Sherry isn't looking to be found. Morgan (Lennie James) has a brief reunion with Grace (Karen David) – and his walking stick – before Grace informs him of the impending nuclear reactor meltdown. Charlie (Alexa Nisenson) and Strand (Colman Domingo) found a new way to take to the skies – at least temporarily – thanks to "Jimbo," though an unexpected landing leaves them surrounded by a gaggle of "atomic walkers."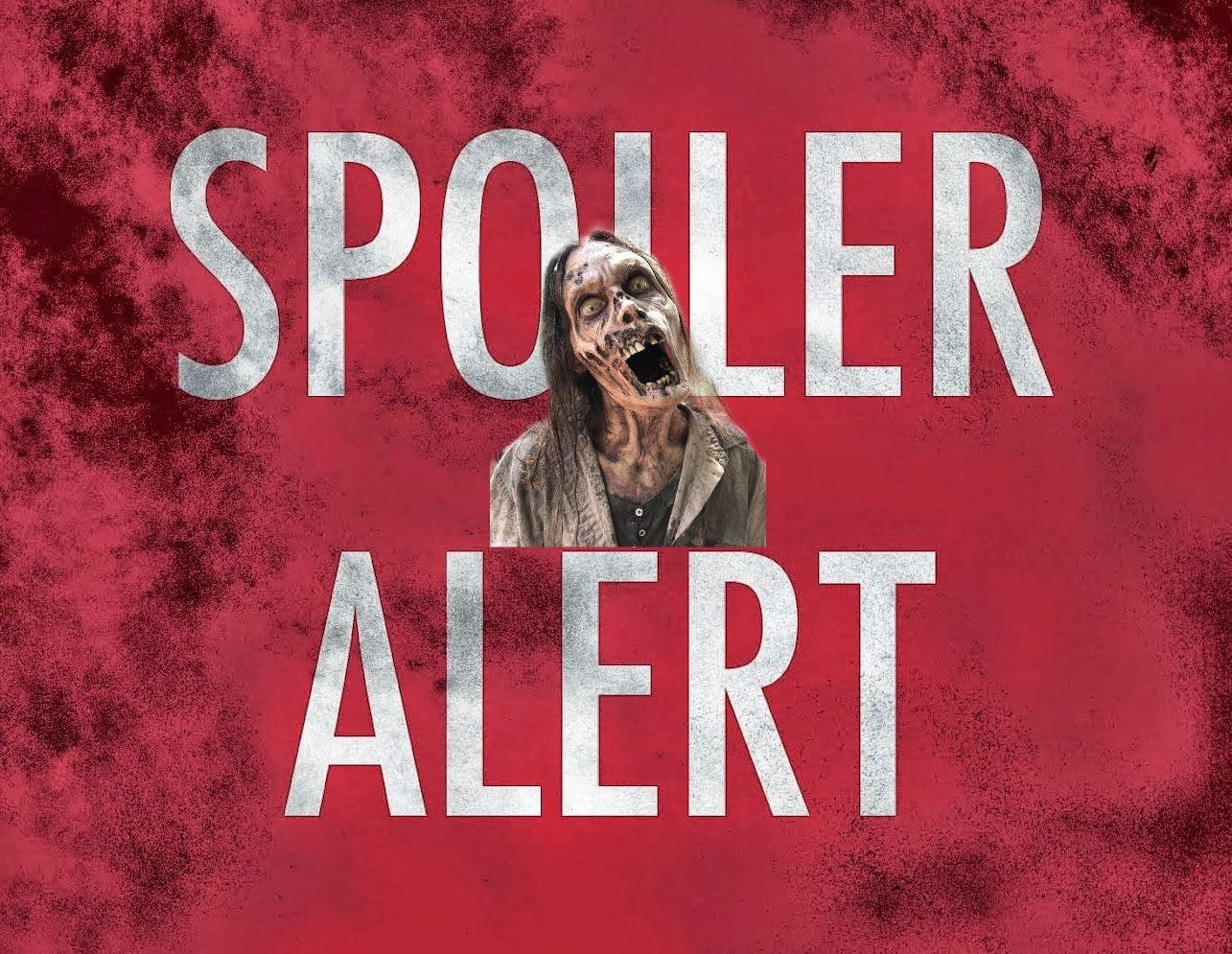 Which brings us to this week's episode "Still Standing," where the connections to the upcoming Rick Grimes films as well as The Walking Dead universe overall were quite a bit more substantial than last week's edition. Sorry, but a brief, vague conversation between Althea (Maggie Grace) and June (Jenna Elfman) doesn't count – even with our suspicions about Grace (Karen David) growing.
The Walking Dead season 5, episode 7 "Still Standing": Charlie and Strand try to get to safety; Dwight receives some assistance from Dorie on his mission; Morgan focuses his attention on the bigger goal; Alicia refuses to go down without a fight.
● Remember this scene released by AMC earlier this week?
So as much as Althea wanted to keep her time with CRM's robo-solider Isabelle (Sydney Lemmon) a secret, the needs of the many are starting to outweigh the needs to a very few. An unexpected leak in the plane forces Althea's hand, so she takes June with her to grab some fuel. When the duo finish loading the fuel, June expresses her "amazement" at how Althea knew where to find the containers – and that's when Althea gives June a quick rundown (no names!) on what happened. To be fair? While I feel for Althea and her situation – we're talking a vast conspiracy involving helicopters, mysterious symbols, and them willing to kill their own people for their "greater cause," people!
Feels like June's gonna' suffer from a bad very case of "loose lips sinking ships" before the season wraps… helps feed into June's ten-ton foreshadowing line at the end of her talk with Althea about how sure she is that Althea will see her friend again.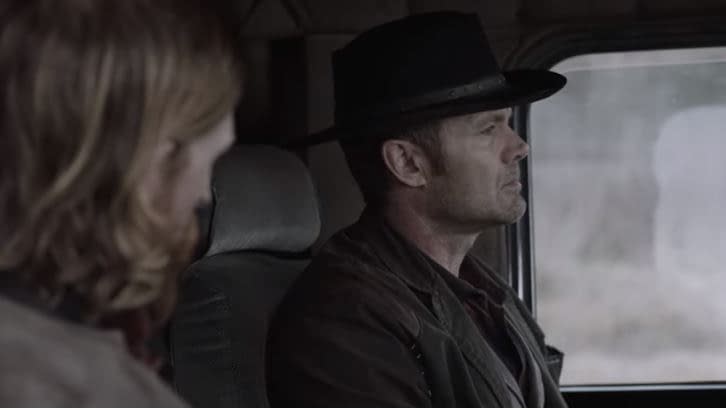 ● Dorie finally comes clean to Dwight about the note from Sherry he found last week – the one where Sherry tells Dwight to forget about finding her and to do right by her by starting a new life. After some reflection, that's exactly what Dwights decides to do by deciding to stay with Dorie, Morgan, and the others – which of course means we should be expecting a major Sherry appearance of some type very soon (maybe part of the CRM conspiracy now?), either in person or thematically.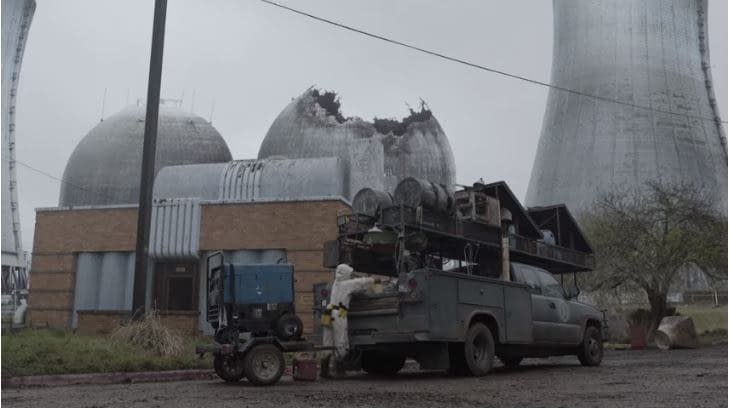 ● Seeing a lot of himself in her when he ends up in her home, Morgan opens up to Grace about what Eastman taught him years ago (during The Walking Dead days) and how it helped keep him alive.

AMC's "Fear the Walking Dead" Season 5
Heading into season 5 of Fear the Walking Dead, the group's mission is clear: locate survivors and help make what's left of the world a slightly better place. With dogged determination, Morgan Jones leads the group with a philosophy rooted in benevolence, community and hope. Each character believes that helping others will allow them to make up for the wrongs of their pasts.

But trust won't be easily earned. Their mission of helping others will be put to the ultimate test when our group finds themselves in unchartered territory, one which will force them to face not just their pasts but also their fears. It is only through facing those fears that the group will discover an entirely new way to live, one that will leave them forever changed.
Earlier this year, FTWD cast member Alexa Nisenson (ex-Vulture Charlie) was promoted from recurring to series regular for the upcoming season. Joining Nisenson are Karen David (Legacies, Galavant) as series regular Grace, The Walking Dead alum Austin Amelio reprising ex-Savior Dwight, and the returning Ruben Blades as Daniel Salazar. Bailey Gavulic (Prodigal, At The End Of The Day) will play young survivor Annie, who ends up crossing paths with our crew. Cooper Dodson's (American Horror Story, Preacher) Dylan and Ethan Suess' (Scorpion, Henry Danger) Max are two additional new survivors this season, though what their connection to Gavulic's Annie (if any) is still unclear. Matt Frewer (Max Headroom, The Stand, Watchmen) also joins the cast as shady denim factory co-owner Logan.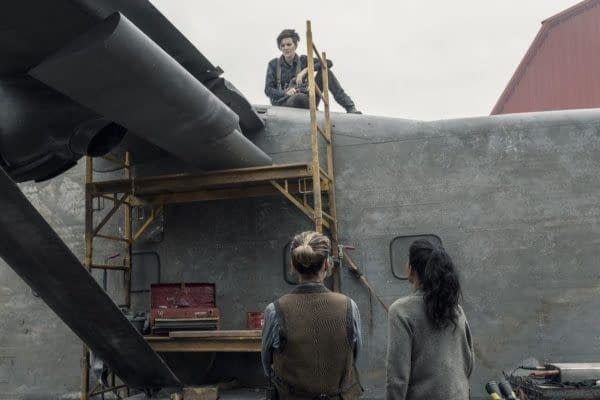 Nisenson, David, Blades, Amelio, Gavulic, Dodson, Suess, and Frewer join Dwight's crossover comrade Morgan (Lennie James) on the upcoming season of The Walking Dead spin-off series, which has undergone some major changes over the past year. Jenna Elfman, Garret Dillahunt, Maggie Grace, Mo Collins, and Daryl Mitchell joined James on the series last season; with Alycia Debnam-Carey, Colman Domingo, and Danay Garcia the only original cast members heading into the fifth season. Daniel Sharman is reportedly reprising his role as Troy Otto, though how his character will come into play during the upcoming season is still unknown.
AMC's Fear the Walking Dead is executive produced by showrunners Andrew Chambliss and Ian Goldberg, as well as Robert Kirkman, Scott Gimple, David Alpert, Gale Anne Hurd, and Greg Nicotero, and produced by AMC Studios.

Fear the Walking Dead airs Sundays at 9 p.m. ET/8 p.m. CT – leading fantasy-horror series adaptation NOS4A2, based on Joe Hill's best-selling novel.