Dead Man Blogging 404 'Buried': Bleeding Cool's Fear the Walking Dead Live-Blog!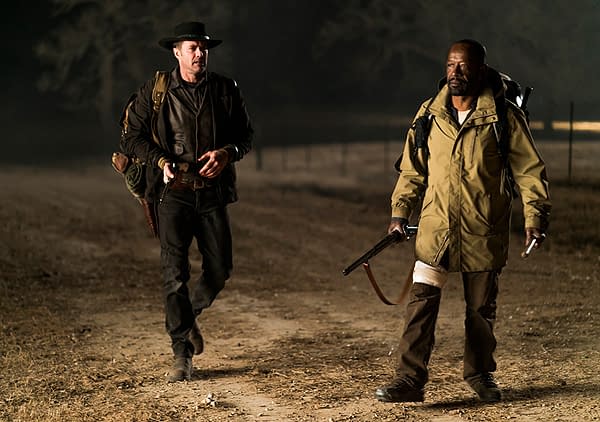 If it's Sunday, then it's time for our next edition of Dead Man Blogging, Bleeding Cool's Fear the Walking Dead live-blog. This week, our heroes must deal with the fallout from the ending to last week's 'Good Out Here'…
Seriously?!? Who am I kidding?!? No one saw that ending coming, not even from a mile away…wow!
Okay…we're going to take a moment and compose ourselves as we get ready for Sunday night's live-blog of the fourth episode of Season 4 of AMC's Fear the Walking Dead, 'Buried':
Fear the Walking Dead s04e04 'Buried': Al's questioning uncovers some surprising truths about the group's past; John Dorie receives unexpected news.

● This page should update…but just to be on the safe side I strongly suggest you refresh every now and then to make sure because I've been known to ramble often and quickly.
● If you're going to social media to talk about what we're talking about, go with: #bclive and #liveblog.
● While you're waiting (or if you just need a breather from my raw, uncut cult-of-personality), check out some of the cool Fear the Walking Dead "extras" we have waiting for you below.

The group rallies to Nick's (Frank Dillane) side at his most desperate hour of need:
Here's an overview and look behind the scenes at the new season of AMC's Fear the Walking Dead:
In season 4, we will see the world of Madison Clark (Kim Dickens) and her family through new eyes — the eyes of Morgan Jones (Lennie James), who is joining the story from the world of The Walking Dead. The characters' immediate pasts mix with an uncertain present of struggle and discovery as they meet new friends, foes, and threats. They fight for each other, against each other and against a legion of the dead to somehow build an existence against the crushing pressure of lives coming apart. There will be darkness and light; terror and grace; and the heroic, mercenary and craven, all crashing together toward a new reality for Fear the Walking Dead.
AMC's Fear the Walking Dead's fourth season stars Kim Dickens, Frank Dillane, Alycia Debnam-Carey, Colman Domingo and Danay Garcia; as well as new series regulars Lennie James, Garret Dillahunt, Jenna Elfman and Maggie Grace. Produced by AMC Studios, the series is executive produced by Scott M. Gimple; showrunners Andrew Chambliss and Ian Goldberg; Robert Kirkman; David Alpert; Gale Anne Hurd and Greg Nicotero.