[Fear the Walking Dead Rewind] A Look Back at 'Another Day in the Diamond'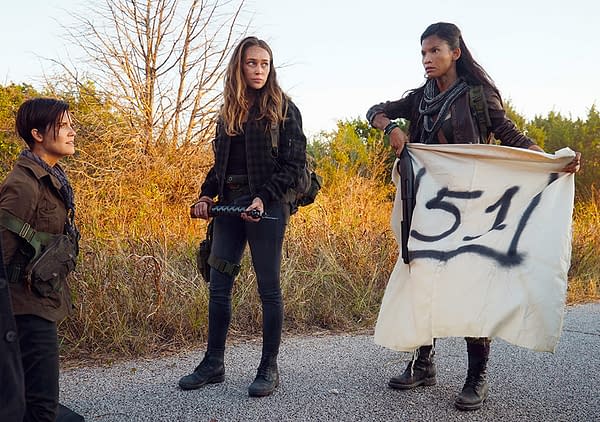 Now that we've seen how Morgan (Lennie James) made the transition to the show from The Walking Dead as well as meet two major players in what's still to come (Maggie Grace's Althea and Garret Dillahunt's John Dorie), the second episode of the AMC series shifted the focus back to our original cast. In a flashback that takes place before the previous episode's ending, Madison (Kim Dickens), Nick (Frank Dillane), Alicia (Alycia Debnam-Carey), Strand (Colman Domingo), and Luciana (Danay Garcia) have been living in a baseball stadium-set community for some time. While the group has been able to make a go of it so far, doubts and insecurities begin to surface in the form of a new danger: Mel (Kevin Zegers) and his Vultures, a "big bad" that offers Madison a choice: give us what you have and join us; or don't, and then we'll just wait for you to die off and take what we want.
Take a look at this week's Fear the Walking Dead's "rewind" of 'Another Day in the Diamond'
And here's a look at AMC's full teaser for this week's episode, 'Good Out Here':
Fear the Walking Dead Episode 4×03 'Good Out Here': Madison and Morgan try to help Nick find inner peace; a quest for revenge exacts its toll on the group.
Here's a look at what's ahead on the fourth season of AMC's Fear the Walking Dead:
In season 4, we will see the world of Madison Clark (Kim Dickens) and her family through new eyes — the eyes of Morgan Jones (Lennie James), who is joining the story from the world of The Walking Dead. The characters' immediate pasts mix with an uncertain present of struggle and discovery as they meet new friends, foes, and threats. They fight for each other, against each other and against a legion of the dead to somehow build an existence against the crushing pressure of lives coming apart. There will be darkness and light; terror and grace; and the heroic, mercenary and craven, all crashing together toward a new reality for Fear the Walking Dead.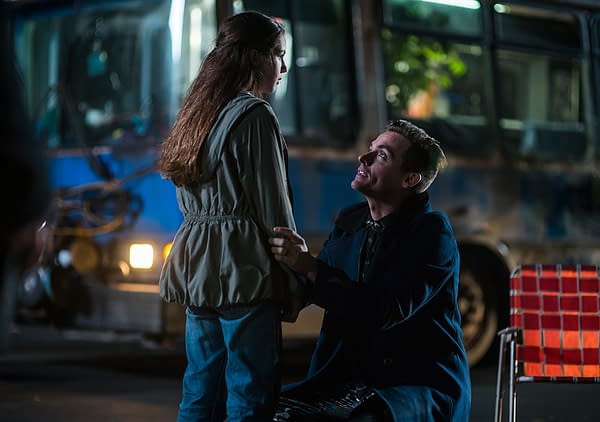 AMC's Fear the Walking Dead's fourth season stars Kim Dickens, Frank Dillane, Alycia Debnam-Carey, Colman Domingo and Danay Garcia; as well as new series regulars Lennie James, Garret Dillahunt, Jenna Elfman and Maggie Grace. Produced by AMC Studios, the series is executive produced by Scott M. Gimple; showrunners Andrew Chambliss and Ian Goldberg; Robert Kirkman; David Alpert; Gale Anne Hurd and Greg Nicotero.