Friday Night Feast Season 6: The Doctor, Captain Picard and 'Always Sunny's' Frank Join Jamie & Jimmy
Celebrity chef Jamie Oliver and friend Jimmy Doherty are bringing Jamie & Jimmy's Friday Night Feast back to Channel 4 for a sixth season…with It's Always Sunny in Philadelphia's Danny DeVito, Jessica Chastain (It: Chapter 2), and Doctor Who's Jodie Whittaker leading the season's line-up of celebrity chefs.
In addition to DeVito, Chastain, and Whittaker, guests for season 6 also include Sir Patrick Stewart, Black Panther actor Martin Freeman, Stephen Fry, Episodes' Stephen Mangan, Harry Hill, Russell Howard, Romesh Ranganathan, and Olympian Dame Jessica Ennis-Hill. With the newest season filmed in September 2018, the series continues to spotlight Oliver and Doherty as the pair create a feast for friends and the public at a pop-up cafe at the end of Southend Pier.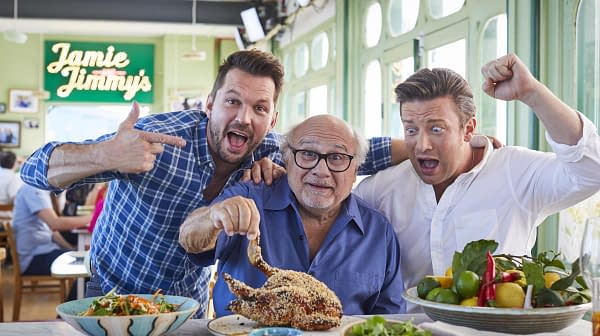 "People are getting creative in how they consume TV content – on Netflix, Amazon, YouTube, catch-up, in all sorts of weird, wonderful and dynamic ways – but I think actually many of them want regular, trusted programmes at certain times of the week. And on Friday evenings, it just fits. It's a nice balance of cooking, celebrities and campaigning. It's great to have that seven-minute soapbox campaign slot, rather than an hour-long documentary. The show has achieved amazing, important things because of a light-hearted little Friday night rant. And we genuinely work hard to make the audience happy."

– Jamie Oliver
For Oliver, what means the most is the way the show's guests throw themselves into their food passions. Case in point: Devito, who had the opportunity to trace his family's origins back to Basilicata:
"He's a Hollywood legend and he came especially to see us – at the end of Southend Pier, two hours out of London, for a six-hour filming. That isn't normal. On Jonathan Ross, you can get in and out in two hours, so our show is a major time commitment. But people come because they like what we do and they love food. Danny calls everyone baby – 'hey baby, thanks baby'."

– Jamie Oliver