At the Channel 4 2020 launch this morning, in the very fashionable Wild By Tart cheek by jowl to Victoria station, we got a first clip of Boys, the new drama from Russell T Davies, set in the London gay community during the AIDS crisis in the eighties. The show is still in production, but Channel 4's Ian Katz was able to show us a clip.
It has Olly Alexander from the band Years And Years, which named Russell's last big drama for the BBC, as Ritchie. A young gay man, and star of the show who, in this clip tells his friends – and the audience – his theories about why AIDS is a government conspiracy from people who aren't having sex to stop people who are. And asks why it targets homosexuals, Haitians and haemophiliacs as if it has a problem with the letter H, wondering if people from Hull or Hartlepool will be next. And wondering if bisexuals would only get sick every other day. All while jumping from pub conversation to street talking to club action – specifically Heaven – and a few other things going on behind doors.
Boys – not The Boys – will be broadcast from Channel 4 later this year. Here's something from the handout.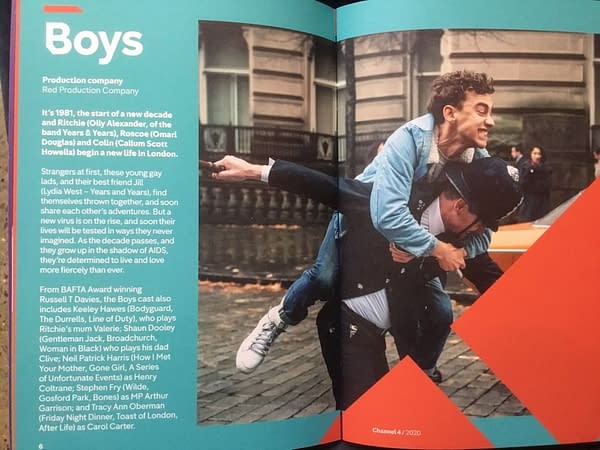 Enjoyed this article? Share it!