The Flash Season 4: New Poster and 15 Photos for 'Therefore She Is'
The CW has rolled out a new promotional poster and 15 still shots for the upcoming episode of The Flash called 'Therefore She Is'. They normally only do this when the episode is going to be a big one, so make your calendars as we get the return of Gypsy (Jessica Camacho). And of course, there will be spoilers below the poster, so be warned.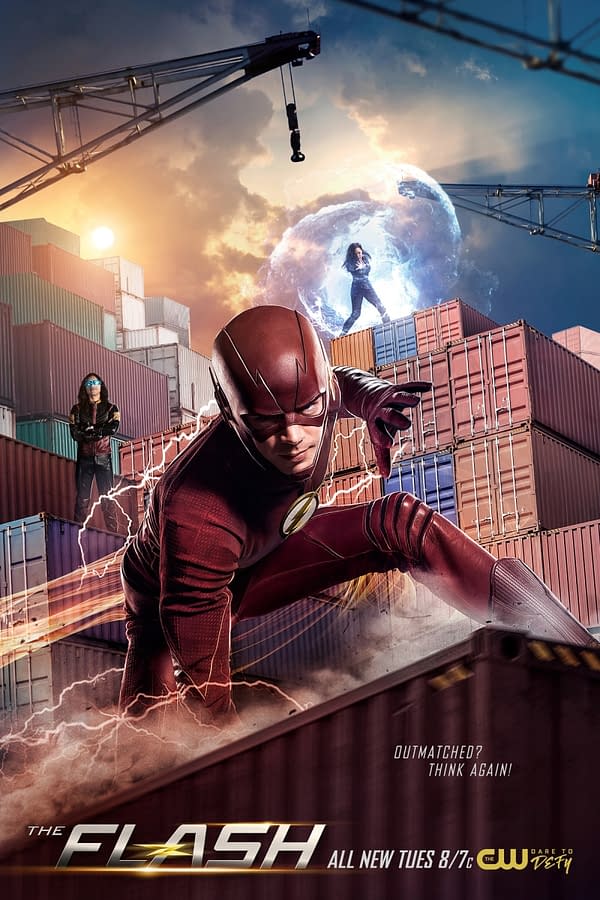 The poster has a great tagline: "Outmatched? Think Again!" And the fact that it's the Flash, Vibe, and Gypsy left, make the line pretty accurate. Not a lot of spoilers in these images. We see that Gypsy is helping out the team. The synopsis talks about her and Cisco (Carlos Valdes) having a heart-to-heart talk, but with the way this show works, that could go any direction.
We see Harry (Tom Cavanagh) in what looks to be him trying to help Caitlin (Danielle Panabaker) trying to restart her Killer Frost powers. But has he told her about his memory problems yet?
And we see DeVoe (Neil Sandilands) and Marlize (Kim Englebrecht) in some high-tech facility and she's brought her sword. With the title, it seems like we may get more of her background, and I'd like to know where she got her sword training and why an engineer took up a sword in the first place. Seems like a story there.
Here is the synopsis for the episode:
Therefore She Is

GYPSY RETURNS — Barry (Grant Gustin) and Team Flash team up with Gypsy (guest star Jessica Camacho) to try to thwart Thinker's plan. Meanwhile, Cisco (Carlos Valdes) and Gypsy have a heart to heart talk about their relationship. Rob J. Greenlea directed the episode written by Sterling Gates & Thomas Pound (#420). Original airdate 5/1/2018.
The Flash airs Tuesdays at 8 p.m. on the CW.