FOX Orders Season 15 of So You Think You Can Dance
It's nice to know that FOX still believes in its competition series So You Think You Can Dance. In a world when American Idol, which set viewership records for years, has left the network, it seems like dance still has a home.
Word came down this morning that the Nigel Lythgoe-created show has been picked up for a 15th season, set to air sometime this summer.
President of Alternative Entertainment and Specials at Fox Broadcasting Company Rob Wade told Deadline:
"I am always blown away by the sheer level of raw talent on this show. These are real people – unknown stars in their own right. And each week, they tell compelling, emotional stories through their craft. We can't wait for Nigel, Mary, Vanessa and Cat to hit the road once again and uncover the phenomenal talent that's out there."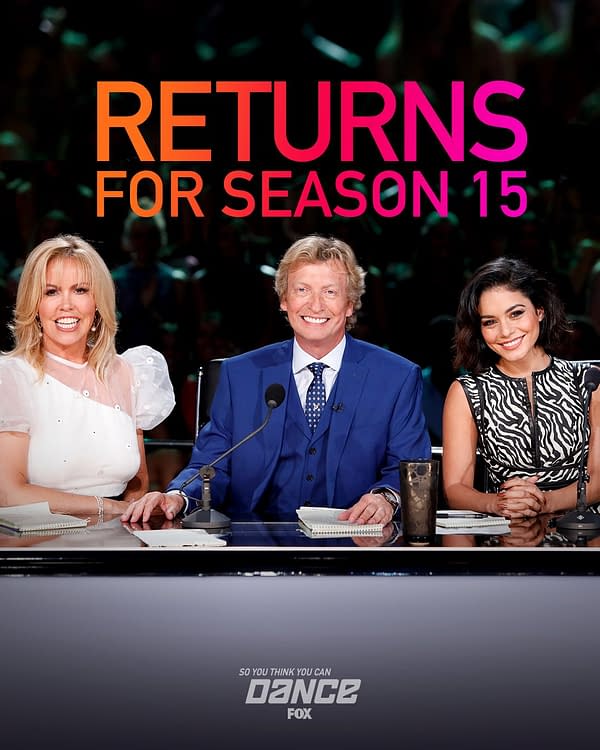 "It's incredible to make it to 15 seasons, which just speaks to the impact this program has had, not only on the world of dance, but also on our loyal fans and viewers, to whom we are most grateful," Nigel continued.
SYTYCD has earned 59 Emmy Award nominations and 15 wins in its previous 14 season, although series host Cat Deeley keeps getting passed over for best host. She'll be returning with the show, along with the judges table consisting of Lythgoe, Mary Murphy, and Vanessa Hudgens.
Nigel also tweeted this graphic, with some of the details for auditions for season 15.
I can't wait to see what new constants bring to the dance floor, and who the season's choreographers will be. So You Think You Can Dance will air sometime this summer on FOX.