Future Man Review: Macho Existentialism Crisis Evolves Over 3 Seasons
When it comes to science fiction comedies, none seem as unsure of itself more than Hulu's Future Man. One moment, a character boxes him/herself into a cliché; then the next, the character ponders if he or she ever amounts to something more. It depends if the viewer is patient enough to sit through all three seasons to see that growth take place. In Future Man, Josh Futterman (Josh Hutcherson) is a janitor by day and a hardcore gamer by night. He lives with his parents working for a laboratory. Resentful of his existence, he tries to burst out of his shell and shame of feeling like an outcast.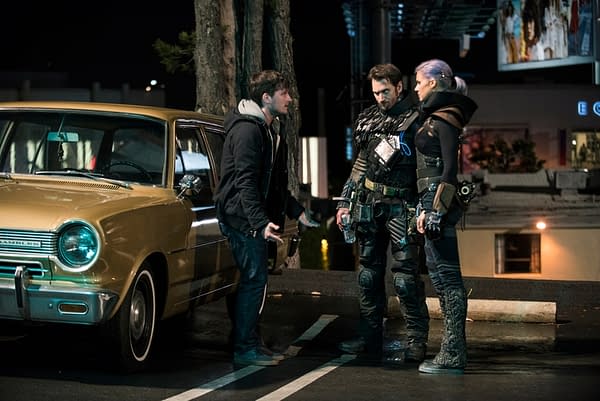 Here's What Future Man Is All About
Josh's obsession is beating the game Biotic Wars considered unbeatable in the gaming community. When he finally overcomes the final level, two warriors from the future Tiger (Eliza Coupe) and Wolf (Derek Wilson) visit him. It's an introduction worthy of the American Pie franchise, to say the least. Tiger, a purple-haired tomboy, has no qualms sharing the chip on her shoulder in pools of blood. Wolf shares her bloodlust for their mortal enemies the Biotics while adopting Christian Bale's gravelly Batman voice. As walking action clichés, both don't have a problem lobbing puns with every kill. Tiger and Wolf determine Josh is the chosen one after his accomplishment. The two programmed Biotic Wars as their test to find their worthy companion to stop the Biotic threat.
Future Man Finds a Way to Be Both Hit and Miss
Season one of Future Man has the three attempting to stop a scientist Dr. Elias Kronish (Keith David) from ever inventing the technology that leads to the Biotic threat. As the reluctant hero, Josh makes the typical mistakes any novice time traveler while making the same meta gags referenced like Back to the Future. It becomes a noticeable and predictable pattern in time travel-stories when one loose end becomes the next plot to be fixed. The appeal of the series comes down to the three characters. Most of the series, I felt Josh is someone the viewer should root for, but writers do the bare minimum to move the plot along. They throw him into some mess and 9 times out of 10, Tiger or Wolf saves him and Josh's resentment ensues. It's largely "rinse-n-repeat" until later into season three.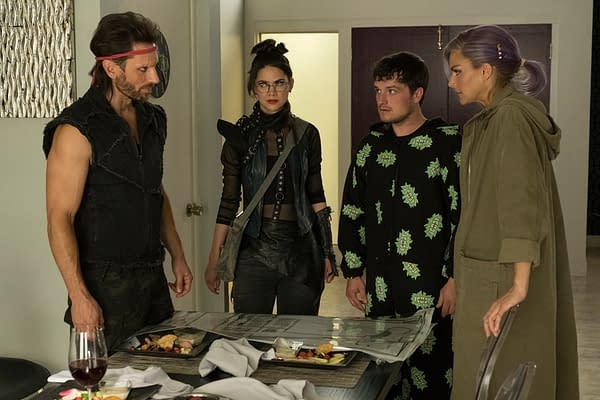 As far as pair of time travelers go, Tiger often plays the straight character sticking to her tough-woman persona as the comedic Katee Sackhoff. To be honest, I'm a little disappointed series creators Kyle Hunter, Howard Overman, and Ariel Shiffir didn't explore more of Coupe's broader range of talent. She also plays her high-pitched more self-absorbed clone Ty-Anne. In another episode, she even performs a musical number with Haley Joel Osment's Stu. The biggest surprise of the series is Wilson. From the initial episodes, I expected Wolf to be a one-note character, but the series gave him so much to do and layers. It's the kind of outside the box depth, you seldom see from perceived "tough guys." Not only is he able to live another life as a chef, but he also able to show the kind of feelings we seldom see elsewhere. It's the kind of role I easily can see a Dwayne Johnson or Dave Bautista can pull off.
When it comes to the other factors, the series knows how to play with its sandbox letting their auxiliary cast shine. Sure some jokes are lazy and certain references are overtly blatant and indulgent. At one point, Future Man has a sanctuary dedicated to dead celebrities. What the writing has them do is more ludicrous than anything out of Bill and Ted. Ultimately, it's a fun series as long as you can be patient with it with minimal expectations. Future Man tries too hard at times to take itself seriously (like the 60 Second Doc below and series' epilogue) but grounds itself when it needs to.