GLOW: Alison Brie, Betty Gilpin Talk Freaky Tuesday; Season 4 Teases
If you're not caught up with Netflix's Gorgeous Ladies of Wrestling, aka GLOW, I have one question for you: why not? Season 3 is fantastic and if you're not up to speed, be warned that this article does contain MAJOR SPOILERS. Netflix just released a behind-the-scenes interview (first had by IndieWire) about what it took to get the series going for another season and all the details behind episode five's "Freaky Tuesday" character swap scene. Alison Brie and Betty Gilpin, who usually play Zoya the Destroyer and Liberty Belle respectively switch characters in the show, with Brie playing the all-American sweetheart and Gilpin the Russian heel. It was great seeing them switch it up and they had a great time playing different characters as well, and it totally shows.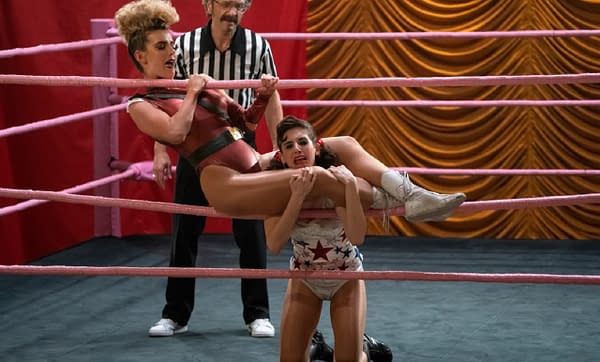 After their Emmy win for outstanding stunt coordination and the actors being more comfortable in the ring, we can look forward to the final season of GLOW being more wrestling heavy than ever before. Now that Carmen left GLOW to wrestle on the road with her brother, Big Kurt Jackson, we may get to see some hardcore 80s wrestling roadshow stuff. With Debbie (Gilpin) and Bash (Chris Lowell) having their own TV station in LA, they're in a position now to put together a wrestling program on their terms and to see if they really do have a feel for what fans really want.
Their fourth and final season started filming in Los Angeles in late February, though production was suspended in early March due to the coronavirus pandemic. No word on when it will resume filming, but we do have two behind the scenes ring-side peeks at what's to come thanks to social media and stars Brie and Kate Nash. I'd expect GLOW to return to Netflix for their final smackdown sometime in the first half of 2021, but that all depends on when LA productions are cleared to come back. Wrestling is close contact, and there are many safety concerns on a stunt heavy set even without a pandemic.