Good Eats: Reloaded Season 2 Review: Alton Brown's Chocolaty Decadence
What a perfect way to end the season of Good Eats: Reloaded on the Cooking Channel. Alton Brown revisits his Willy Wonka inspired 1999 episode on all things chocolate. Apparently Brown dreamed of being Willy Wonka when he was a kid, guess this is as close as he was ever going to get to it. I'll be frank, being as busy as I am several jobs and a kid I often forget to eat, my friends joke around that the only thing flowing through my blood is coffee and chocolate – they may be right. Chocolate is delicious, with my preference being in bar-form. I'm not much of a fan of chocolate cake, muffins, or mousse. I used to prefer milk chocolate (not required to have too much cacao content), but in recent years I've transitioned to bittersweet chocolate more of a dark brand at about 60% content.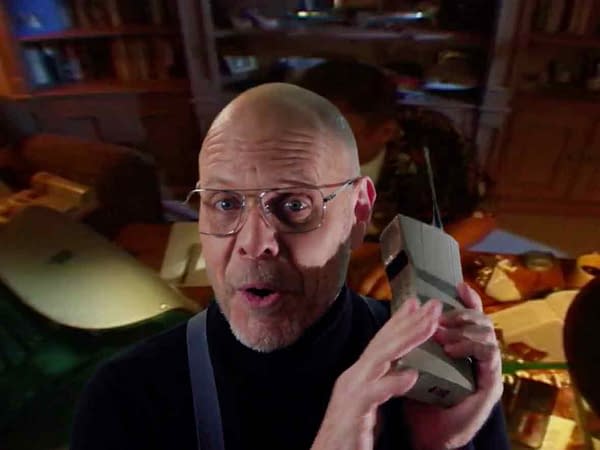 Brown educates us on the makings of chocolate, it takes about 400 cacao beans to make 1lb of chocolate with roasting said beans being a very delicate process meant for professionals, I guess he won't be trying this at home. Making a chocolate mousse however is quite simple: all you need is some chocolate and eggs. I was even shocked to see Brown not cut the chocolate into perfectly even pieces before melting it in a bowl over a pot of water with a towel brought to boil at 191 degrees. Don't forget that the chocolate must be 3oz of 60% and 1oz 72%, as I said, super easy. Whip up some egg whites which the longer you whip them, the more like whipped cream they become, just be careful to not overwhip. Fold into the chocolate, and wah lah you got yourself a delicious mousse.
As I was utterly enjoying my chocolate bar mixed with orange zest Brown cooked up yet another easy recipe. I know, right? But I'm not joking about the Midnight Mud Cake. It's a mouth-watering piece of chocolate cake that typically in a restaurant would be served with vanilla ice cream, whipped cream, and even strawberries. Break out sugar, eggs, oil, a few other things, and then mix them up. Some ingredients need to be microwaved, then combine and enjoy. A lovely ending to a wonderful season of Good Eats: Reloaded. I will desperately need to find ways to feed my Brown fix until next season (???). Hmmm… there is always his YouTube channel.