Good Omens: Lockdown: Neil Gaiman, David Tennant, Michael Sheen Return
When it comes to Neil Gaiman (American Gods) and the late Sir Terry Pratchett's (The Colour of Magic) Good Omens, time can be a pretty funny thing. If you watched the series adaptation on BBC Two, it's only been a little more than two months since you last checked in with angel Aziraphale (Michael Sheen) and demon Crowley (David Tennant). If you lucky enough to catch it on Amazon Prime Video, then your hearts have had close to a year for your hearts to grow fonder. But if your journey began with the novel, then we're talking thirty years since the novel first hit the stands. In fact, Gaiman and Pratchett's work is celebrating its 30th anniversary on May 1 so to make the occasion Gaiman, Sheen, Tennant, and director Douglas Mackinnon are giving fans of both the book and the series a special gift.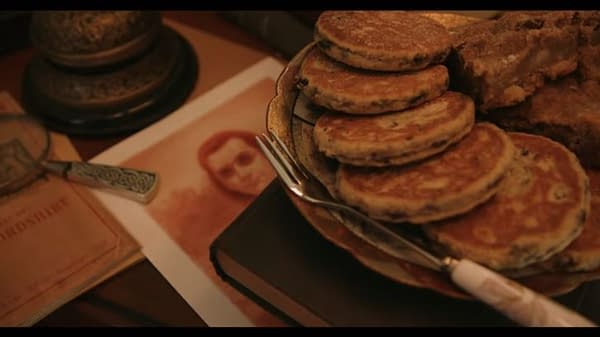 In Good Omens: Lockdown, we catch up on Aziraphale and Crowley now that some time has passed since they saved existence. In the following exchange, we learn that even angels and demons need to abide by social distancing rules (even Crowley's not cruel enough to tempt people to go out). We also learn that Aziraphale's version of "smiting" involves a stern talking-to and lots of cake, and while we understand why Aziraphale shut down Crowley's offer to come over? It still broke our hearts just a little – can we just get to July already?
The End of the World is coming, which means a fussy Angel and a loose-living Demon who've become overly fond of life on Earth are forced to form an unlikely alliance to stop Armageddon. But they have lost the Antichrist, an 11-year-old boy unaware he's meant to bring upon the end of days, forcing them to embark on an adventure to find him and save the world before it's too late.

With Armageddon just days away, the armies of Heaven and Hell are amassing and The Four Horsemen are ready to ride. Aziraphale, an angel, and Crowley, a demon, agree to join forces to find the missing Anti-Christ and to stop the war that will end everything. Based on the best-selling novel by Terry Pratchett and Neil Gaiman, Good Omens follows an unlikely duo and their quest to save the world.
Directed and executive produced by Douglas Mackinnon (Sherlock, Doctor Who), the cast of Good Omens includes David Tennant, Michael Sheen, Jon Hamm, Miranda Richardson, Nick Offerman, Adria Arjona, Nina Sosanya, Jack Whitehall, Michael McKean, Ned Dennehy, Ariyon Bakare, Mireille Enos, Anna Maxwell Martin, Lourdes Faberes, Yusuf Gatewood, Sir Derek Jacobi, and David Morrissey. Frances McDormand, Benedict Cumberbatch, and Brian Cox voice God, Satan, and Death, respectively. Good Omens is co-produced by BBC Studios with Narrativia (Rhianna Pratchett's production company) and the Blank Corporation in association with BBC Worldwide for Amazon Studios and the BBC. Gaiman, Mackinnon, Caroline Skinner, Chris Sussman, Simon Winstone, and Rob Wilkins as executive producers.