Got Time for A Little Hanky Panky? Perry Mason Wants In
Combine a July 4th weekend and the next episode of HBO's Perry Mason and for some, you have the makings of a fine day for a drink or two. To help those who would be so inclined, the cable giant has invited back The Educated Barfly to offer up a drink recipe to match the Prohibition Era vibe of the Matthew Rhys (The Americans)-starring series. This week? The Hanky Panky, created by bartender Ada "Coley" Coleman at the Savoy Hotel in 1903 for Victorian and Edwardian actor Sir Charles Hawtrey. Here's a look at how to bring the libation to life (don't worry, we screen-capped the recipe), followed by a promo and overview for "Chapter Three":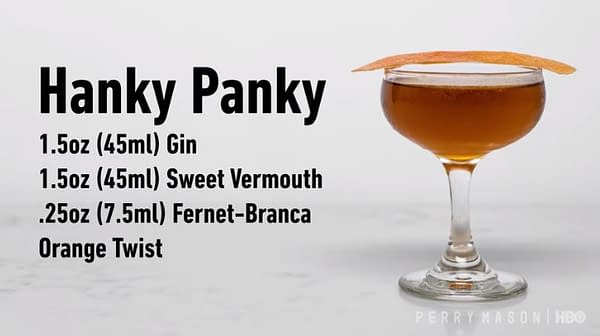 "Perry Mason" Season 1, Episode 3 "Chapter Three: In order to gain an advantage over E.B. and team, wily district attorney Maynard Barnes (Stephen Root) goes public with a shocking new development. Mason (Matthew Rhys) and Strickland (Shea Whigham) get unauthorized access to physical evidence with help from Virgil (Jefferson Mays), Mason's connect at the city morgue. Later, Mason attempts to extract information from a withholding Drake (Chris Chalk), who's weary of Holcomb (Eric Lange) and Ennis' (Andrew Howard) watchful eyes. Della (Juliet Rylance) notices a change in E.B. (John Lithgow), who seems uncharacteristically out of sorts. Written by Rolin Jones and Ron Fitzgerald, and directed by Tim Van Patten.
HBO's Perry Mason also stars John Lithgow as Elias Birchard "E.B." Jonathan, a struggling attorney and a semi-regular employer of Mason; Juliet Rylance as Della Street, E.B. Jonathan's creative and driven legal secretary; Tatiana Maslany as Sister Alice McKeegan, the leader of the Radiant Assembly of God, preaching to a hungry congregation and a radio audience across the country; Chris Chalk as Paul Drake, a beat cop with a knack for detective work; and Shea Whigham as Pete Strickland, who is hired by Mason as an extra set of eyes on his various investigations.
Stephen Root, Gayle Rankin, Nate Corddry, Veronica Falcón, Jefferson Mays, Lili Taylor, Andrew Howard, Eric Lange, and Robert Patrick also star. Executive producers include Amanda Burrell, Robert Downey Jr., Susan Downey, Ron Fitzgerald, Joe Horacek, Rolin Jones, and director Timothy Van Patten. Aida Rodgers co-executive produces, with Matthew Rhys producing. Created by Rolin Jones and Ron Fitzgerald, the series is based on characters created by Erle Stanley Gardner.