[rwp-review-recap id="0"]
The more this show goes on, the more questions I have. And they all center around who the hell killed Jason Blossom. This episode takes his death as the focus again, showing that there's more than meets the eye with the Blossom family. For starters, there are some skeletons hidden deep in all of their closets, though I'm willing to give Cheryl (Madelaine Petsch) the benefit of the doubt. Her Alice Cooper level insane mother is clearly an abusive prick set on controlling Cheryl at all costs. It's nice to see that Cheryl is trying to break these chains by attempting to forge a friendship with Veronica–who by all means is really just trying to do the right thing–and her rude, almost cartoonish demeanour is clearly just a wall Cheryl has put up so no one knows how hurt she is. Speaking of avoiding feelings, Archie (KJ Apa) is throwing himself into football. Since Fake Grundy has left Riverdale (for now) Archie is trying to find ways to ignore his guilt and sadness. Football seems to be the best way possible, but he's also been ignoring his music because of it. Betty (Lili Reinhart) can see through his B.S and calls him out. While Archie insists that's not the case, Valerie (Hayley Law) conveniently drops in to tell Archie some big name music instructor is in town and Archie should seek him out. It's also here where we see the spark between Valerie and Archie deepen. In the first episode we could see Valerie checking Archie out when he interrupted the Pussycats rehearsal. Their relationship has taken the back burner, but with Grundy gone and Archie all alone, I have a feeling we'll be exploring this plot that was introduced by Dan Parent a few years ago.
We also learn that a majority of the characters in this show are a part of the founding families of Riverdale, and
they're all intertwined in some messed up ways. You would think that some of these families would just up and move. For example, The Blossoms weren't originally from Riverdale in the comics, and in the show Veronica grew up in New York. While it's nice to know everyone has some deep seeded grudge against each other, it's lazy and to convenient. The writers don't need to keep piling on the drama, when there's plenty of it to go around. While you certainly won't be bored during this episode, you may roll your eyes a few times.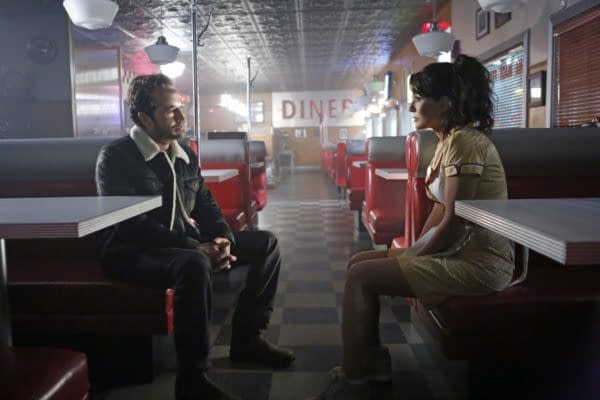 The most compelling character in my honest opinion is Betty. Her desire to find out what really happened to Polly is the best part of the show. Jughead (Cole Sprouse) is just as great, and his deepening relationship with Betty is charming to watch. I also need to point out the cinematography in the opening scenes. As Jughead narrates about the creepy Blossom house on the hill, Cheryl descends the main staircase in a flowing, dramatic red robe while holding an elaborate candelabra in one hand. She approaches her brothers coffin as demure and beautifully sad as one would hope, opens it, and finds bloody claw marks inside. Turning around, she is faced with Jason's zombie corpse, who proceeds to choke her. The entire scene was stunning. The dark, Gothic imagery was reminiscent of the Afterlife series, which I still hope makes a jump to some kind of screen.
I'm thrilled with how this show is going, but the writers need to better focus on a few things instead of jumping all over the place.
[rwp-review-ratings id="0"]
[rwp-review-form id="0"]
Enjoyed this article? Share it!