Food Network is the ultimate go to for all things creepy, crawly, and delicious this season. This week, Halloween Baking Championship scared up a fifth season – with host John Henson (Wipeout!, Talk Soup) and judges Carla Hall, Katie Lee, and Zac Young jump-started our Halloween spirit like Leatherface revving up his old chainsaw – except with edible skeleton secrets and monsters that live under the bed.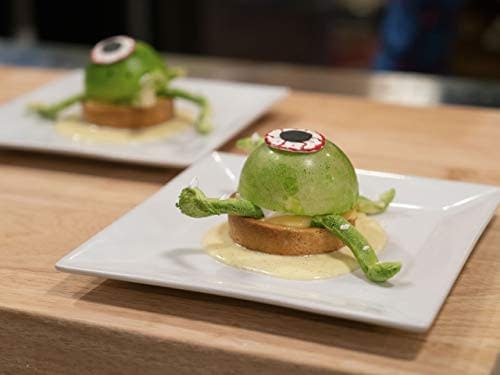 While some of the treats lacked creativity and left very little to the imagination (unless you consider a love for hockey and a coffee addiction frightening… which I don't… because I'm rather fond of my coffee addiction), other contestants blew it out of the park… fingernail-biter anyone? With our worst fears coming to life via miniature sculptures and contestants shedding light on their own scare tactics, "Halloween Invasion" was a great start.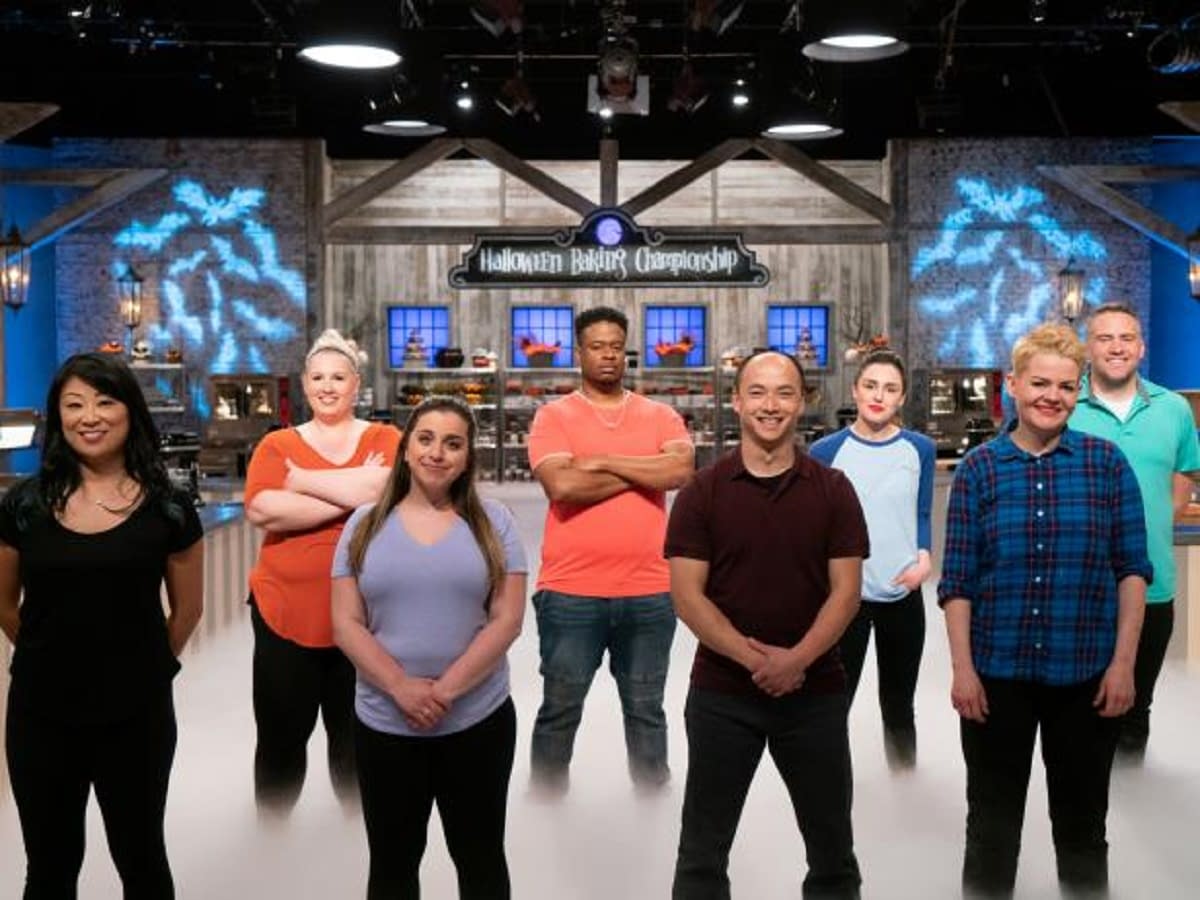 Halloween Baking Championship season 5, episode 1 "Halloween Invasion": Eight bakers make scary skeleton desserts and conjure up monster-under-the-bed creations.
Halloween Baking Championship consists of two rounds:
● Round #1 – Pre Heat: Contestants are given up to two hours to create a small tasty treat. No eliminations this round, but the winner gets an advantage going in to the second round.
● Round #2 – Main Heat: Competitors are asked to create a cake to tell a spooky tale. The tastiest and scariest creation wins the challenge, the loser gets taken to the bathroom where the bonesaws, bathtub, tarps, and hydrochloric acid await… okay, not really: they're just eliminated from the competition.
The lone "survivor" left standing at the end of the season wins $25,000 – with no killers coming back to life at the last second.
Here are some of my takeaways from the season's first outing, "Halloween Invasion":
ROUND 1 – "Skeletons in the Closet": Contestants' ideas included make-up addiction, undercover ninja (our winner), a vegetarian craving bacon, a shopaholic, a fingernail biter, and a coffee addict. Let's just say that as creative ideas go, they're collectively better in the baking/designing department than the "idea" one.
Two personal standouts: a cupcake that gave the judges heartburn, and what was supposed to be a "frightening" skeleton that looked more like an loveable panda. Let's be clear: pandas are not scary… unless they come at you with a knife. That's different. That's scary.
Extra points to the contestant (who moonlights as a bouncer) threatened Henson with a spatula… which is about as scary as a knifeless panda.
ROUND 2 – "????": The judges dressed up as "Captain Judgmental," "Grandpa Wolf," and "Lobster Attack" – still a little unclear about the last one
WINNER: The winning contestant created a green slime monster that reminded me of Slimer from Ghostbusters – while the loser essentially gave the judges what looked like poop in a bowl – just going to leave it at that.

With a solid start, I can't wait to see what (hopefully) terrifying tales the bakers concoct on next week's episode "Smells Like Halloween Spirit" and hope the contestants elevate the creativity levels more in line with the Halloween season – and not make me think twice about ever eating another cupcake.
Enjoyed this article? Share it!