The season finale of Food Network's Halloween Wars "Scary Tales II" had great concepts but struggled in execution – especially in the first round. Both "Small Scare" and "Spine Chiller" forced the contestants to think outside the box and they really (theoretically) got into the Halloween spirit. In reality, some of the ideas didn't translate into a chilling final product.
Host Jonathan Bennett as well as judges Shinmin Li and Todd Tucker and guest judge Stranger Things star Caleb Mclaughlin feasted on delicious treats and were wowed by the scope and technical work put in to some of the pieces – yet expressed disappointment at a lack of bloodcurdling, disturbing, fear factor. With a challenge like "Scary Tale", transforming our favorite fairy tales into a tale of nightmares seemed like a no brainer, yet, for one team it read more like a child's bed time story.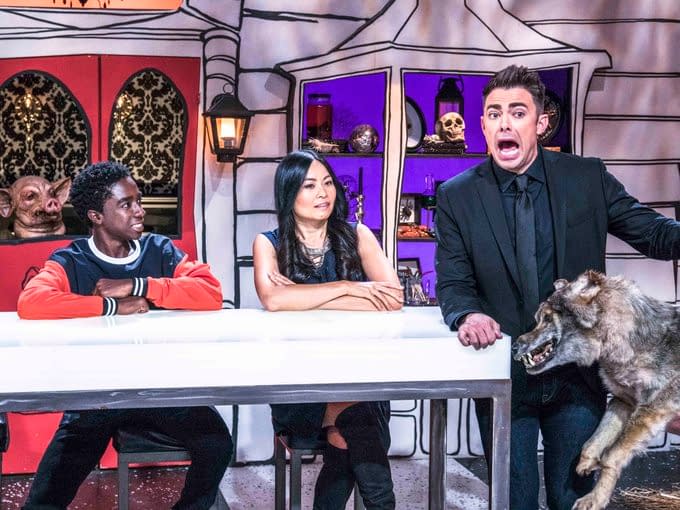 Halloween Wars consists of two rounds:
● Round #1 – Small Scare: Contestants are given an hour to create a small frightening sculpture out of pumpkin, cake and sugar
● Round #2 – Spine Chiller: Competitors are given five hours to create a menacing horror movie like display guaranteed to make us want to hide 6ft under. They must also incorporate a delicious treat into their creation.
At the end of each episode a team is eliminated with the remaining teams competing for a chance to win $50,000
Our 2 final remaining teams this season are as follows: Buttercream Beasts and Frosted Freak Show.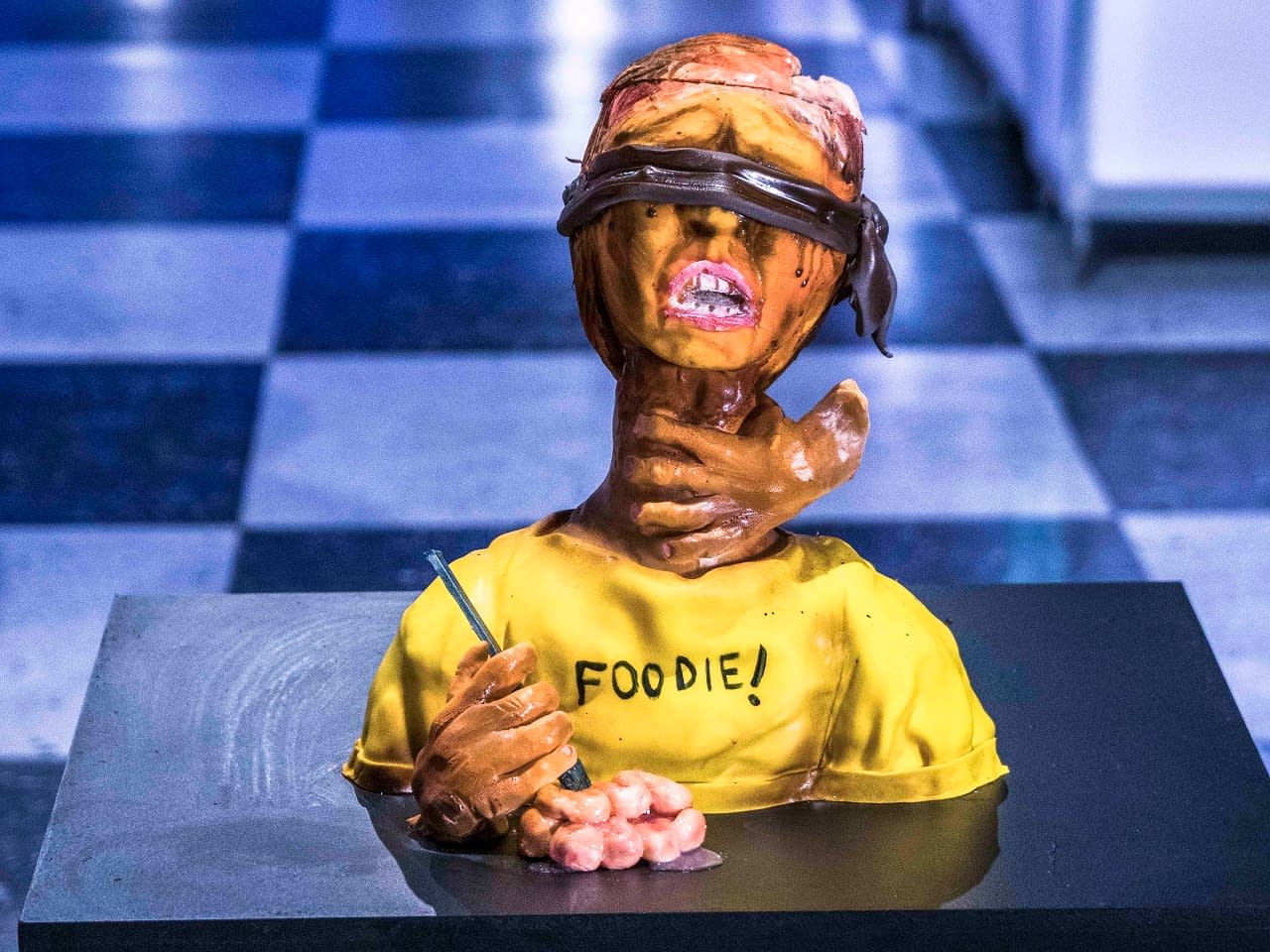 Here are some of highlights from episode 5 "Scary Tales II":
● Round 1 "Idle Hands" – Contestants had to tell a story of possessed hands turning against their owner. Instead, a hand looked like a foot, and the creations required a detailed explanation.
● Buttercream Beasts told a tale of a man getting drowned by his demonic possessed hand. A few hiccups with finishing touches, and the head was getting stomped on by a foot and melting into the table. The face did have some amazing features, and was quite terrifying.
● Frosted Freak Show's won with their girl getting fed her own brain was impressive. It had a few imperfections and the colors could have been more vibrant, but overall astounding, especially since the sugar artist burned her hand and had to work through the pain.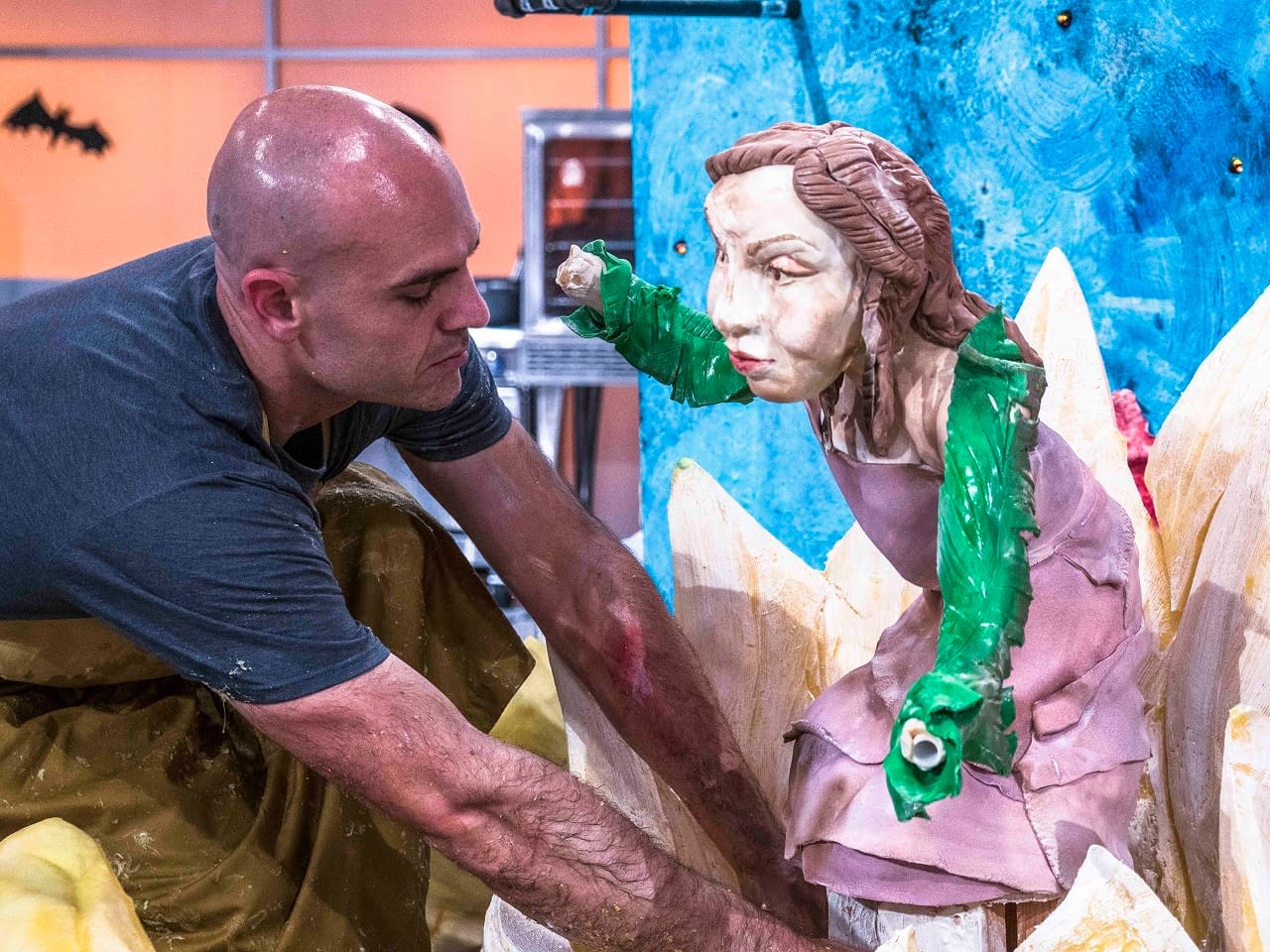 ● Round 2 "Scary Tale" – Contestants had to reinvent our favorite fairy tales and transform them into our worst nightmares. I was blown away by Buttercream Beasts revamp of "Goldilocks", an almost S&M homicidal drag queen type display.
● Buttercream Beasts Goldilocks has terrorized the bears, with the father turned into a bear rug, the mothers head mounted on the wall, and poor baby bear on a leash – what oh what did she have in store for him?
● The judges were impressed by the motion of the pieces, the clear story line, and the amazing chocolate chip cookie treat. They felt that the design did not dedicate enough to detail. I completely disagree – and although I was right about my prediction for the win going to Frosted Freak Show, I felt that Buttercream Beasts deserved it more.
● Frosted Freak Show's take on "Thumbelina" felt like a fairy tale. Thumbelina stole the crown and waged war on all the creatures who tried to marry her, the idea itself was dull, the star of the display was sloppy, and the frog mounted on the wall was unfinished. The pumpkin carving was outstanding, the detail on the fish and the dead beetle was remarkable, but my opinion is that it wasn't enough to grant them the win.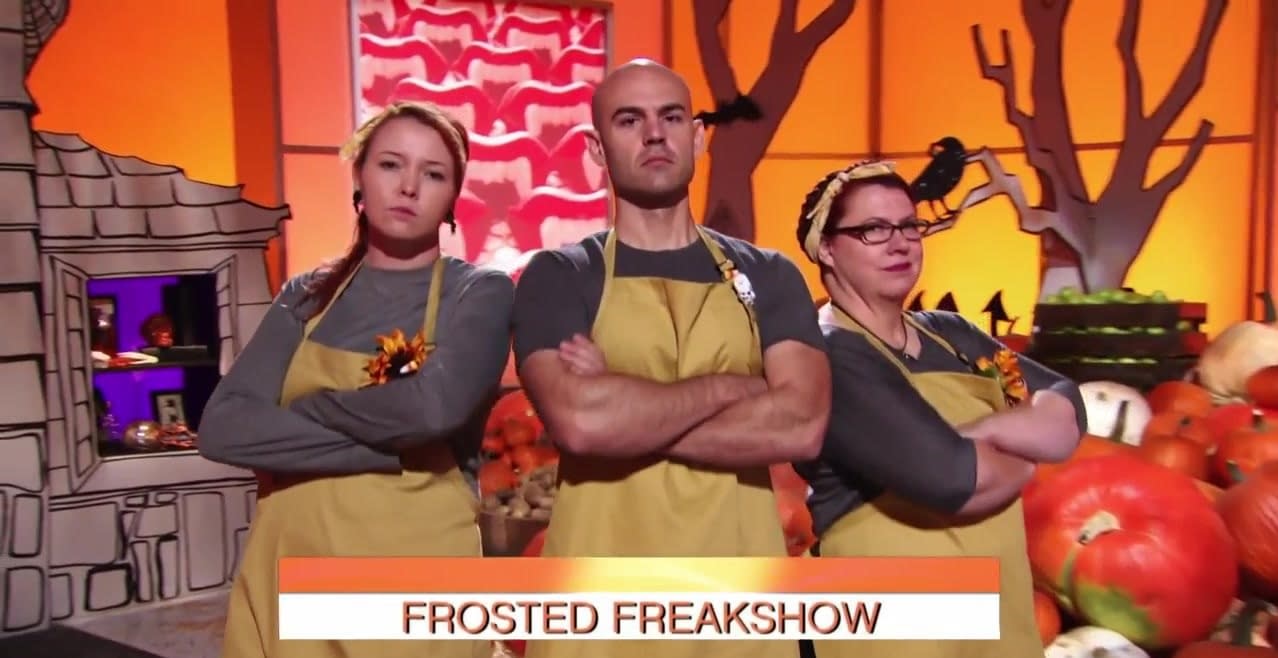 This year's Halloween Wars had its ups and down with contestants not consistently delivering on spooky themes and polished finished products. In some instances during the season the sugar work, the size of sculptures and especially pumpkin carvings were impressive. Some teams took risks and succeeded, others got eliminated for it, but they all seemed to have fun, and I enjoyed watching the process unfold, although at times, not agreeing on the outcome.
Enjoyed this article? Share it!