'Happy Days', 'Joanie Loves Chaci' Star Erin Moran Dead At 56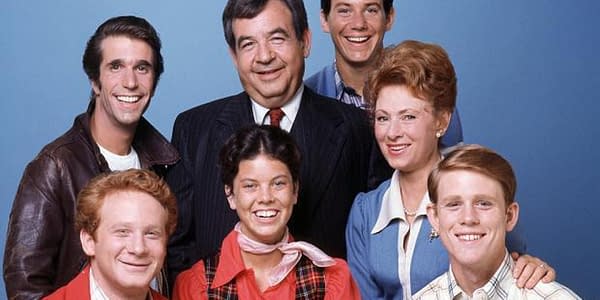 1970s and 80s television star Erin Moran died Saturday afternoon in Indiana, according to the Harrison County, Indiana Sheriff's department. The actress rose to fame as Ron Howard's little sister Joanie Cunningham on the show Happy Days beginning in 1974. Moran continued the role in 1982 with Joanie Loves Chachi with Scott Baio. She played a variety of other television roles throughout that era, on shows such as My Three Sons, Family Affair, The Love Boat, and Murder, She Wrote.
Moran joined several of her Happy Days co-stars in a 2011 lawsuit against CBS, claiming that the cast had not been paid merchandising revenues for items such as comic books, trading cards, lunch boxes, dolls, and other merchandise. the claim was settled in 2012, with each actor receiving $65,000 and a promise by CBS to continue honoring the terms of the contract.
Moran's more recent film and television roles included Not Another B Movie from 2010, and a 2009 appearance on The Bold and the Beautiful.