Happy! Season 2 Update: March Debut, 'Weird Al' Yankovic Character First-Look, Curtis Armstrong Joins
Fans of Syfy's series adaptation of writer Grant Morrison and artist Darick Robertson's comic book limited series Happy! were rewarded for their insomnia with some interesting news about when they can expect the series to return – and who will be waiting for them when it does: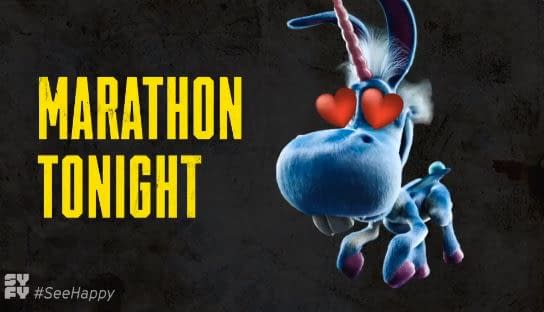 ● Looks like the road to a Happy! Easter is starting a little early, with the series returning to SYFY in March 2019 – as ws seen both on-screen during breaks throughout the marathon.
● Paul "The Big Show" Wight plays Mr. Blue's (Ritchie Coster) cellmate Big Pink – and one of his very first scenes has him pants down on a prison toilet. Now try getting that visual out of your heads…
● During the course of the marathon, it was also revealed that Curtis Armstrong (Moonlighting, Revenge of the Nerds) is joining this season as what appears to be another child host – and who for some reason finds himself performing at a retirement home – for nazis?!?!?
● Announced before SYFY's marathon, our friends at TVLine shared the following first-look at the character 'Weird Al' Yankovic will voice during the upcoming season: Smoking Man Baby. Toxic masculinity in a diaper, Smoking Man Baby is a jealous, volatile baby blowhard with full tats and a cigarette always dangling from his mouth: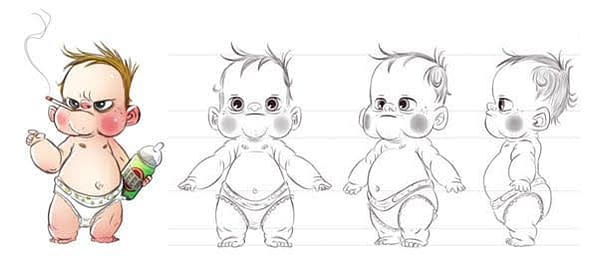 Hollywood stage and screen legend Ann-Margret (Ray Donovan, Bye Bye Birdie) also joins the cast this season as former siren of stage and screen Bebe Debarge. Meanwhile, Bryce Lorenzo (Orange is the New Black, Nicole & OJ) is now a full-time cast member, as Hailey is forced to deal with a threat that hits a little too close to home; while Christopher Fitzgerald (Godless, Broadway's Waitress) joins her, as Sonny continues his dark descent.
Happy! is based on New York Times best-selling author Grant Morrison and Darick Robertson's graphic novel of the same name. The series follows Nick Sax (Christopher Meloni, Law & Order: SVU) – an intoxicated, corrupt ex-cop turned hit man – who is adrift in a world of casual murder, soulless sex and betrayal. After a hit gone wrong, his inebriated life is forever changed by a tiny, relentlessly positive, imaginary blue winged horse named Happy (Patton Oswalt).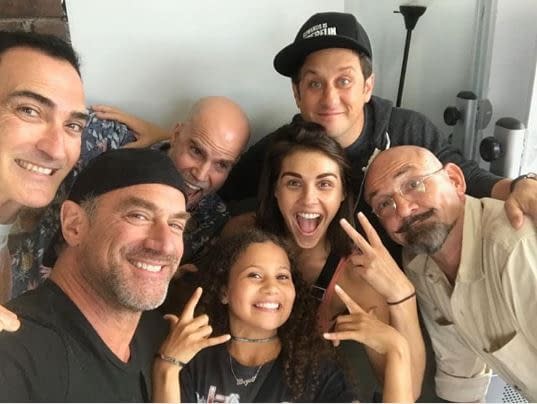 Syfy's adaptation of Happy! stars Christopher Meloni as Nicholas "Nick" Sax; Patton Oswalt as the voice of Happy; Ritchie Coster as Francisco Scaramucci; Lili Mirojnick as Det. Meredith "Merry" McCarthy; Medina Senghore as Amanda Hansen; Bryce Lorenzo as Hailey Hansen; Patrick Fischler as Smoothie; Debi Mazar as Isabella Scaramucci; and Christopher Fitzgerald as Louis "Sonny Shine" Sheinberg.