Hawke Defends Marvel Critics: Films "Basically Made for 14-Year-Olds"
If it feels like Marvel Studios has a new MCU film coming out every other week, you're definitely not alone. But where folks part ways is whether or not that's a good thing. For award-winning filmmakers like Martin Scorsese and Francis Ford Coppola, it's a very, very bad thing and a harbinger of dark times for the film industry as a whole. On the flip side, critics see the duo and others who call out Marvel and others for the volume of superhero fare as being stuck in an old way of thinking and not appreciating the audience's changing tastes. One person making his thoughts known on the matter is Moon Knight star Ethan Hawke, who defended the filmmakers and other Marvel critics while also discussing why working in the MCU can be great for an actor (but maybe not so much for directors) during an interview with IndieWire.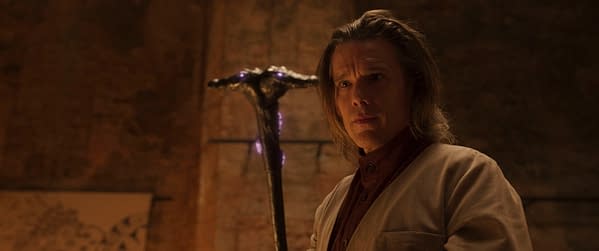 In Defense of the Critics: "If people like Scorsese and Coppola don't come out to tell their truth about how there are more important things than making money, who's going to?" Hawke argued in defense of the filmmakers and other who've criticized what they consider to be the glut of MCU (and other "spandex" films) hurting more "serious" works. "It's easy for them [Scorsese and Coppola], but it needs to be somebody in the community saying, 'Hey, everybody, this is not "Fanny and Alexander." If you keep reviewing these movies that are basically made for 14-year-olds like they're 'Fanny and Alexander' or 'Winter Light,' then who the hell's going to get to make 'Winter Light'? I appreciate the elder statesmen of the community reminding people not to set the bar too low. I know it makes some people think they're stuck up, but they're not stuck up."
On How Daughter Maya Hawke Convinced Him to Play in MCU "Sandbox": "Maya would say to me, 'Why are you sitting on the outside and telling everyone their sandbox is bad? Why don't you go into their sandbox, play with them, and show them what you have to offer?' I said to Oscar Isaac, 'We've got to go play in Marvel's sandbox and try to do what we do. We don't have to change Marvel. We just want to show them what we're capable of doing and see if they find it interesting.' So we had a lot of rehearsals and worked on things a lot. We had a really good experience."
Hawke Sees MCU as Actor-Friendly, But If You're a Director…: "That group of people is extremely actor-friendly. They might not be director-friendly, and that could be what Scorsese and Coppola are talking about. But they love actors. I think Kevin Feige had a great thing happen with Robert Downey Jr., and he understood that Downey's passion was a large part of the success. When actors are excited by a part, audiences get excited about watching them. Feige understood the algorithm there, so they're extremely respectful toward the process. The best thing about 'Moon Knight' for me was Oscar's performance. It's a gonzo thing that happens to have a giant budget — a pretty out-there performance.
Oh Not Having a Long-Term MCU Commitment: "I'm not supposed to talk about it. I had to sign an NDA about dealing with them, but I'm not interested in long-term commitments. I protected myself because I didn't know what it was going to be. I just wanted to know what that sandbox was like. And it's what young people are watching, so why are we going to sit there and tell them it's not good?"