5 Questions We Have After 'Game of Thrones' Battle of Winterfell [SPOILERS]
Game of Thrones pulled off their most epic and "darkest" battle of the show's history. If you haven't watched the episode yet, you probably should, as there will be some MASSIVE spoilers in this piece.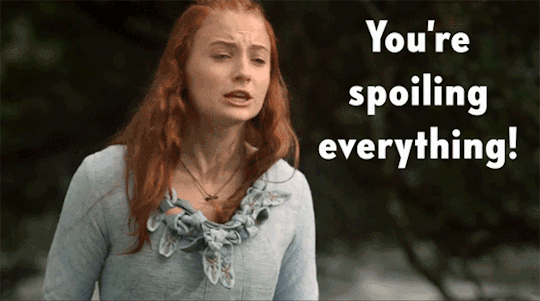 Here are our loose ends/questions we have following the season 8 episode 3, "The Long Night".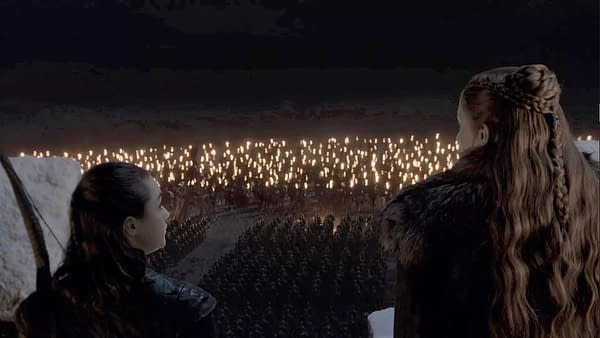 How has the Targaryen alliance's army able to recover so quickly?
If you followed all 82-minutes of the slaughter and chaos of the battle, the wights were dominating the field with their masses overwhelming much of the defenders throughout the keep. Brienne (Gwendoline Christie), Jamie (Nikolaj Coster-Waldau), and Gendry (Joe Dempsie) all fighting to bitter exhaustion holding a line while being backed up to a castle wall. The remaining survivors were trying to outrun or outlast the onslaught either by themselves or in small groups.
Most of the time, the numbers looked to have dwindled to what appears to be a handful left of the "living" standing on screen by the end of the episode.
After the sudden victory from Arya's (Maisie Williams) defeat of the Night King, the survivors are barely left standing having exhausted all remaining adrenaline. And, the preview of the next episode makes it look like they have a standing army looking to take back Kings Landing.
Where did all the extra help come from? Were there that many who refused in the north who refused to join the fight? Are they of the Golden Company? Is Yara going to join the fight assuming everything in the Iron Islands went to plan? It just seems given all the hype of winter coming, they all look fully rested and nothing happened. I get the season being short and all, but to build up everything and keep going breakneck speed takes the wind off the sails of the conflict.
Why waste the Dothraki? These are the best military minds in Westeros, what gives?
The first people sent to battle only to get slaughtered were the Dothraki, who helped teach Dany how to be a leader with their brutal ways. She even got them to stop raping and pillaging as they came to worship her and her dragons. When there's zero visibility and you have cavalry blindly charging into the unknown enemy like that, what did you really expect?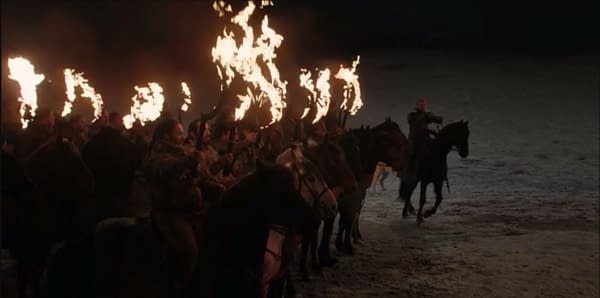 As their blades lit from Melisandre's (Carice van Houten) spell, the torched arakhs became extinguished almost as quickly as they were lit. We get it's supposed to be a visual point to how overwhelmingly destructive the undead are, but they deserved far better. The alliance could have drawn the wights out to charge their way instead with an aerial assault. Instead, they became even more shorthanded than before.
Who's Running the Show? Dany or Jon?
From the preview of the episode, it seems Dany's giving another pep talk before their imminent invasion of Kings Landing. While you can only take so much from a preview, is she back to acting like the queen destined for the iron throne?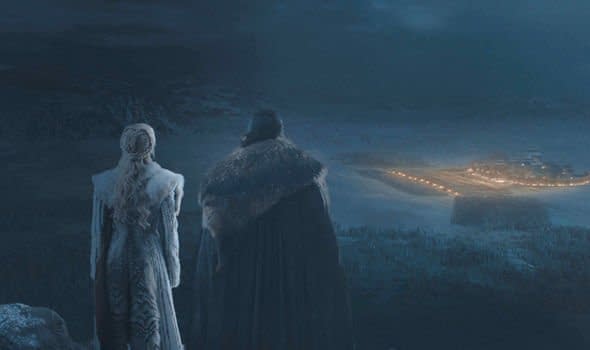 Since Samwell Tarley (John Bradley) told Jon and Jon told Dany, does he plan to tell anyone else now that the Battle of Winterfell is over? Another complication is Sansa asked Dany what of the North if she takes the iron throne, which went unanswered.
Who will join the siege of Kings Landing?
Clearly Bran/Three-Eyed Raven (Isaac Hempstead Wright) doesn't have anywhere near the stake in this coming battle than the last one with the Night King.
Arya still has names on her kill list. Odds are 60/40 for Sansa to show up. She'll either head up repair efforts at Winterfell or like to see Cersei (Lena Headey) get her just deserts in her part allowing Joffrey to kill her father.
Most other military-oriented major character in Dany, Jon, Grey Worm (Jacob Anderson), Sandor Glegane (Rory McCann), Brienne, and Davos (Liam Cunningham) are likely to go save for a skeleton crew to defend Winterfell should Cersei put a counter offensive. Expect Sam and Varys (Conieth Hill) to stay at Winterfell. Missandei (Nathalie Emmanuel) travels with Dany.
Expect Jaime and Tyrion to come along as well. Speaking of which…
Will Bronn go through with assassinating Jaime and Tyrion?
At last we left Bronn (Jerome Flynn), Qyburn (Anton Lesser) tasked him on behalf of Cersei to kill Jaime and Tyrion both with Joffrey's crossbow. As a proud sellsword, he's willing to do any task for a price, but is it too high given with his past with the Lannister brothers?
Assuming he doesn't become cold and attempts the deed, how would both respond? Would the action erase any doubt that she needs to be put down? Jaime nor Tyrion ever acted against one another, but Cersei's always shown contempt for her younger brother and she's finally accepted turning against her twin brother and lover.
Game of Thrones season 8 continues this Sunday with episode 4.