Holey Moley II Preview Brings Down Under Thunder, Steve Guttenberg
In case anyone out there is still wondering why ABC's mini-gold competition series Holey Moley was brought back for a second season, we would strongly suggest you shift your eyeballs over to how both the same-day and delayed ratings turned out. NBA superstar, mini-golf course pro, and executive producer Stephen Curry's series is a hit that keeps on growing. Which brings us to this week's round, with commentators Rob Riggle and Joe Tessitore, as well as sideline correspondent Jeannie Mai, hosting our next eight contestants: Carlee from Normal, IL; Kyle from Washington, IN; Avis from San Diego, CA; Jennifer from Riverside, CA; Robert from Bowling Green, CA; Timothy from Torrance, CA; Ray from Redding, CA; and Roger from Chicago, IL.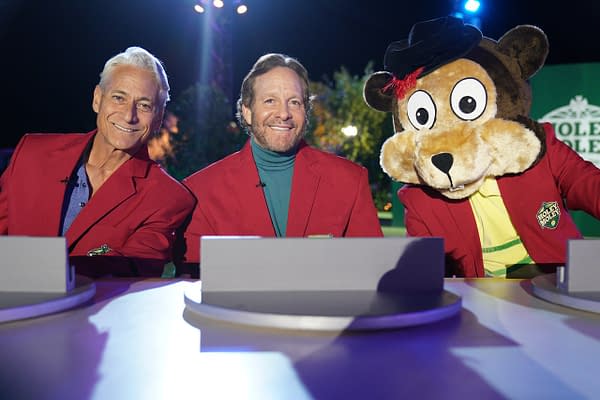 Out of those eight contestants, one will emerge victorious, earning them the iconic Holey Moley plaid jacket and golden putter from Curry himself. For the all-star grand finale, the season's winners will return to compete for the $250,000 prize. But the best part of this week's "That's One For the Scrapbooks" from our standpoint? The opportunity to share the new hole Diving Range with none other than "Mr. Police Academy" himself, Steve Guttenberg aka Mahoney.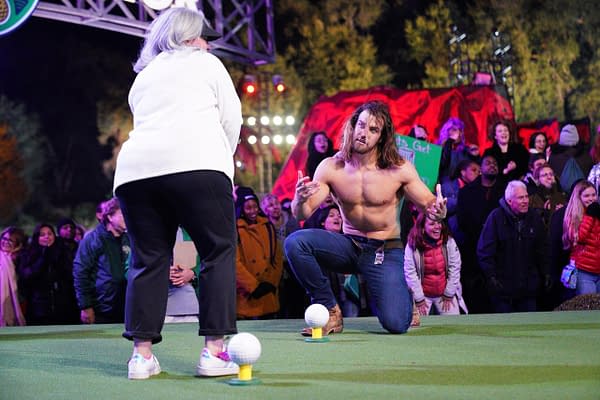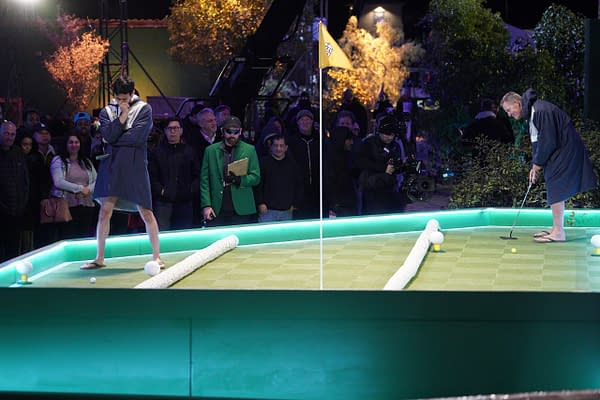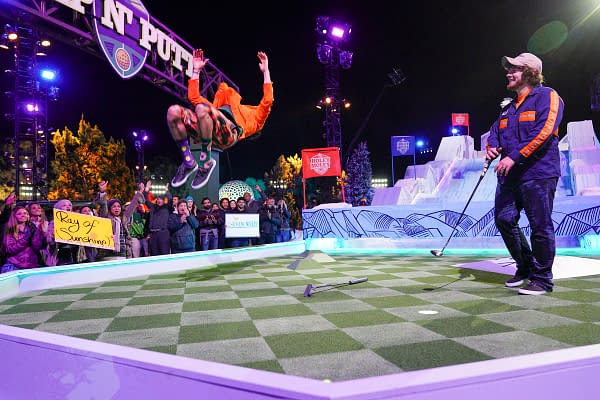 Holey Moley season 2, episode 2 "That's One For the Scrapbooks": On this week's all-new "Holey Moley," we get our exhilarating first hole in one of the season as a former professional golfer tees up fierce competition against a scrapbooking queen on the squeaky clean, all-new Putter Ducky hole. A "garbologist" faces off against a professional dancer on Hole Number Two. A professional model and revenge-seeking husband from season one flip out after their diving skills are scored by Olympian Greg Louganis and actor Steve Guttenberg on new hole Diving Range. Meanwhile, a human squirrel tackles Water Hazard for the first time, while this week's Distractor, Thunder from Down Under, steals strokes and hearts; and the slippery final putt sends one contestant a step closer to winning $250k.
Some new holes returning viewers can expect when the second season debuts this Thursday include Dragons Breath, Polcano, Beaver Creek, Putt The Plank, Double Dutch Courage, Hole Number Two, and the ominous-sounding Frankenputt. Epic putts and memorable wipeouts will be the order of the day each week, including one contestant who tries her hardest to literally jump the shark (you'll just have to see how that turns out), as well as the return of the fan-favorite "windmill wipeouts" and two zip-lines in play to double the potential for mishaps.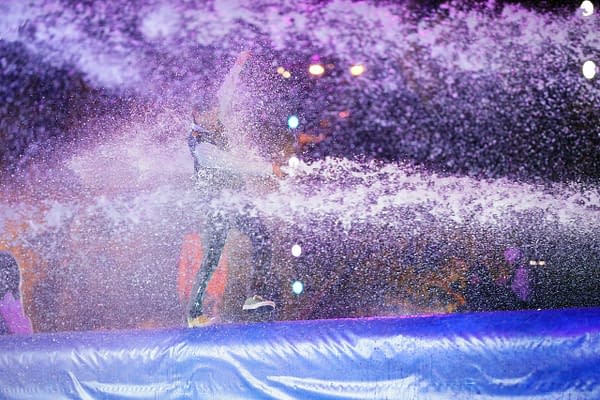 Holey Moley is produced by Eureka Productions and Unanimous Media. Chris Culvenor, Paul Franklin, Wes Dening, Charles Wachter, Michael O'Sullivan, Jeron Smith, Erick Peyton, and Curry serve as executive producers. Rob Riggle, Joe Tessitore, and Jeannie Mai are featured as on-camera commentators and sideline correspondents, respectively. Holey Moley is an original format created by Chris Culvenor of Eureka Productions.