Hulu "Scrubs" 3 Episodes Over Blackface Use at Creator's Request
In light of the growing national attention being paid over systemic racism and unequal representation in the media, a number of shows (Little Britain, for example) have found some of their episodes being removed by networks and streaming services over potentially racist content – in particular, the use of blackface. Recently, creators of shows like 30 Rock have come forward to request that certain episodes be removed and issuing statements of apology. You can now add series creator Bill Lawrence's hospital sitcom Scrubs. Lawrence and ABC Studios requested that Hulu remove the following episodes from the Zack Braff/Donald Faison/Sarah Chalke that featured characters in blackface: "My Fifteen Seconds" (s03e07), "My Jiggly Ball" (s05e04), and "My Chopped Liver" (s0517). The move was confirmed by Lawrence in a response to a retweet of Variety's 30 Rock report: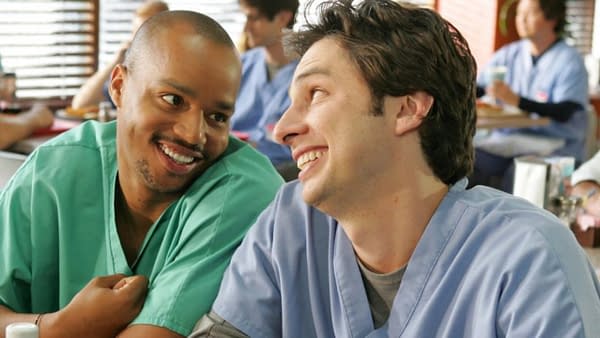 Lawrence confirmed that the "Scrubs" episode were being taken down when replying to a tweet about Variety's story on the "30 Rock" news.
On Tuesday, 30 Rock co-creators Tina Fey and Robert Carlock, and NBCUniversal made the decision to remove four episodes featuring characters in blackface from streaming services and syndication. The episodes Fey and Carlock requested removed included "Believe In The Stars" (s03e02), "Christmas Attack Zone" (s05e10), "Live from Studio 6H" (s06e19), and the east coast edition of "The Live Show" (s05e04). NBC Universal also removed the episodes from its sales platform and is currently working to remove the episodes from third-party runs. Fey had this to say about the decision: "As we strive to do the work and do better in regards to race in America, we believe that these episodes featuring actors in race-changing makeup are best taken out of circulation. I understand now that 'intent; is not a free pass for white people to use these images. I apologize for the pain they have caused. Going forward, no comedy-loving kid needs to stumble on these tropes and be stung by their ugliness. I thank NBCUniversal for honoring this request."