Impact Wrestling 6/30/20 Part 2: The Trial of Moose
In the first hour of Impact, we learned the new plan for the Slammiversary main event with both Tessa Blanchard and Michael Elgin gone from Impact. Ace Austin, Eddie Edwards, and Trey will be joined by a mystery partner to crown a new Impact World Champion. We also saw Chris Bey take on Suicide, TJP and Fallah Bahh take on Reno Scum, a salacious Locker Room Talk about John E. Bravo's sex life, and Sami Callahan make friends with Ken Shamrock to take on The North. Read about all of that here. Now, it's time for the second hour of Impact Wrestling.
The first hour ended with an Impact Plus Flashback Moment of the Week, featuring Eric Young vs. Magnus. Young survived a shot to the "yam bag," as Taz calls them, to win the TNA Championship. Will Eric Young be at Slammiversary on July 18th? Will he be the fourth man?! This was a long flashback and Impact has to take a commercial break.
After the break, Jimmy Jacobs is standing outside Trey's locker room, looking for an interview. He knocks, and Trey answers and invites him in. Jacobs wants to know what Trey's plan is against Madman Fulton tonight. Trey says he'll break his foot off in Madman Fulton's ass tonight.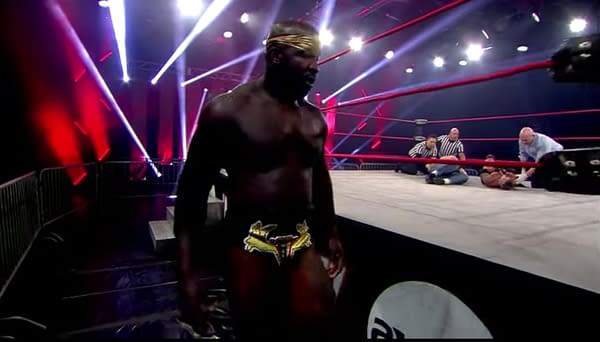 But before that, Crazzy Steve is going to take on Moose. Moose may have the best entrance in Impact Wrestling. I like that the only lyrics to his theme song are the word "Moose" over and over. Moose makes David Penzer introduce him as the TNA World Heavyweight Champion. He makes him redo it a few times until he gives Moose the introduction he deserves.
Moose dominates the early part of this match. He's about twice the size of Crazzy Steve. As Steve writhes in pain on the ground outside the ring, Madison Rayne lets Josh Matthews have it over all his trash-talking about Moose. Matthews makes it a point every rime Moose comes out to denigrate the TNA Championship because Moose found it on a table rather than winning it in a sanctioned match, but honestly, is the now-vacant Impact World Championship really any more prestigious than this one? I'm on Moose and Madison's side here.
Crazzy Steve is bleeding from the mouth now after a beatdown outside the ring. Moose is taking it slow, just stalking Steve around the ring, hitting a big move, then mugging for the cameras. Steve actually gets some offense, a sunset flip powerbomb out of the corner, but Moose kicks out at one. Steve gets some more offense now and even a two-count on a schoolboy rollup. But Moose catches Steve off a crossbody and it's time to finish this up. No Jackhammer Needed, and Moose gets the pinfall.
Moose continues the beatdown after the match because he can. Tommy Dreamer runs out in a coronavirus mask with some refs to chase Moose away. Moose pretends to back off, but then he kicks Dreamer in the head while Dreamer is checking on Steve. Moose leaves with his TNA Championship, the most prestigious belt in Impact Wrestling right now. Now it's time for some commercials, in case you've forgotten what Nugenix is (it's made with Testafen!).
After the break, Tommy Dreamer is back on his feet. He's bleeding from the head, he's probably got another concussion, he's removed his mask, and he's cutting a promo on Moose. Dreamer talks up all the talent Moose has and tells Moose's story. Moose's NFL career and his wrestling career were just about a paycheck, not a dream. Moose didn't listen to his coaches in the NFL, and he doesn't listen to his coaches in Impact either, coaches like Tommy Dreamer. Dreamer is really fired up now. He punches himself in the face to make himself bleed more. Dreamer brings up Dusty Rhodes' Hard Times promo and says the pandemic era is the hardest times ever in the world. Dreamer says Impact is trying to make people feel good during these tough times, but Moose only cares about himself. Dreamer says his belly and ass may be fat (true), but he's a bad, violent man. Moose is gonna be a footnote in pro wrestling because he's a waste of talent. Uh… is this leading to a match, or what?
Backstage, Hernandez is arm wrestling with the Deaners. You know my rule on Deaners. Time for a bathroom break. I come back to find Kiera Hogan and Tasha Steelz coming to the ring, presumably so one of them can fight one of Havok or Neveah. This feud just started a week or two ago but it feels like it's been going on for months and I'm ready to move on. It's Havok vs. Hogan. They barely get started when Impact takes a commercial break.
The show comes back with Hogan on Havok's back, trying to put her to sleep. Havok smashes Hogan into the turnbuckles instead. Hogan chokes Havok with her braids from the corner, but Havok flips her across the ring. Havok has had enough and beats the crap out of Hogan. But Tasha distracts Havok by putting on Havok's mask. Havok chokes Steelz, but Steelz manages to toss the mask to Hogan. Hogan hits Havok with the mask and gets the win.
Backstage, Moose cuts a promo on Tommy Dreamer. Dreamer doesn't know what Moose has been through or where he came from. Moose isn't a kid looking for advice from Tommy. He's the TNA World Champion. He demands a public apology from Dreamer or he's going to sue him for slander. Impact goes to commercials again.
After the break, Josh Matthews and Madison Rayne run down the lineup for Slammiversary. You can just google it. With about ten minutes left, it's time for the main event: Madman Fulton (with Ace Austin) vs. Trey. Fulton is the one who's been attacking Trey backstage, so Trey wants revenge. Trey and Austin will also be in the Impact World Championship match at Slammiversary. Austin is looking to ride on Fulton's shoulders to the championship. We get through Fulton's entrance and Impact takes one more commercial break. Looks like this is gonna be a short match.
We've got six minutes left, so Trey runs out to the ring and the match gets started right away. Trey tries a dive on Fulton outside the ring but Fulton catches him and throws him back in. Fulton towers over Trey, but Trey isn't afraid. Trey's strategy is to avoid getting hit and use his quickness. It works out well… at first. Trey tries too much flippy stuff and flips right into a goozle and a chokeslam. Now it's time for Fulton to manhandle Trey. He does a one-handed gorilla press slam, which would be more impressive if the camera didn't do a closeup of Trey holding himself up on Fulton's shoulder. Fulton hits a reverse suplex and Trey wastes time selling. Doesn't he realize there's only three minutes left of the show?!
Fulton abuses Trey some more as the clock ticks down. Eventually, Trey hits a springboard backflip over the top of Fulton and puts him a sleeper, but Fulton reverses into a sidewalk slam and a pin for two, but Trey doesn't let go of the sleeper. Fulton makes his way back to his feet with Trey on his back and frees himself by ramming Trey into the turnbuckles. Trey hits some kicks and a flying backbreaker. More kicks, and Trey tries a springboard DDT, but Fulton reverses into a Northern Lights Suplex for two.
Fulton beats on Trey, hanging him up on the top rope. Trey reaches down over the ropes and grabs a stick from ringside and hits Fulton in the face with it, getting disqualified. Trey grabs a chair and hits Ace Austin, then brings it in the ring to beat on Fulton. Josh Matthews says Trey has Ruthless Aggression. My god! John Cena will be at Slammiversary? Impact ends with a brief video promo for Eric Young.
This episode of Impact is much better than last week's. I think I'm actually more interested in Slammiversary now that Blanchard and Elgin are out and a mystery person is in. Impact has been slowly building stories for everyone involved in the PPV, and with the promise of fired WWE stars showing up, they've got a lot of momentum going into it in a few weeks. Wednesday, I'll be marathon recapping both AEW Dynamite and NXT, which are PPV quality shows, so I'm going to need to rest up for that.