Impact Wrestling 7/7/20 Report Part 1: Ringo Starr's Birthday Bash
Impact kicks off with… Ringo Starr thanking a list of his friends for his birthday concert. How old is Ringo? A hundred? He could still probably take a bump better than Hogan during his last Impact run. Welcome to Bleeding Cool's Impact Wrestling report. Who hosts their own birthday concert, by the way? Tacky. The show will start any minute now.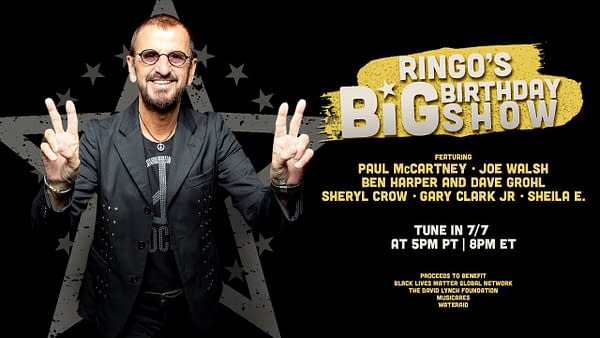 Impact finally starts over five minutes late with a "previously on Impact Wrestling" segment. We know. We watched it. After the opening credits, Rosemary heads to the ring, followed by Taya Valkyrie and John E. Bravo. Josh Matthews and Madison Rayne are on commentary. Matthews is currently going through detox because it's been a week since he last skilled Impact Microbrawlers. Susie comes out, and then Kylie Rae comes out, and we have ourselves a tag team match.
The match starts with Rosemary calling Susie an idiot. Then they fight. The teams are evenly matched, for the most part. Taya and Rosemary control the early part of the match, mostly beating on Susie, until Kylie Rae tags in and begins a comeback. Rosemary ends up tossed out of the ring and Bravo becomes concerned that she's hurt. That leaves Valkyrie alone in the ring to get caught in the STF by Kylie. Taya taps out.
Matthews and Rayne talk about the sizzling love affair between Bravo and Rosemary. Madison loves it. Matthews sells Slammiversary, happening in just under two weeks. Matthews reminds us that a fired WWE mid-carder will be in the main event of the PPV. Who could it be?! Impact goes to commercials.
After the break, Chris Bey and Johnny Swinger talk about Slammiversary, where Swinger is banned from ringside during Bey's X-Division Championship match. Swinger says he'll find a way around it. The Deaners come out for a four-way tag team match. Then Reno Scum, XXXL, and TJP & Fallah Bahh. I feel the same way as Madison does about the Deaners, but I'm more principled than she is. I outright refuse to recap any match or segment featuring Deaners of any kind. Sometimes, a man has just got to take a stand. Time for a smoke break.
I come back from my smoke break to Matthews shilling Microbrawlers during the match that shall not be named. Even Madison is sick of it. "You've got to stop it with the Microbrawlers," she told him. Good for you, Madison. Deaners win. Ugh.
After the match, Reno Scum fight TJP and Fallah Bahh backstage. Bahh puts TJP inside a trash can, and then he wheels the can into Reno Scum while TJP holds a steel chair. Even so, Reno Scum end up on top and leave their opponents laying in the hallways. Impact takes another commercial break.
Johnny Swinger is trying to figure out how to get around being banned at ringside at Slammiversary. He goes through some bags backstage and finds costumes. He passes over a Super Eric mask (remember, at least one WWE mid-carder will be at the PPV), but he manages to fit into Suicide's mask, so he steals the costume. The Impact Plus Flashback Moment of the Week is Tara and Angelina Love vs. The Beautiful People from TNA Lockdown in 2010. I like that Impact shows these flashbacks every week. They also usually tie into something having to do with Slammiversary. What could this one be about? Impact takes another break.
In a video, Ken Shamrock meets with Sami Callahan. Shamrock says they have a chance to do something special at Slammiversary: end The North and capture the gold. Shamrock says he'll be there if Sami needs his help. Sami says he doesn't need his help. He's not even sure why he helped Shamrock in the first place. Then again, Sami thinks they might be the world's most dangerous tag team. Callahan does his disappearing act.
Kimber Lee comes to the ring for a match against Jordynne Grace, who is fighting against the Impact Wrestling tradition of hot-shotting the title onto a wrestler who recently got fired by WWE. Grace faces Deonna Purrazzo at Slammiversary, and she could really use a tune-up match here.
Hey, this match starts with a test of strength! I was just saying last week that matches never start with those anymore. Grace overpowers Lee and pushes her down into a few pin attempts. Lee powers back to her feet, but barely escapes a Grace Driver. Grace continues to woman-handle Lee. Lee kicks out of a couple of pin attempts after a spinebuster. Lee then makes a comeback as Grace resists a series of submissions and pin attempts. Eventually, Grace takes control again with a suplex. She hits a bodyslam and a Michinoku Driver, but still can't get the pin yet. Lee fights off another Grace Driver and takes Grace down with some kicks. She hits a Swanton Bomb but Grace kicks out. Lee gets her brass knuckles, but Grace blocks the shot and hits the Grace Driver for the win. A short, no-nonsense match with a purpose, but I'm gonna call it the match of the night because they used the test of strength.
Deonna Purrazzo's music plays and Grace gets ready, but Purazzo appears on the ImpactTron. She didn't come to Impact to engage in "frivolous combat." She came to be the Knockouts Champion. Purrazzo will only fight Grace at Slammiversary. She says "I'm not the only one who sees that Impact Wrestling is ripe for the picking." Matthews freaks out. OMG, will it be another fired WWE mid-carder?