Did you miss Into the Badlands? So did we. Thankfully we've got a brand new exclusive clip to tie us over until episode 6, Black Wind Howls, premieres!
This fight is what I love about this show. It's constantly changing up the fighting style, and mixing in innovation with classical moves. Let me tell you, as someone who used to do competitive martial arts, you gotta be limber to pull off the moves Sunny (Daniel Wu) and crew are laying down. But you don't have to be in Sunny level shape to stay in the game. As we see time and time again the choreographers play to character's strengths. We see Bajie (Nick Frost) taking advantage of his surroundings and strength to enter the fray.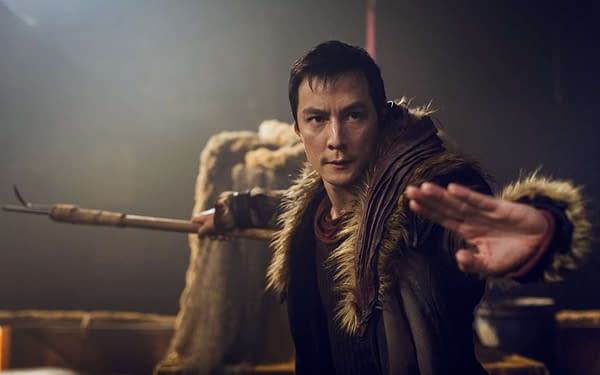 Also, at Wondercon we were promised a Bajie fight with octopus (octopi?) nunchucks (and I think we're finally going to see them this episode)…who thinks of things like that?! So bizarre, yet so creative.
Other questions we have to ask are: "who is the mysterious woman ducking and dodging during the fight?" We'll have to wait a few more days to find out in Black Wind Howls!
Enjoyed this article? Share it!