Jack Black: The DCU Superman That James Gunn Needs & Deserves (Video)
With James Gunn "very far" into his Superman: Legacy script, it looks like we might have a top contender for the next Man of Steel.
---
Okay, look. It only makes sense. I mean, just this past week, DC Studios co-head James Gunn shared that he was "very far" into the Superman: Legacy script. And based on what Gunn & his DCU partner, Peter Safran, had to share last month, we know that casting and things like that will start to kick in once there's a script in hand. So with that in mind, doesn't it seem quite plausible that Gunn would make a personal call to the walking multi-talent Jack Black to be their Superman? That's the premise of the video that Black posted on Instagram yesterday – and we're buying into it. Why? Tenacious D, people. Tenacious D. But as you're about to see, Black doesn't take the call for granted. Utilizing his ever-razor-sharp thespian skills and state-of-the-art technology, we get a sneak peek at what Black's Man of Steel has to offer.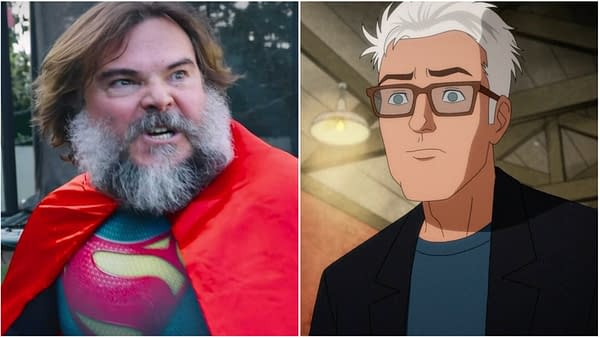 But as excited as we were for the big, breaking-news spoiler reveal, it doesn't sound like Gunn was too happy (jokingly, in case it's not clear enough & before rumors of a Gunn/Black social media war start rumbling) to have DC Studios' big San Diego Comic-Con reveal spoiled. "I thought we agreed to save this news for ComicCon," Gunn responded in the post. Meanwhile, Peacemaker star Steve Agee offered some sage beard advice: don't dye it. Here's a look at Black making the case as to why he's the perfect choice to be the next "Man of Steel" for Gunn & Safran's new DCU. And if this doesn't work out, there's another project that we would like to see Black involved in…
James Gunn Offers Update on "Creature Commandos"
When Gunn & Safran announced "Chapter 1 – Gods and Monsters" (their first wave of films & series in their new DCU), the news that writer J. M. DeMatteis & artist Pat Broderick's Creature Commandos would be getting an animated series adaptation was definitely a project that caught our eye. First introduced in Weird War Tales #93 (November 1980), the comic book series focused on Frankenstein's monster teaming with a werewolf, a vampire, and a gorgon to fight Nazis in World War II. The series has the distinction of being the first DCU project that Gunn & Safran gave a green light to, with Gunn having penned the series (with some serious The Suicide Squad roots). In addition, the series is being cast with voice actors who could also play their characters in a live-action project down the road. Why's that part about casting particularly important for this update? Because we might knew who's in that cast sooner than we think.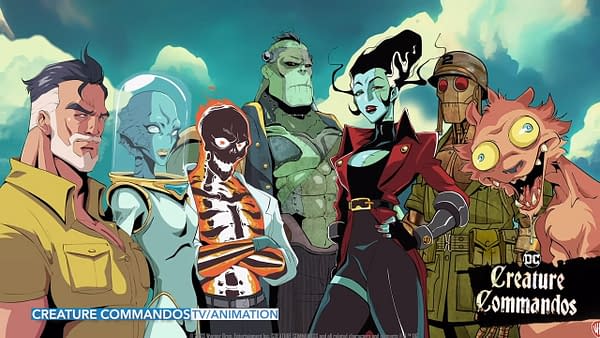 Asked for an update on how things were going with the project, Gunn offered up another direct response that caught us surprise in a very good way. "Starting production; almost done casting," was Gunn's response. So you know what that means, right? It's time to start shifting the speculation game to who will be voicing who (and maybe making the jump to live-action). Here's a look at a screencap of Gunn's response to how the animated series is progressing: