John Mulaney Gets Mistaken for Grant Gustin Constantly
Comedian John Mulaney recently hosted Saturday Night Live, a show he was a writer on for many years. He appeared on Late Night with Seth Meyers last night and talked about a variety of things including his time on the series, going back to host and being mistaken for The Flash start Grant Gustin. Mulaney says it happens regularly and tells of one particular story where a little boy thinks he's the Flash and his grandmother asks, and Mulaney says no… then has another person come up and say that they're a big fan of Mulaney's work and the grandmother just gives him a dirty look and says, "No, you are not The Flash."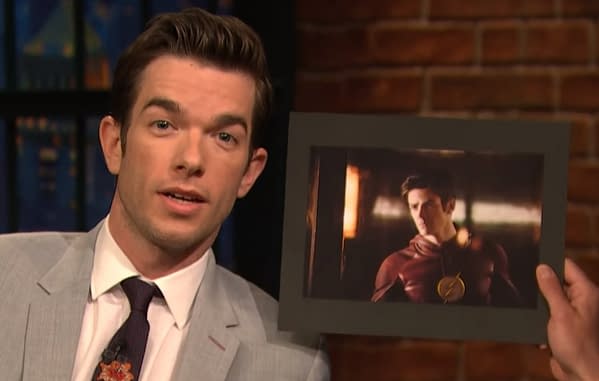 The best response to this has to come from his wife. John says he went home and complained that he was tired of people think he was the Flash and told her his story. Her response was to point out that he was complaining about one fan coming up and complimenting his act and another person mistaking him for a handsome, 28-year old actor… who she says he doesn't look like. Nice way to put things in perspective.
If the writers on Flash see his interview, they absolutely should book him for a role next season. Maybe he can play Malcolm Thawne aka Cobal Blue, Barry Allen's biological brother.