#JusticeForEthel – Riverdale Episode 3
[rwp-review-recap id="0"]
The best thing about this show is the character development. In this week's episode the story line isn't exactly weak, but it wasn't strong either. We open with Cheryl in Weatherbee's office with Sheriff Keller, where she spills her guts about what really happened. And no, she didn't kill him. Jason was planning on running away. That clearly didn't happen. Plus Cheryl's story isn't adding up either, but obviously that will be an ongoing problem in the series. The whole town is a suspect in the case, and the town's lead reporter, Alice Cooper–Betty's mom–is sensationalizing it to make it a bigger deal than Betty would like. Alice is motivated by pure revenge since Jason and Polly had a thing. We can see that the Cooper household is not a happy one. Polly is gone, and Alice can see that she's losing Betty as well.
We also finally meet Chuck Clayton, who turns out to be taking Veronica out on a date. I'd love to tell you that Chuck is a nice guy who draws comics, but instead he's a jock who tries to slut shame Veronica via an app that everyone in school seems to have on their phone. This is very close to what happened in the most recent issue of Archie comics, which is a neat tie in to the series. Veronica however, is having none of this. She doesn't feel that going on dates should justify her being called a slut, and nor will she be shamed for it. She takes Betty and storms into the boys locker room to confront Chuck, who laughs it off and tells her to get over it. Of course being Veronica, she won't get over it. Betty agrees to help her get revenge, and finds other girls who also were slut shamed by Chuck or his crew. One of those girls is Ethel Muggs, played by Shannon Purser (Barb from Stranger Things! She's ok! I guess Riverdale is a product of the upside down…) who comes forward and is pretty vocal of wanting to get back. Veronica vows revenge for all of them, as no girl should be shamed for simply being a girl. Veronica's development into a strong female who's not here for your shit is fantastic. It's a change from her snobby, almost bitchy attitude in the comics. Here shes self assured and strong, and is ready to take on the world.
This leads to Betty wanting to write an expose on it for the school's paper, the Blue and Gold. In the comics Betty had a love for writing, so I'm glad to see this staple of her personality kept in tact. She decides to recruit Jughead to the paper, who's a little reluctant. In this scene though, we can see the spark of Jughead's soft spot for Betty. If you're a classic Archie fan, you'll know Jughead has always had a thing for Betty. Probably because she can cook, but I really do think Jughead would in fact date her. He agrees to helping Betty since he wants to further interrogate someone else who was there when Jason died; Dilton. Dilton shockingly doesn't tell Jughead anything, but Jughead knows Dilton is hiding something.
Oh and don't think Grundy/Archie has taken a back seat this episode. Archie goes to Weatherbee and Sheriff Keller and tells them he heard a gunshot. In true good guy fashion, Archie insists he was at the river writing songs with his dog Vegas that morning. This confession also somehow leaves Cheryl off the hook, since she had insisted that she (and a living Jason) also heard the gunshot as well. Personally I don't think Archie's confession leaves Cheryl off the hook, but for the sake of the story sure why not. Grundy is furious at Archie, and suspends his lessons from there on out. Thankfully Archie seems to have some kind of dumb luck (which he's had for 75 years I guess) and Cheryl, in a gesture of true gratitude for getting her off the hook, offers Archie whatever he wants. And Archie just wants to hang out with Josie, Valerie, and Melody in order to still get his musical chops in. Josie is still hostile to Archie, but she is justified. Archie wants her to play his music, but Josie at first balks at the idea. The Pussycats don't need help, as she wants to do it themselves. Valerie seems to think differently, but super imposing and slightly rude Josie shoots her down. Josie however does soften up to Archie, and does indeed perform one of his songs. Readers, I apologize if this seems all over the place. The first episode was great at creating a story, but the past two episodes seem to jump all over the place with only one clear vision; figuring out who killed Jason. It seems really jumbled and crammed now, but I sincerely hope once the whole season is out it fleshes out better. I have hope. I thought Gotham was terrible for the first five episodes, and then like a switch it got better. Maybe that's what's happening here. Ok, back to the show.
I won't give away every detail of the episode, but I will go back to the one subplot that interested me the most. Veronica's revenge on Chuck. Ethel informs B&V that Chuck and his cronies had a little black book where they kept score on every conquest they had in Riverdale. Cheryl shoots this idea down as her brother would have never allowed this to happen (Jason and Chuck were friends). Veronica puts Cheryl in her place, taking Cheryl down a peg or two. Queen Cheryl's reign is coming to a quick end, and we can start to see the rise of Queen Veronica. I love how Camila Mendes breathes absolute fire into a strong, girl power Veronica. She is a force to be reckoned with, and Cheryl doesn't have it in her. Later that night, Kevin, Ethel, Betty and Veronica are all sneaking around Riverdale High when Cheryl busts them. She winds up joining them, and they do in fact find the book. Cheryl is shocked to see that it's actually real, and that her brother had a part of it too. Madeline Petsch has filled out the role of Cheryl perfectly. Her wave of emotion in this scene is strong, and it's becoming clear that Cheryl may have been a pawn in all of this. I'd feel bad for her, but honestly she's still kind of a dick.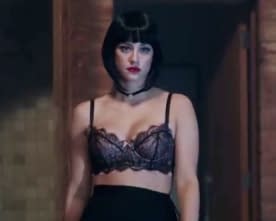 Oh, and the revenge scene with Chuck? I don't want to spoil it, but Lili Reinhart is amazing. She is the true star of this show, and watching her snap at Chuck was seriously enjoyable. Damn Betty, you're nasty as hell. I really like how Betty and Veronica seemed to have switched personalities. Veronica is still a bitch, but you can't help but love her. Betty seems sweet and kind, but there is something seriously wrong with her. I love it, but her character is frighteningly different than in the comics, even in Afterlife. This show should have just focused on Betty and Veronica, as they are frankly the best part of the show. Jughead even states that after that scenario, B&V were most definitely a thing, and they are fierce.
All in all, this show is still strong. It gets scattered here and there, but these actors each shine in their roles. Their respective drama and real life problems are real and great to watch, I just wish everything was more linear and easy to follow.
[rwp-review-ratings id="0"]
[rwp-review-form id="0"]