Kidding Has Sung Its Final Song: Showtime Ends Jim Carrey Series
Jim Carrey, Michel Gondry, and Dave Holstein's critically-acclaimed Showtime series Kidding (a personal favorite around the BCTV office) will be turning off the lights on Mr. Pickles' Puppet Time after two seasons. The cable network announced on Tuesday that the series has officially ended its run. Along with Carrey, the series starred Oscar, Emmy, and Golden Globe nominee Frank Langella (Frost/Nixon), Oscar, Emmy, and Golden Globe nominee Catherine Keener (Get Out), Judy Greer (Married), Cole Allen, Juliet Morris, and Justin Kirk (Weeds).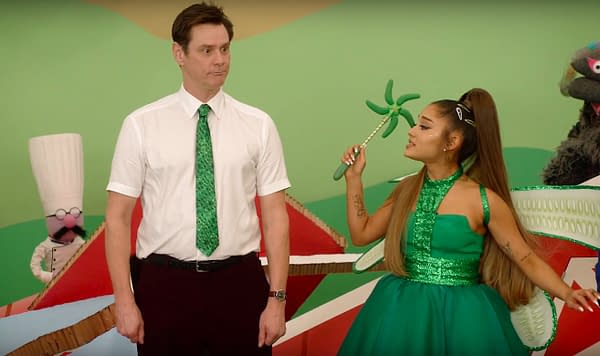 Showtime had this to say about the news, in an official statement: "After two seasons, 'Kidding' has concluded its run on Showtime. We are very proud to have aired this imaginative, critically-acclaimed, and rewarding series, and we would like to thank Jim Carrey, Dave Holstein, Michael Aguilar, Michel Gondry, and the entire cast and crew for their brilliant and tireless work."
With his beloved Mr. Pickles' Puppet Time off the air for the first time in 30 years, Jeff Pickles must find a way to communicate with his many fans who still need him. Jeff creates a new and controversial method to talk directly to children across the world only to become the target of animosity for the first time in his career. As Jeff navigates the most complicated moral gray areas of his life, he discovers a new side of himself in a season full of music, magic, puppets and pathos.
Kidding was created and is executive produced by Holstein (Weeds, Raising Hope), who wrote the pilot and served as showrunner. The series was also executive produced by Oscar winner Gondry (Eternal Sunshine of the Spotless Mind), who directed several episodes, including the premiere. In addition, Kidding was executive produced by Carrey, Michael Aguilar (I'm Dying Up Here), Roberto Benabib (Weeds), Raffi Adlan (The Green Hornet), Emmy nominee Jason Bateman (Ozark, Arrested Development) and Jim Garavente (Bad Words).