Killing Eve starts off its second season 30 seconds after the first one ended, with Eve Polastri (Sandra Oh) trying to flee from Villanelle's (Jodie Comer) flat. The reason she is trying to get away? She just stabbed the ruthless serial killer in her own bed.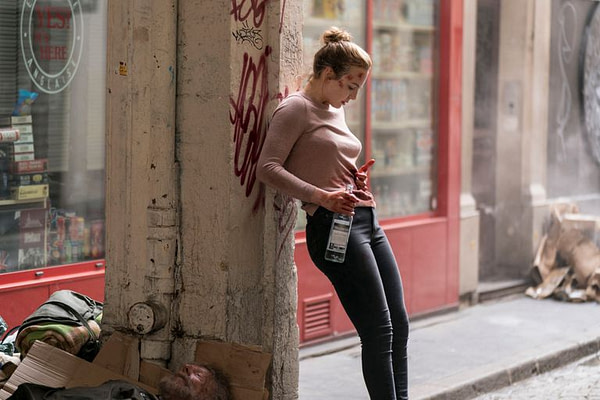 Eve has every reason to run, too. Aside from Villanelle, who has a terrifyingly effective track record for murderous pastimes, there's a mysterious secret society, known only as The Twelve, who may want to silence one or both of them.
Then there's Carolyn (Fiona Shaw), Eve's former boss at MI6. Carolyn has been calling Eve incessently since firing her from England's elite spy service. What's a person to do?
Well, if you're Eve Pulastri, you buy about 5 pounds of bulk candy and try to make it home to your husband. There's a problem there, too- Niko Pulastri (Owen McDonnell) has had it up to his floppy hairdo with Eve's job, since she can't (and won't) tell him anything about it.
The opening shot is amazingly tense, and done in one take with Eve trying to make it down a long flight of stairs, then running to hide, then running again as she evades a team of paramedics. There is such a strong, palpable fear at play that it's hard not to hold your breath.
Yeah, season two is off to a fantastic start!
Villanelle finds an inventive way to get herself to the hospital, where she manages to stay out of police attention by being a wily genius. She also meets young Gabriel (Pierre Atri), with whom she strikes up a fleeting friendship in between bouts of passing out from blood loss.
There is something unnerving about Killing Eve, something that burrows deep down into your psyche and takes purchase. Villanelle is horrible. She's just about the most terrifying mass murderer ever brought to life on television, and when she's in killing mode, it's chilling to watch.
She's also one of the most delightfully charming and eccentric characters to grace television screens in ages. Comer brings a devious childishness to Villanelle, one moment calculating and manipulative, the next swooning over stickers. It's a delirious performance to watch, and you really can't keep your eyes off of her.
Sandra Oh's Eve is every bit her tonal opposite, but her exposure to Villanelle is starting to chip away at her composure. The pull these two feel towards each other is electrically charged, filled with fascination and deadly as hell.
Villanelle sums it all up beautifully, when telling Gabriel how she was stabbed:
"She did this to show me how much she cares about me."
Oh has some incredible moments throughout, but it's her near-breakdown that literally took the air out of me. A passer-by tries to make small talk, both women not understanding the intent of the other. Eve is tense, ready to run, while the other women goes on like she's about to start an interrogation. The energy going between these two women could power a small reactor, and the pay-off is amazingly tense.
The interactions between Villanelle and her new friend Gabriel are sweet, and tinged with an off-putting attempt at compassion. Villanelle is trying to have empathy, but it's just not part of her wiring. Her friendship is very real, very dangerous, and dripping with dread.
Now, Villanelle is driven more than ever to find Eve. On Sunday, April 14th, AMC and BBC America will be bringing us "Nice and Neat". Here's a glimpse at what's to come:
Fans of Killing Eve have a lot more to look forward to, with AMC announcing that there will be a third season of the critically acclaimed show. Personally, I'm thrilled, but I don't know if my nerves are up to it!