Killing Eve Season 3 Preview: Carolyn Offers Eve An Ominous Reminder
No, you are not mistaken, Killing Eve viewers. Yes, we really have reached the penultimate episode of the third season, and it really did fly by faster than any of us thought. But here we are, heading into "Beautiful Monster" with a number of our folks about to be crossing paths in some very bad ways. Villanelle (Jodie Comer) gets to see what it's like to be "upper management", and guess what? She doesn't like it, so it's time to take Konstantin (Kim Bodnia) up on his plan to run away. Small problem: his daughter Irina (Yuli Lagodinsky) is not Villanelle's biggest fan. Thankfully, that's nothing a little shared "mom hate" and time behind the wheel can't take care of. Only problem? Villanelle's ability to bring out the not-so-best in people. Of course, Konstantin's got his own issues to deal with, because having to investigate a murder you committed can get a little messy. Even bigger? As all of this is going on, Konstantin's oblivious to the fact that the late Kenny (Sean Delaney) believed he was his father. But now Carolyn (Fiona Shaw) knows.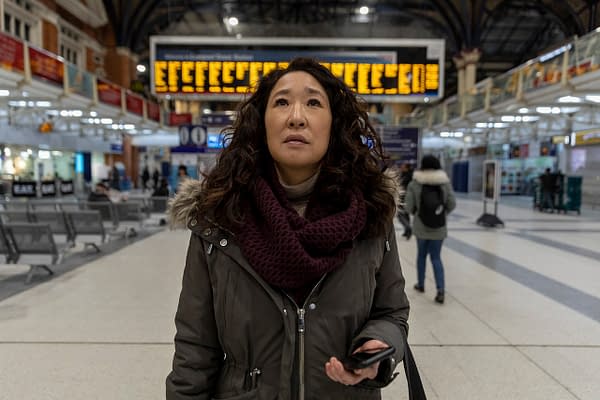 Over on Eve's side of things, it turns out Niko isn't dead after all, but Eve is pretty much dead to him now. Eve's no longer on Villanelle's trail over Niko's stabbing, but she does get into a great back-n-forth with Dasha (Harriet Walter) – who now knows Villanelle is looking to leave "The Life". Could killing Eve once and for all be her ticket to a new life? So that's where things stand as we head into this week's episode and in the following preview, Carolyn has a little "tough love" advice for Eve that could either be her trying to cover her own butt or trying to save Eve's. We're thinking a little bit of both. Following the preview, make sure to check out a behind-the-scenes tour with the cast and crew as they offer viewers an inside look at how the series sets up filming in thrilling and exotic locations all around the world.
Killing Eve season 3, episode 7 "Beautiful Monster": Eve is focused on Villanelle's whereabouts; Villanelle and Dasha work together on a kill.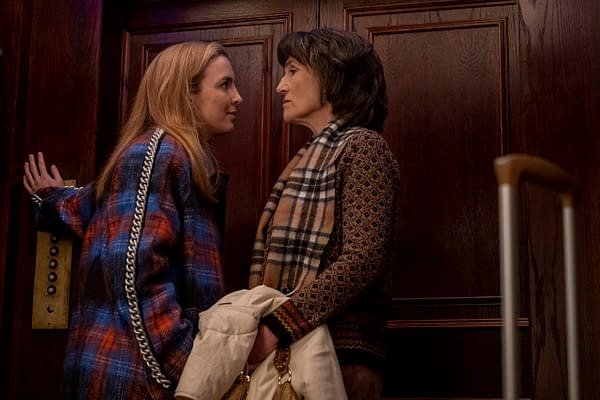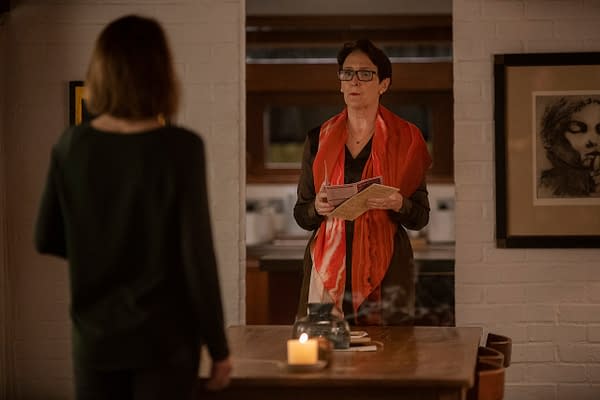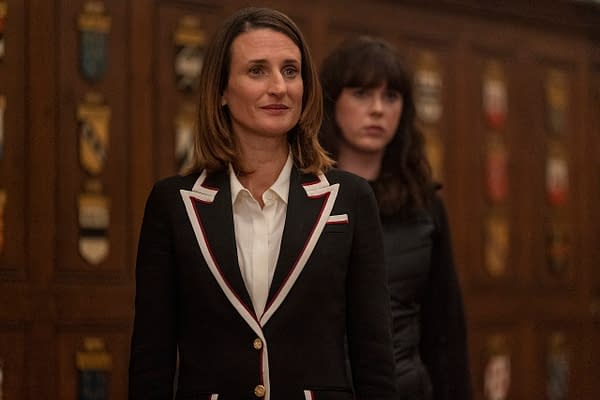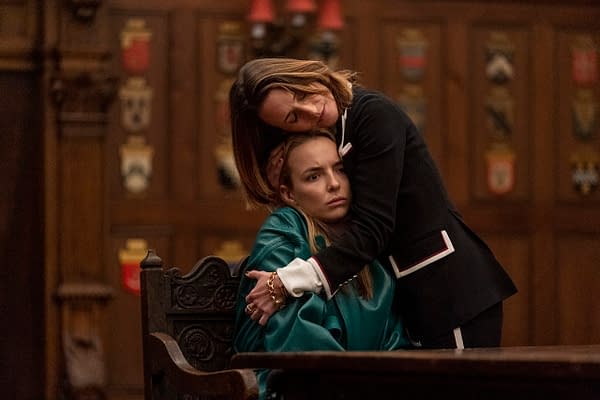 In the video below, the fine folks at BBC America have put together a look back at the first two seasons of Killing Eve, with each of our "wonder twins" getting a chance to vent some of their serious season-ending frustrations out on one another (so does that mean they're both going to get attacked at the end of this season?). British writer Suzanne Heathcote (Fear the Walking Dead) serves as lead writer and executive producer for the third season, with Sally Woodward Gentle, Lee Morris, Phoebe Waller-Bridge, Gina Mingacci, Damon Thomas, Jeff Melvoin, and Oh also serving as executive producers, and Nigel Watson serving as producer. Killing Eve is produced by Sid Gentle Films Ltd. for BBC America and distributed by Endeavor Content.