Legends of Tomorrow Fans "Deserve Some Kind of Wrap-Up": Brandon Routh
DC's Legends of Tomorrow star Brandon Routh believes that fans of the long-running Arrowverse series "deserve some kind of wrap-up."
---
While Brandon Routh has gone on to impactful roles on ABC's The Rookie and, recently, on NBC's Quantum Leap, there are always going to be two roles that he's going to be asked about. There's his turn as The Man of Steel for Bryan Singer's Superman Returns. But if you're an Arrowverse fan, then you know him as Ray Palmer, aka The Atom on DC's Legends of Tomorrow (and other series). Speaking with SYFY recently in support of his appearance on NBC's Raymond Lee-starring revival of the popular series, Rough shared his thoughts on "Legends" fans not getting a proper ending after seven seasons (leaving a number of cliffhanger threads dangling). "We were done in 2019, so we've been coming to terms with that for some time. But you know, I just love all the 'Legends' fans, and they deserve some kind of a wrap-up, so I hope that they get it." As for Quantum Leap, Routh appreciated being part of a different kind of time-traveling epic. "I just love this type of world of time travel where anything's possible. And I'm so excited to be a part of another show like that," he added.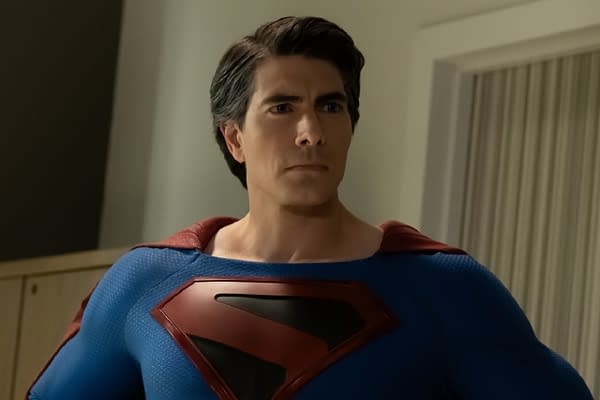 The Flash Showrunner Eric Wallace on Trying to Give "Legends" A Finale
During an entertaining & informative interview with Swara Salih from The Nerds of Color (check it out here), The Flash showrunner Eric Wallace confirmed that the original plan was "to have at least one — if not a two-parter — that wrapped up 'Legends of Tomorrow.'" Unfortunately, the reduced episode count didn't leave Wallace & the writers enough "bandwidth" to finish telling the show's story and include the kind of Arrowverse involvement they were hoping for.
"There was originally when I had hoped that we'd had 20 episodes, but my original concept was to have at least one — if not a two-parter — that wrapped up 'Legends of Tomorrow," Wallace revealed. "And you know, there will be a little crossover we get them back, we get them out of time jail, all these good things, Booster Gold, etc., etc. When we found out we only have 13 episodes, that was no longer possible. We barely have enough time to wrap up things with Barry and Iris' upcoming family, let alone who is Danielle Panabaker playing now, so there wasn't enough time. So unfortunately, we're not going to be able to wrap up the 'Legends' storyline, which I know is very disappointing to the fans. It's disappointing to me. But we just don't have the bandwidth."