Legends of Tomorrow Season 3: Pirates Like Tall Tales as Much as Treasure
According to new author Mick Rory (Dominic Purcell), the one thing pirates love more than treasure is a good story. And that is what we see is being spun in tonight's episode of DC's Legends of Tomorrow as they team heads back to the days of pirates to confront the infamous Blackbeard and try to find the Earth Totem. The Earth Totem is one of the five Anansi totems along with the mysterious sixth Death Totem that can actually harm the time demon, Mallus.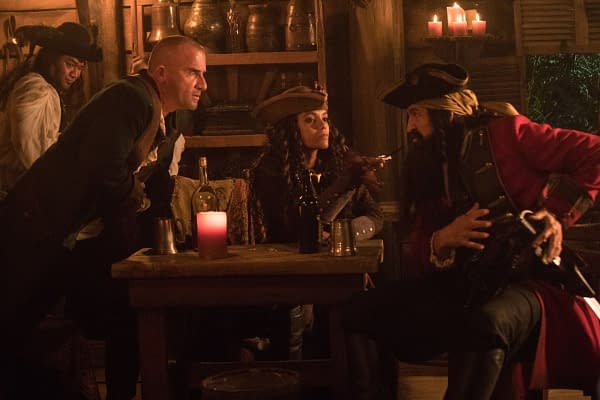 The scene below from tonight's episode shows Amaya (Maisie Richardson-Sellers) looking a bit down, so Mick tries to spice things up by spinning a tale of the Dread Pirate Jiwa using this writer skills that we only learned about last week. Nate (Nick Zano) and Ray (Brandon Routh) quickly join in, then other pirates add to the tall tales. This appears to be going pretty well until one of the pirates equates Jiwa's fierceness to that of Blackbeard himself… just as Blackbeard (Jonathan Cake) walks into the room. Then Amaya looks up, having not been paying attention, and realizes everyone is staring at her.
Who doesn't love a good pirate adventure? And this appears to be an episode with more of Mr. Rory, who has been on the sidelines in much of the last few episodes.
DC's Legends of Tomorrow airs tonight at 8 p.m. ET on the CW.