Season 1 of DC's Legends of Tomorrow was really straightforward — the team needed to find some way to stop Vandal Savage (Casper Crump) before he can take over the world and kill Rip Hunter's (Arthur Darvill) family. It was a pretty straightforward science fiction story. Season 2 put the Legends up against the Legion of Doom that included Reverse-Flash (Matt Letscher) Damien Darhk (Neal McDonough), Malcolm Merlyn (John Barrowman), and Captain Cold (Wentworth Miller). And season 3 has delved more into the supernatural with Darhk returning, the introduction of his daughter Nora (Courtney Ford), and Mallus (John Noble).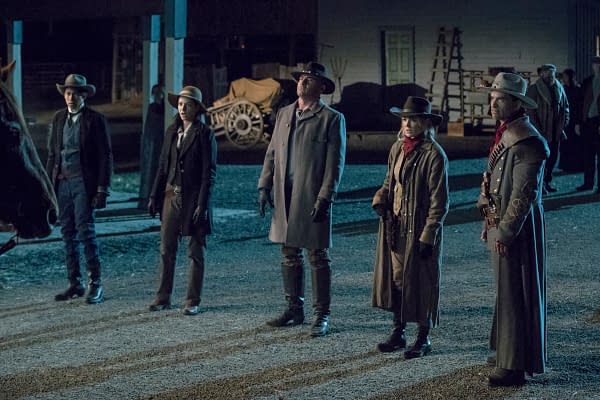 But with adding John Constantine (Matt Ryan) to the Waverider full-time next season, it looks like they'll be going further down the supernatural path. Executive producer Phil Klemmer told TVLine just what Mallus means to the series:
He is a sort of bellwether of bad guys to come in Season 4. Up until this point, we've been dealing with earthly and historical bad guys, and we certainly had fun with all of that, but this year we dabbled in the world of the occult, through Damien Darhk and his enterprises. But you know that Constantine is coming onto the show [as a regular] next season, so we want to go deeper, we want Mallus to be used as "the tip of the iceberg." He is not human, and we want to start playing with the idea that Earth hasn't always belonged just to our kind.

We want to get into the world of fantastic myths and monsters a bit more. It's kind of presumptuous for anybody to think they have ownership of this Earth or any part of it. Not to get deep into immigration metaphors, but Mallus is an ancient evil, he doesn't understand humans and doesn't understand why we have any claim to controlling this world of ours.
Fingers crossed that the Legends will meet Kamandi next season.
DC's Legends of Tomorrow season finale airs tonight at 8 p.m ET on the CW.
Enjoyed this article? Share it!