Let's Talk About 'So You Think You Can Dance' Season 15 Episode 10
FOX series So You Think You Can Dance is back for it's 15th season. The competition show starts with a series of auditions across the country where dancers are chosen to be sent forward to a semi finals at The Academy before making the actual top 20 performers.
Continually one of the most enjoyable reality shows (FIGHT ME), contestants often will go on to be featured prominently in national tours (like Lady Gaga) and films like The Greatest Showman.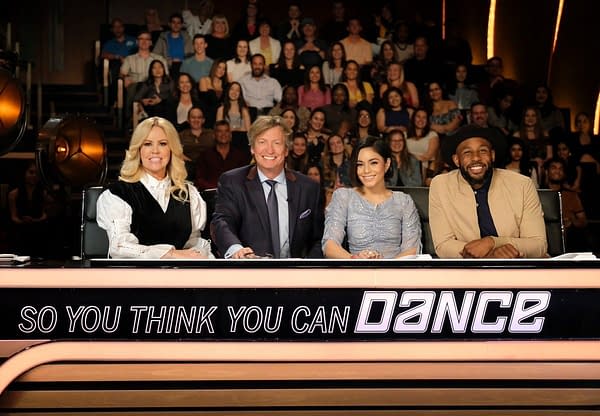 Judges for this part of season 15 are former So You Think You Can Dance contestant Twitch, actress/singer Vanessa Hudgens, ballroom champion and Hot Tamale Train conductor Mary Murphy, and series creator Nigel Lithgow. Longtime series host Cat Deeley is back as well.
If you want to know what happened and what dances we saw week, you can catch up here.
This week sees the top 10 performing for the judges, and the first cuts from the live show (that we'll be updating during):
*Host Cat Deeley opens the episode, and a group performance reminiscent of RamaLama (but no where near as cool) set to "Yummy" by Gwen Stefani choreographed by Luthor Brown kicks things off
*The top 10 are reintroduced; Magda, Slavik, Jensen, Jay Jay, Hannahlei, Evan, Genessy, Darius, Chelsea, and Cole
*Voting opens via the FOX app or on the website!
*Turns out Chelsea had a 'slight injury', but will be back performing with her partner
*The bottom 4 will be revealed later, one girl and one guy will be sent home.
*There is the announcement that another national tour is happening, and all of the top 10 will be on it.
*Magda and Darius are doing a Bollywood routine this week, choreographed by Nakul Dev Mahajan
*JUST DON'T PULL AN ALEX FRICKIN WONG, OK
*Once again their personalities and energies are just perfect together, the technicolor costumes and light show are so perfect for the joy and obvious chemistry they share. Not the most involved Bollywood we've seen, but plenty to love.
*Nigel calls Nakul the 'King of Bollywood', and the style a Vegas buffet. Vanessa remarks on the joy of the routine, and how expressive Darius was. Twitch calls Bollywood celebratory, and mentions the 'Atlanta Step'
*Chelsea and Evan are doing lyrical hiphop with Emmy nominated choreographer Christopher Scott
*They're dancing to "Love on the Brain" by Rihanna, Hard to tell if they're out of step, or if the offset is by design. Chris Scott said this story is about a breakup, and it's obvious that's what's going on in this moment, the pair loading up boxes. Great emotion from both of them, but it looked like Evan was struggling to catch up.
*Vanessa says she enjoyed it, and felt the emotion from both of them. Twitch calls the dance a carefully crafted moment of life from Chris Scott, which I totally agree with.
*Hannahlei and Cole are doing the first-of-its-kind (at least on the show) Stepping and Strolling routine, choreographed by Joe Brown
*Dancing to "Pump It Up" Joe Budden, the pair starts high energy, and one of the best parts is hearing the fabric as Hannahlei does flips because of the mics on their feet for the steps. While perhaps not a tight as they were hoping for, Hannahlei rocked it.
*Twitch thanks Joe for bringing the style, the culture, to the show. He urges Cole to sink his teeth into the style, which he didn't really do.
*Mary pretty much agrees with Twitch, and says that Hannahlei is totally the leader of a steppin' troop somewhere
*Jensen and Jay Jay are doing contemporary with Jaci Royal this week
*They're dancing to "Lost Without You" by Freya Ridings.
*Some very nice partner work, a near miss on an assisted jump's landing, but a smooth enough recovery. It feels like a performance, rather than a moment of true emotion though.
*Mary is flustered, she says she felt the love and emotion. Nigel calls Jensen courageous, for 'knowing that Jay Jay would be there' for her. Vanessa calls it perfection. [really?]
*Genessy and Slavik are doing a jive, choreographed by Sharna Burgess (who comes from Dancing With The Stars)
*"Jump, Jive, and Wail" by the Brian Setzer Orchestra, tick off the SYTYCD boxes- a song synonymous with the style, dancing on a table, fake kissing, and a pair of dancers who don't seem comfortable. Just kind of painful to watch on Genessy's side, moments of missed connections, but at least Slavik didn't miss the big trick holds.
*Nigel calls it fabulous, and comments that Slavik did a tremendous job (agree) in a style that's not his own. Twitch comments that Slavik never once let his partner down, and again, we agree.
*Magda and Darius are back for their second routine of the night, a jazz piece with Mandy Moore
*They're dancing to "Fever" by Peggy Lee, with phenomenal costumes and all the attitude in the world for a smoky and stylish jazz. Her legs are just so good, and Darius is so solid with her, totally the pair to beat.
*Vanessa says the amount of control and personality in the routine were phenomenal, Twitch calls it "cool" and the subtlety of the piece. Nigel calls it "cool jazz", the style he was brought up on.
*Chelsea and Evan are doing a contemporary piece with Travis, a routine he calls 'simple'
*They dance to "Snowing" by Sonya Kitchell, and it's snowing on the stage. It started a little sloppy on Evan's part, but Chelsea's strength is no small thing.
*Twitch says it was the pair's best emotional connection so far, that it's the one they need to remember for the rest of the competition. Mary says they found their chemistry in the piece, and Nigel comments that they were brought together by Travis.
*Hannahlei and Cole are doing a disco routine choreographed by Doriana Sanchez, so you KNOW this is gonna be a hardcore thing.
*They're dancing to "Last Dance" by Donna Summer, and there are SO MANY SPARKLES, GUYS. They keep missing hand holds, but all the big tricks and lifts go off without a hitch.
*Mary is yelling in joy, poor Nigel. He calls the routine scintillating, Vanessa comments on their energy and Hannahlei's musicality.
*Jensen and Jay Jay are doing African jazz with Sean Cheesman, who says the piece is 'hard'
*They're performing to a piece called "Run", and man Sean wasn't kidding with the complexity of the piece. It's very athletic, a little chaotic.
*The judges are all saying the same thing, that the animalistic totems in the piece were really brought out in the dancers.
*Cat brings out all the dancers, and we're getting the first round of results from last week.
*She calls Hannahlei and Jay Jay up, revealing that they are both safe from elimination this week.
*Genessy and Slavik are doing a Broadway routine for their second performance of the night, in a piece by Al Blackstone.
*It's to "Someone to Watch Over Me" by Ella Fitzgerald, sweet and lovely, a pair of young lovers in a park who are literally dancing dreamily around a bench while expressing their memories of the past.
*Vanessa is a tearful mess, a beautiful tearful mess, and she reveals she ships the pair. Twitch calls it beautiful, and says he's gonna do the bench thing next time he's in the park with Allison (his wife). Mary says she'd give the pair a Tony for that performance if she could. Nigel also calls it elegant, and calls Slavik chivalrous.
*Cat calls the contestants back on stage, and reads the next set of results. Genessy, Darius, Jensen, and Slavik are all safe from elimination.
*It'll be up to the judges to chose one girl and one guy from the remaining 4 to go home.
*Nigel asks the ladies to step forward, and brings up Chelsea's tap performance last week, and that amazing Travis Wall piece from last week with Magda as the violin. He mentions that perhaps the audience hasn't connected with Evan, and that Cole had difficulty connecting with his partner.
*Nigel says the panel is in total agreement, and that Magda and Cole are staying.
*This means we're losing Chelsea and Evan.
***
So You Think You Can Dance airs on FOX on Mondays.