STARZ doesn't get enough credit for their series, but I personally think Sweetbitter might change that. While only half-hour episodes, the series has tremendous promise.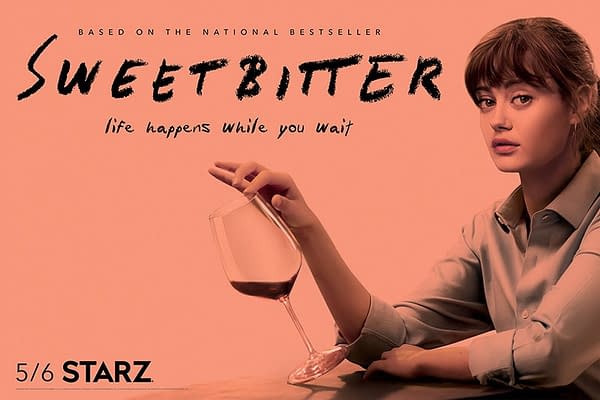 True, it's right up my personal alley — as someone who has a love affair with the culinary world, Sweetbitter is exactly the type of show that caters to me. This is series is based on Stephanie Danler's book of the same name, and this is her first writing credit on a series, which shows tremendous promise and obviously belief from STARZ.
The premiere episode of the first season of Sweetbitter series, 'Salt', was short but sweet and did its job introducing us to main character Tess, played by Ella Purnell. Episode 2, 'Now Your Tongue Is Coded', continued Tess's education in the world of senses, as well as her first night of vices. Episode 3, 'Everyone is Soigné', introduced a former employee at the restaurant, some character bond strengthening, and a choice for Tess.
You can catch up with what happened last week here.
Episode 4's synopsis reads:
Tess has a day off and decides to go to Simone's apartment unannounced: after Simone invites Tess into her world, her abrupt expulsion leaves Tess lonelier than ever.
Things that happened in s1e4:
The episode starts with Tess and Jake coming into the restaurant, dressed to the 9s
They sit, Jake kisses her, they start to undress each other in the middle of the restaurant-
And she wakes up panting and…uh….'cuddling' her pillow
It's her day off, and instead of doing laundry, Tess heads out for the day
She runs into someone she went to school with outside of The Met, and neither the friend nor her mom can get over the idea that Tess moved to NYC on her own- without anyone
Tess goes to lunch, and orders herself a merlot
Lost in a moment of reverie, she sips her wine and makes the decision to go to Simone's
Simone's got a deep tub in the middle of her apartment and it's kind of the coolest thing
She tells a story about how the tub was a source of inspiration for the rest of her life
Simone hands Tess a tomato and tells her to start slicing a tomato, but she of course has NO IDEA what she's doing
Tess looks at Simone the same way she does each new experience and taste
Simone tells Tess a bit more abut Jake- that his mom died when he was 8, and he moved in with Simone's family
A giant bouquet of amazing flowers arrives, and Simone is visibly shaken for a second, but recovers.
She says they're from a man who wants 'everything', and I bet it's Serena's husband
Tess offers to get rid of the flowers, and begins ripping up all the blossoms and tossing them around
They laugh and throw petals everywhere, but the magic of the moment fades and Simone is again shaken.
She composes herself though, and Tess climbs into the tub.
"There is a beautiful moment of vulnerability from Simone, and she gently caresses Tess's face after Tess falls asleep
Tess heads home, tries to sleep, but finds herself back at the restaurant. She catches up with the staff, and they invite her out for dinner with them
They're out to szechwan, and Jake shows up
The table plays "last meal"
Jake pulls a cute and smooth move with a pack of cigarettes, giving Tess an excuse to go outside with him
She tells him that she doesn't think he should go home to the Cape with Simone, and he lunges for her, putting his hand around her throat while pinning her to the wall while giving her a toe curling kiss
He sets her back down on the ground, makes plans to see her the next night, and walks away
The rest of the crew come back out of the restaurant and they head out to Homebar.
***
I'm not sure how I feel about Tess telling Jake NOT to go home to help Simone clean out and sell the house, but I'm sure there's got to be a reason why. These characters interest me, I still wish these episodes where longer than 30 minutes, and I REALLY hope it gets picked up for an additional season.
Sweetbitter season 1 continues, airing on STARZ on Sunday.
Enjoyed this article? Share it!