Let's Talk About The X Files Season 11 Episode 2, "This"
Well I am so much happier after tonight's The X-Files episode than I was last week. Titled "This", season 11, episode 2 was written and directed by longtime series writer Glen Morgan.
Two minutes in, and already this episode is miles better than last week's "My Struggle III". The misplaced tension is gone, and instead we get our two favorite FBI agents doing what they do best: running, talking, and using cellphones.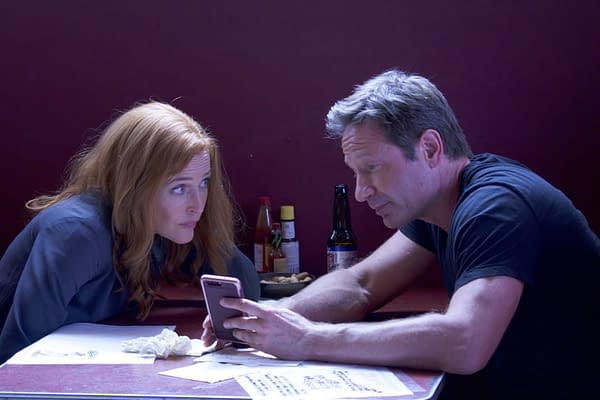 As I said in the body of my live tweet piece, the teaser for this episode featured a familiar face for Xphiles, Richard Langly, played by Dean Haglund. Langly was a member of The Lone Gunmen, who were sadly killed back in season 9, but apparently isn't really dead, and/or has transferred his consciousness into the nether regions of the internet like in "Killswitch Engage".
Things that happened this episode:
Mulder and Scully start the episode napping on the couch, before Mulder's cell phone literally gets possessed by a ghost in the machine.
A cryptic message from Langly-beyond-the-grave warns the pair, and some Russian special ops guys break into the house and start shooting everything up.
Scully takes cover, and Mulder takes out two of the dudes, with the third getting away.
Skinner makes a brief appearance in a forest to help his agents, we get a topical mention of Mueller reopening the X-Files to search for instances of certain unexplained phenomena
Mulder and Scully take a midnight stroll through Arlington National Cemetery to check the Langly's burial status with a visit to another old friend (Deep Throat)
Barbara Hershey's character Erika Price returns and fills Mulder in to the truth (making Mulder say, "I want to believe," — take a drink)
Scully lets Mulder beat up the Russians again while disengaging the server that's apparently housing all the consciousnesses of the victims pulled/copied into the 'Other' realm
It's revealed there is a backup, so chances are we'll be touching on this again later this season.
While certainly not as heavy into the X-Files mythos, there were plenty of callbacks to previous episodes and seasons with locations (like the café), jokes (Scully saying Mulder was "worse than Hannibal Lecter," while leading him into a police facility), and handcuffs. Remember that time Mulder and Morris Fletcher (Michael McKean) switched bodies in "Dreamland"? Yeah.
Gillian Anderson tweeted along with us, which was pretty fun, sharing some great behind-the-scenes info about the episode and one or two choice gifs.
Of COURSE she did, ahaha.
If "This" episode (ha, see what I did there) signals that season 11 has more in store like along these lines of plot and dialogue, then I will definitely look forward to more. Next week's episode "Plus One" will be written by Kevin Hooks and directed by Chris Carter.
The X-Files airs on Wednesdays on FOX.