Will Lucifer's Move to Netflix Mean We'll See More of the Devil?
Now that Lucifer is officially moving to Netflix, some interesting questions pop up — like how long an episode will be, how many in a season, etc. Being off network television, the series isn't confined to the hour block with 16 minutes of commercials every week.
If you look at the recently released Marvel's Luke Cage season 2, you'll see that episodes ranged from 50 minutes to 65 depending on the story they were telling. It's been said that they'll focus on roughly 45 minutes episodes but may go longer if a particular scene warrants it. Another question that has popped up is content — whether they'll show things network television can't show while Netflix can. TVLine asked executive producers and co-showrunners Joe Henderson and Ildy Modrovich about all things Lucifer/Netflix.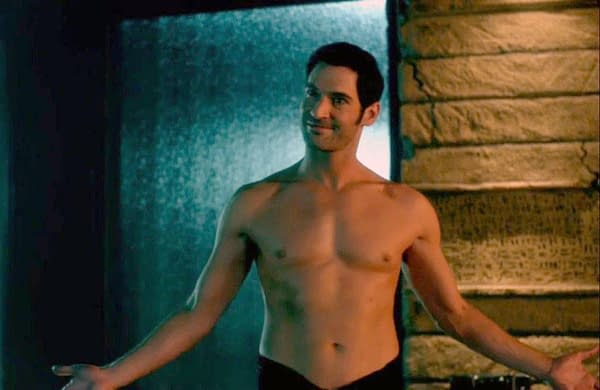 Henderson said:
Our blood can be a little more real, our horror can be a little more horror-y on Netflix. It will all stay within the language of the show, but we're definitely going to embrace the little things like that that I think make a big difference.
Another place where they can get away with more is nudity. Modrovich recalls a scene of Chloe (Lauren German) confronting Lucifer (Tom Ellis) at LUX that would've been easier on the streaming service:
Lucifer came out naked. We didn't want to see anything crazy, but we wanted to see the 'back' of him. After all, everybody has a butt. He's got a wonderful, wonderful booty, so why not show it? But we couldn't. We also had to get reflections out of the piano… we had to do all kinds of things that seemed excessive to me. Things like that we might be able to get away with while not feeling like I can't watch it with my 'tween daughter.
It sounds like the show will be less constrained by network television censorship, but it won't suddenly move to HBO level of nudity and violence.
Lucifer season 4 will appear on Netflix on a date yet to be determined.