In the first season of then-FOX's Lucifer, we instantly fall in love with the catty-like dynamic between Lucifer (Tom Ellis) and Detective Chloe Decker (Lauren German). I also develop both a girl and a boy crush on a sultry demon and God's favorite son. Maziken aka Maze (Lesley-Ann Brandt) is sworn to protect the Lord of Hell at all costs even when her internal hatred periodically rises when he sways his affection towards a mortal. She even goes as far as leaving Hell with him to work at his club called LUX. Then there is Amenadiel (D.B. Woodside), sent to persuade and at times force Lucifer to give up his reckless behavior and return back to Hell to torture souls for all eternity. Unfortunately for him, Lucifer would rather party, do drugs, and have dirty raunchy trysts with both sexes.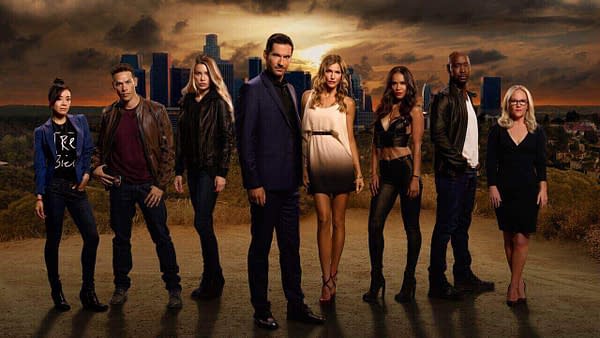 The entire first season is dedicated to the developing relationships among the characters, especially Lucifer and Chloe. They meet while Lucifer is a suspect in a case Detective Decker is investigating. When he doesn't have his usual effect on her he is captivated, she is comically repulsed by him. Being intrigued he persuades the captain using his unique hypnotic charm to become a consultant for the LAPD. Gluing himself to 'The Detective' they partner up and together solve murders. He often makes a mockery of the police department and Decker, and she pragmatically agrees to have him assist because something about his tactics actually helps (and nobody wants to work with her after she accuses another copy of being dirty).
While Amenadiel (the beautiful angel) pops up periodically by stopping time and having his anger rise at his brother's lack of responsibility, Lucifer plants himself on Dr. Linda Martin's (Rachel Harris) couch to work through his daddy and love issues. Probably the most endearing relationship of all is their very unethical exchange of sex for therapy. She gets her fix and he gets his… kind of… actually, he manages to spin every piece of advice to his own advantage while rarely truly valuing the insight she tries to give him. In return, she humors his very transparent "I'm the devil" demeanor assuming that he is one hot delusional patient. Amenadiel, to get a perspective and intel on his brother, rents the office down the hall for Dr. Martin to pose as a psychiatrist and get her to give up Lucifer's weakness. That plot fails miserably.
Lucifer never hesitates telling people he's The Devil, but its LA so nobody believes a word he says and just finds him charming- except for Dan Espinoza (Kevin Alejandro), Chloe's ex-husband. "Detective Douche" (as Lucifer often refers to him) is jealous, hateful, and can't seem to understand nor accept that Chloe values Lucifer as a partner even when he makes a mockery of her and the department. Dan drops the ball when he doesn't believe his wife's instincts on the Palmetto Case and joins the department in ostracizing her. No wonder she leaves his ass. Here comes Amenadiel again. Seriously give it up, and bring Malcolm (Kevin Rankin) said bad cop back to life to wreak havoc on humanity.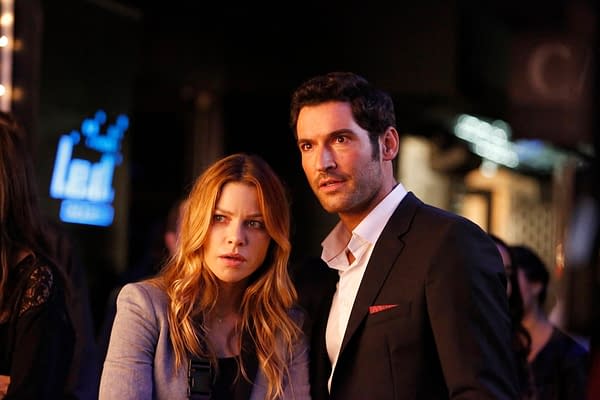 Amenadiel hooks up with Maze, sent there by Lucifer to kill him. We find out Dan is also crooked and is captured and tortured by Malcolm. Lucifer searches deeply for the reasons for his unhappiness and the newfound feelings he has (called "love"). Chloe gets drunk and tries to seduce our devil and he, yes, turns her down. Dr. Martin finds out that her new colleague is a fake and Maze falls for Amenadiel (if even briefly) and instead of killing him, saves his life with a remaining feather of Lucifer's angel wings- wings he burned.
It seems I buried the lead. Lucifer realizes that being in close proximity to Chloe makes him mortal. Yes, The Devil can bleed. This is an enigma that follows them around for multiple seasons and keeps us on the edge of our seats guessing as to why. Lucifer finds this even more intriguing and lusts after her while simultaneously being excited about the fun that comes with being put in the position of dying at any moment. He saves her life, she saves him, they laugh and bond over victims, yet through it all, they are each other's number one fans. In the end, Lucifer gets himself killed protecting Chloe and makes a deal with God to ensure that Chloe is left unharmed when some serious s*** goes down in a warehouse. The payment is to return back to his throne. Lucifer's Daddy restores his powers but asks for an additional favor: it looks like Lucifer's mother has escaped Hell. Nice way to end the season cliffhanger-wise, right?
Enjoyed this article? Share it!