Manifest Season 4: Ty Doran Previews Teen Cal, Jack Messina & More
When audiences first see Ty Doran's older Cal on Manifest season three, it would have been also the last time seeing his incarnation if NBC had its way. The actor took over for Jack Messina, who played the character for the bulk of the series, but thanks to Netflix, we'll see his and the finale fate of those of Flight 828 when it drops the fourth and final season on November 4th. Cal Stone, along with his dad Ben Stone (Josh Dallas) and his aunt Michaela Stone (Melissa Roxburgh), were passengers onboard, losing five years of their lives but gaining mysterious ominous visions. The American Crime star spoke to Bleeding Cool about his initial thoughts on the series' cancellation, the fan campaign that helped bring it to Netflix, and how he compares his incarnation to Messina. Here is your minor spoilers warning.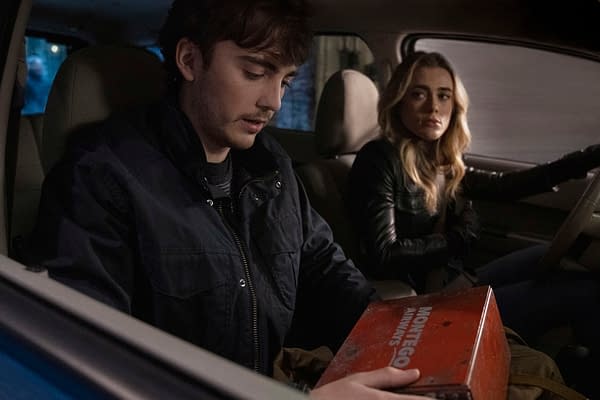 Manifest: Passing the Torch
Bleeding Cool: When we first see your incarnation of Cal on 'Manifest,' it's in the season three finale. What were your initial thoughts on the initial NBC cancellation and subsequent Netflix pick-up?
Doran: When I first heard the show was getting canceled by NBC, I had an actor-y business reaction, "That's how these things go. I had fun and an experience. It was nice to get a weekend up in New York." I should have been more upset. Getting to come back, work, meet all those people, make cherished memories, spend time, goof around, make a show, and get to know one another was fantastic. I didn't know what I was missing, and that feeling of gratitude to be there, seeing all these people work so hard to let us finish this story, made it hard to be cranky at work. It was like, "Man, we're very thankful and honored that we get to do this." It was hard at points, but we were never bitter.
You weren't in there as long as everyone else, and taking over the role of Cal from Jack. Did you get a chance to poke his brain, binge the series, or did you start fresh?
Before working on my scene in season three, I binged as much as I could. I became the biggest Jack Messina fan ever. I was in his world, watching, picking apart his performances, and stealing as much as I could from this lovely way he's built this character over three seasons and making that transition as seamless as possible. Once briefly, I met him and his parents during season three, and he is great, fantastic, and such a nice kid. I've seen him a couple of times [since], but he has been busy with school. He's got to be the real teenager out there, so he gave me a few pointers, and even just getting to talk to him, learning the cadence of his style, and all of that stuff was helpful. He has so many other, much more important things going on. I couldn't pick his brain any time of day [laughs].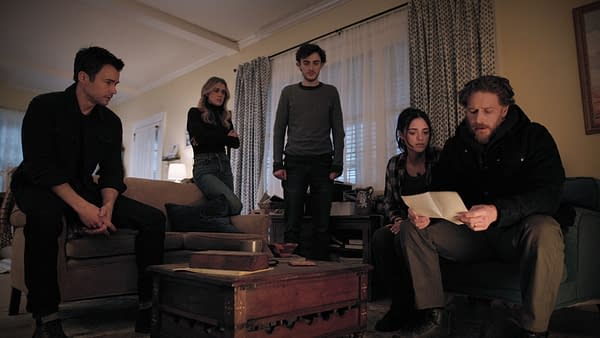 Without divulging into spoilers, how is your incarnation of Cal different from his?
That's a really interesting question. Cal has always been going through a lot, right? He's a kid, but before any of this happened, was diagnosed with leukemia at such a young age. This is a new version in that it is much more adult, and that trauma is coming to the surface. He doesn't have his mom, a sister, or his dad in the beginning. They're in his corner, and it's really hard. He can't go outside and can't leave the house because, at the beginning of the season, no one wants anyone to know that he's Cal. He has a new facial identity, and he can't go outside. He's dodging the police. It's dark in his life, and so this Cal has a little less confidence. Cal is a character that is so excited about this mystery and wants to help as much as he possibly can. That's a little bit harder now, and he's a little more lost than he has been in the previous seasons.
Has Manifest felt different than anything else you've done in your career?
It was special and different in a lot of ways. For one, I've never been a part of a show that was picked up again because of a fan "riot," if I can use that word. So that level of excitement was new and something that is a lot of responsibility to make worth it, give those people what they deserve, and let us finish this out. We did that; the only way to do it is to focus on the work and not let too many things get in your head. That was overwhelming at times, but we just took a breath and kept plugging along. It is very much the same show, and that's exciting. Give people more of what they want.
Since your character has to operate in the shadows, are your scenes more limited with Melissa and Josh, or is it something that's a slow build and picks up as the season goes?
It was a difference where I was getting to shoot. At the beginning of the season, I was on the soundstage a lot in Beverly's [Adriane Lenox] house, pacing around in the attic, kitchen, and living rooms, bouncing from here to there. As this first half goes on and definitely into the second half, Cal is always running away, right? If you're watching the show, you cannot keep this kid in the same place for very long. So he gets out and about and is a little more engaged with it. Even in the first episode, he goes on a little adventure with his aunt to the port. He's still getting out there, and it's hard to keep him locked up.