"Marvel's Agents Of S.H.I.E.L.D." Season 6 Episode 11 "From the Ashes": Facing The Ghost (Rider?) Of Their Past [PREVIEW]
After last week's episode of Marvel's Agents of S.H.I.E.L.D. (The Mole Edition) entitled "Leap," things are not going well for S.H.I.E.L.D.. Yo-Yo (Natalia Cordova-Buckley) is possessed by an incorporeal being from another dimension. The Director, Mack (Henry Simmons), is her hostage. Sarge (Clark Gregg), who just survived an assassination attempt, can do a strange disintegration thing. And "The Cavalary" herself, Melinda May (Ming-Na Wen), is only concerned with saving Coulson's soul. This week's episode, "From the Ashes," is the last one before August 2nd's two hour S.H.I.E.L.D. season finale. Add in the fact that Marvel fans don't have the best track record with "Ashes" lately, and odds are that things are going to get a lot worse for the Agents before they get better. But will an old friend show up to lend a hand?
Marvel's Agents of S.H.I.E.L.D. Season 6 Episode 11 "From the Ashes: Out of answers and running out of time, the agents must face the ghosts of their past in order to move forward."
Analyzing the above preview clip, it looks like "From the Ashes" is concerned with what exactly Sarge is. Last week we got a hint of his ability to disintegrate and re-integrate. The promo shows him doing that on a much larger scale. It also appears that Sarge may have some superpowers that we – and possibly he – didn't know about. After he punches his hand into the table with May, he seems just as shocked as she is.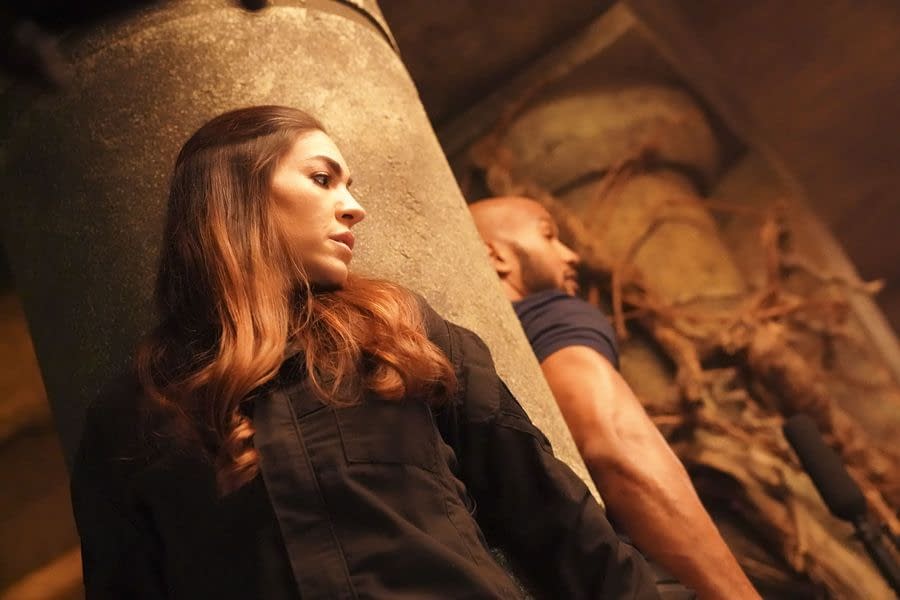 Izel (Karolina Wydra) wants Sarge to believe that he is the same type of being as her, a non-corporeal denizen of another world. He was made whole by Coulson blowing up the nightmare dimension with the gravitonium device, causing him to take on Coulson's visage. But can Izel be trusted? No one really knows. As a result, trusting Sarge to help defeat Izel is still a gamble, and it looks like Sarge is starting to lose control.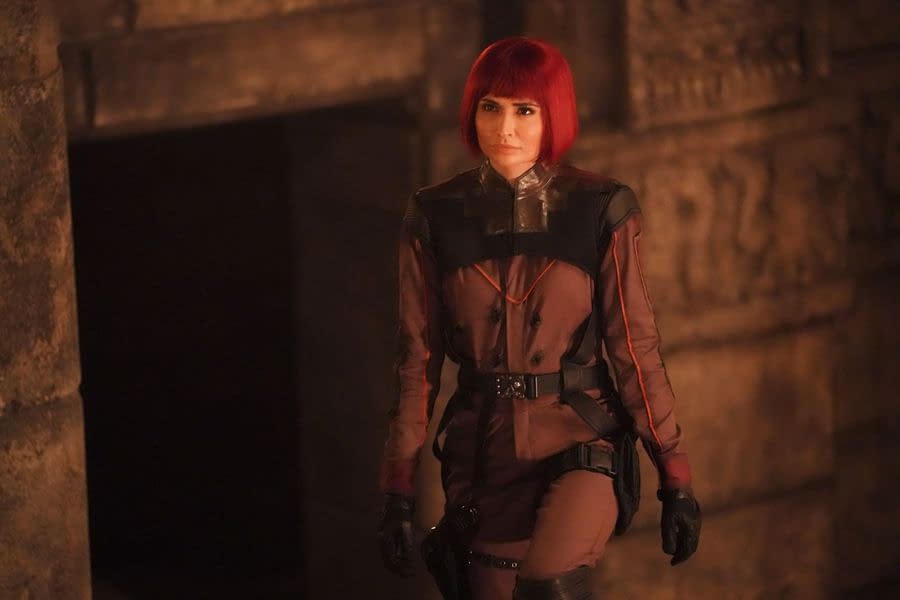 Contrary to what the preview clips may make you believe, images released by ABC show that Izel, Mack, and Yo-Yo will also have a large role in "From the Ashes." The pictures, featured throughout this article, show all three of them in some sort of ancient temple. Izel is walking around in her flightsuit, with what appears to be bullet or burn holes on the chest. Meanwhile Yo-Yo and Mack are looking for a way out.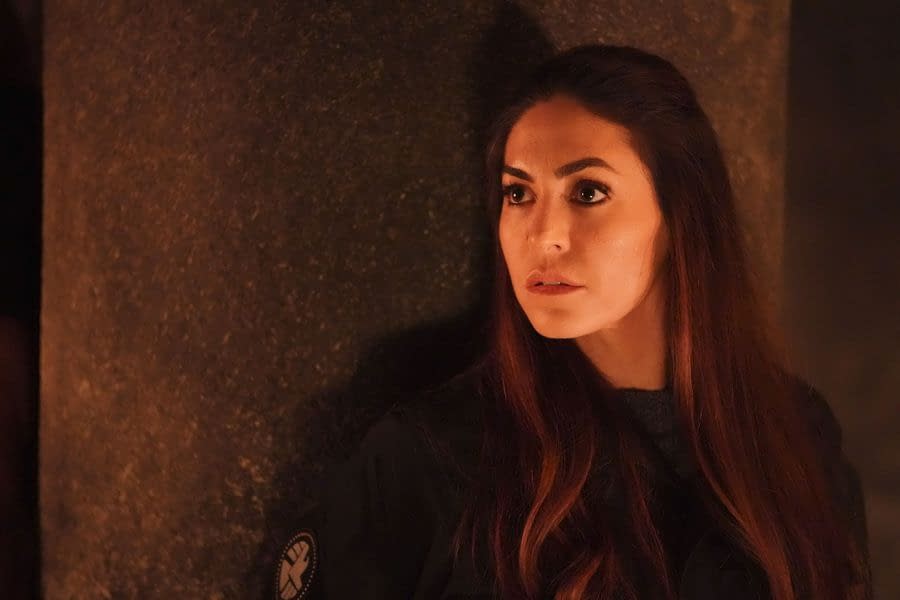 The good news is that Izel appears to be walking and talking entirely on her own now. Whether or not she is fully corporeal is another question, but at least Yo-Yo and Mack are now alone in their own heads. It remains to be seen if they will stay that way.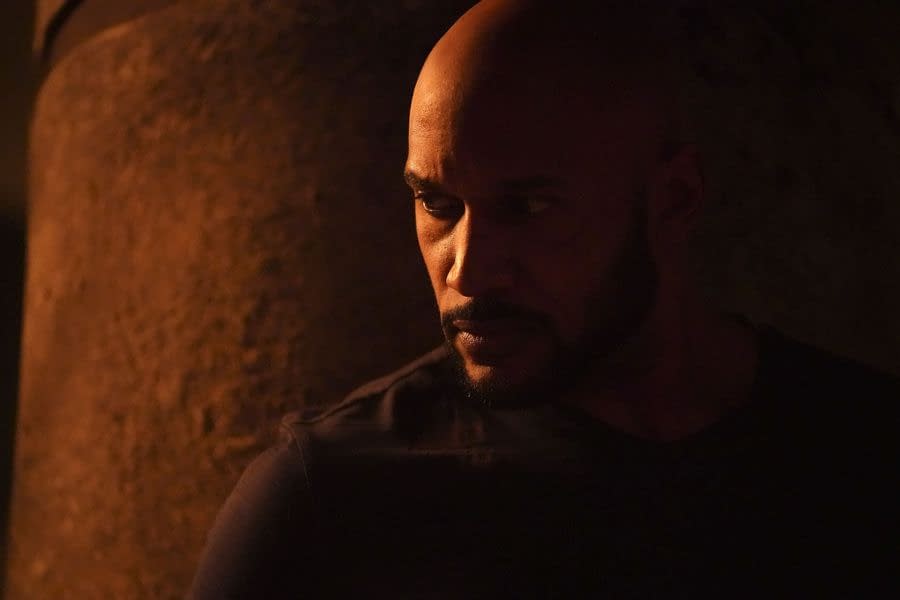 At the end of last week's episode, Fitz (Iain De Caestecker) mentioned the other, very powerful, non-corporeal being the Agents have met: Ghost Rider (Gabriel Luna). Is it possible that Robbie Reyes and his spiritual hitchhiker are going to be making a guest appearance in the last few episodes of the season? The "ghosts of their past" reference in the episode description could, in fact, refer to the Ghost Rider. Or it could just refer to the Coulson/Sarge dichotomy. We will just have to wait and see.
Marvel's Agents of S.H.I.E.L.D. Season 6 Episode 11 "From the Ashes" airs Friday July 26 at 8 p.m. on ABC.