With The Big Bang Theory Leaving, Is CBS Saying Goodbye to Their 'Mom,' Too?
Is CBS about to lose two of their top three comedy series?
It's a scenario that the network may have to realistically face. As the network's number one comedy series The Big Bang Theory wraps up its 12-season series run with its current season, CBS is reportedly "very far apart" in negotiations to bring back their number three comedy series: series creator/executive producer Chuck Lorre's Mom. The long-running series is currently in its sixth season, the last under co-leads Anna Faris (Scary Movie) and Academy Award winner Allison Janney's (I, Tonya) original contracts.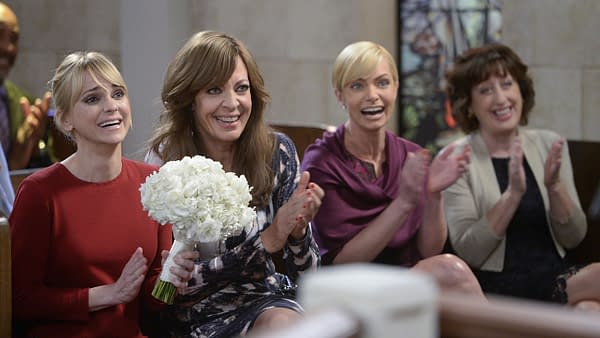 Deadline Hollywood is reporting that CBS would like to bring the series back for another season, with producing studio Warner Bros. TV reaching out to Faris and Janney about the possibility of returning to the series. Further, the actresses reportedly went into negotiations together, seeking significant salary increases. Faris and Janney are thought to be making under $200,000 per episode each in their current contracts; to put that in perspective: the five main stars of The Big Bang Theory were getting $1 million per episode by their eighth season. Both sides are still far apart in terms of money, though all parties involved declined to comment on the matter.
Here's what Kelly Kahl, President of CBS Entertainment, had to say about the series when it was renewed for a sixth season:
"Mom has been a lynchpin comedy for us over the last several years. It's a fearless series that tackles provocative social issues with laughter and grace, and a large, loyal audience has followed. With gifted talents like Anna and Allison leading a great ensemble cast, and a production team headed by Chuck Lorre, Eddie Gorodetsky, Nick Bakay and Gemma Baker, this series just keeps getting better."
Anna Faris and Emmy and Academy Award-winner Allison Janney star in this funny and often heart-wrenching comedy from executive producer Chuck Lorre (The Big Bang Theory, Two and a Half Men, Mike & Molly, Young Sheldon).

After years of questionable choices, Christy is now sober and trying to get her life on track, although she's tested daily by her mother, Bonnie. Together, mother and daughter work to overcome their mistakes and build a better future for their family. Christy has gone back to school and is pursuing her dream of becoming a lawyer, while Bonnie attempts to have a healthy romantic relationship with her fiancé, Adam.

Through it all, Christy and Bonnie rely on their support system from AA, including the wise Marjorie, the wealthy and sometimes misguided Jill and the overly emotional Wendy. Collectively, they help each other stay sober in the face of whatever life throws at them.
CBS has done well with Mom, with the comedy series ranked third on the network among total viewers and adults 18-49, behind The Big Big Bang Theory and prequel series Young Sheldon. Last season, the series was the third most watched comedy in broadcast TV and was a Top 5 comedy in the 18-49 and 25-54 demos. Having crossed the 100 episode mark last season, the series is also finding new life through syndication to TV Land, CMT, and Tribune stations.