"Mr. Robot" Season 4: 10 Schemers' Scheming! "Minister Zhang" Advises Price to Accept His Truth [PREVIEW]
It continues to look a lot like Mr. Robot – mas!
Yes, in case you weren't already aware, the upcoming fourth and final season of USA Network's hacker thriller drama is set in the most wonderful time of the year.
Christmas is coming early, but that doesn't mean everything is all tinsel and twinkling lights for Elliot, Darlene, and the rest of our hack-tivist heroes behind the five/nine attacks. But just because things aren't so great for them doesn't mean we can't enjoy their suffering – in a good way!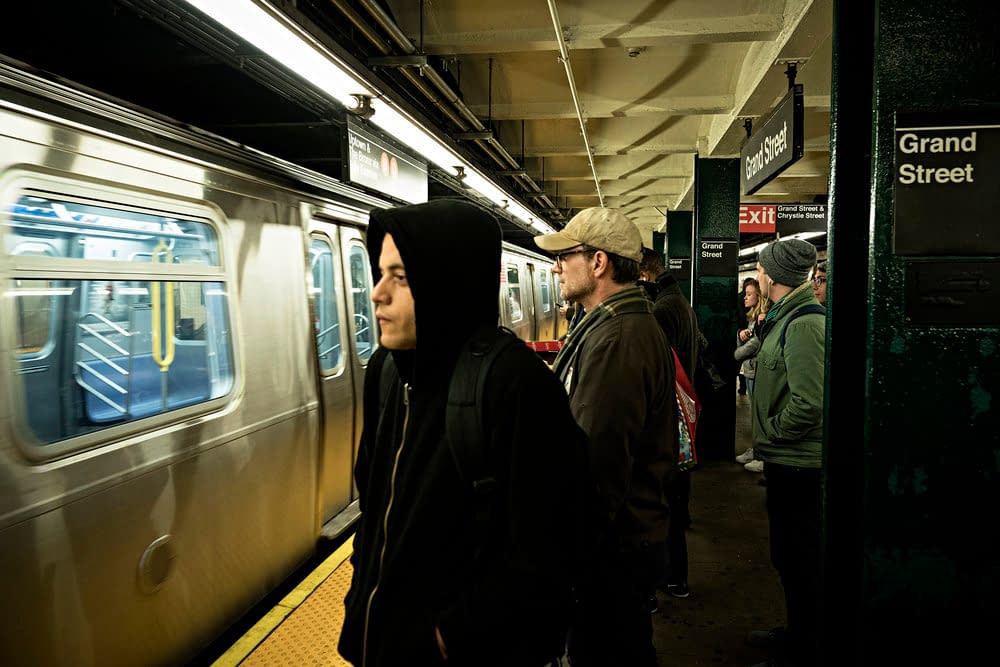 USA Network revealed a very special online "advent calendar" site yesterday that helps viewers count down to the season premiere on October 6 – and bringing a daily "holiday gift" to us, the loyal and antsy fan base.
The first gift found dangling on the Mr. Robot "Tree of Materialism" was new teaser "Silver Bells" – but what about today? Well, today's loot brought us a clip of Zhang (B D Wong) talking to (er, threatening?) Phillip Price (Michael Cristofer).
Confused? Worry not! Well, unless you're Eliot – then if you're confused… you're probably in danger.
But for those of us not in danger of being kidnapped by the Dark Army (we think), here's a look at the danger ahead:
What's particularly curious is that we only see Zhang and his cronies (Where did he find these guys – the varsity swim team? Are they summer interns?) and not Phillip Price… though we do hear him.
Could we be seeing the final standoff before Zhang gets rid of Price (who no doubt deserves it)? Is that why we're not seeing Price – because if we did, we'd see him tied up and hanging over a giant pit full of sharks with laser beams on their heads?
I think yes – but of course, Mr. Robot is a master at misdirection – just like any great magician. The only difference is they make things disappear with code and keystrokes instead of cheap scarves and magic wands.
"The 12 days of Mr. Robot" are upon us, so keep checking back with Bleeding Cool every day as we let you known if the next gift's a keeper – or added to the "re-gifting" pile.
Maybe tomorrow's present is a SEGA Dreamcast…??? Dare to dream… cast!