"Nailed It! Holiday!" Season 2: A Twisted Holiday Gift That Keeps on Giving [SPOILER REVIEW]
Comedian Nicole Byer and co-host Jacques Torres are back with a second helping of Netflix's Nailed It! Holiday! and an avalanche of disasters. What happens when you pair terrible bakers (if you can even call them that) with impossible to make cakes? Rules go out the window, improvising becomes the staple, and the poor judges are forced to hold barf buckets.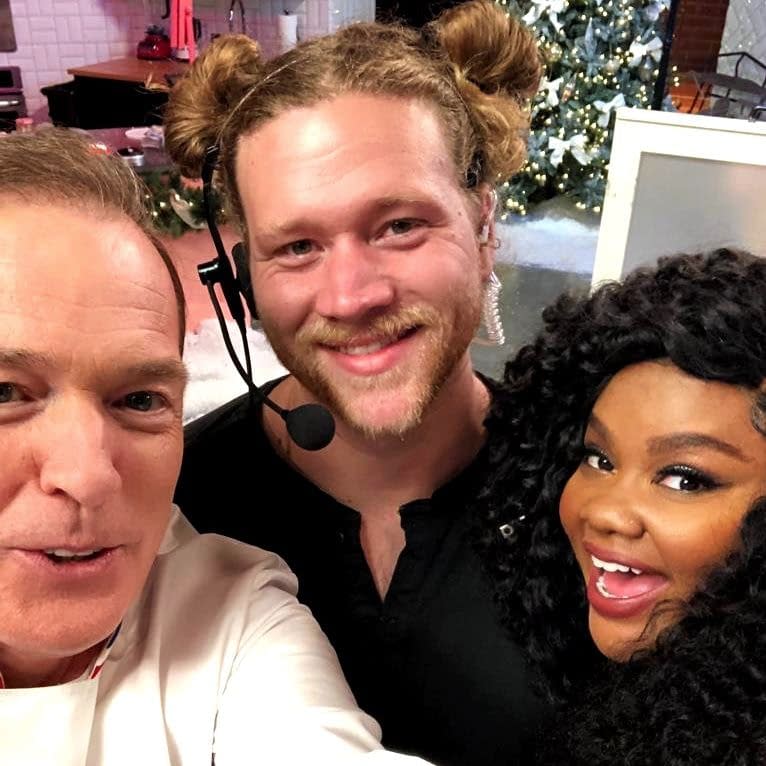 I found myself questioning what freak show I was watching, losing my appetite, and laughing so hard along guest judges like Jason Mantzoukas, Rob Ben-Israel and Jillian Bell. The judges drank, the contestants destroyed their kitchens, and none of the creations resembled their originals.
Ghosts of Christmas Past resembled melted puddles, a scrooge was foaming at the mouth, limbs were missing off bunnies, bears got in to bar fights, multiple homicide scenes, and a slew of what appeared to be human or animal feces; pretty much all you expect to get out of Nailed It.
Nailed It consists of two rounds:
Round #1 – Baker's Choice: Contestants are given 45 minutes to recreate a holiday inspired cookie figurine. The baker deemed the best of the worst wins some cooking supplies and a hideous, sparkling gold chef hat.
Round #2 – Nail It or Fail It: Competitors give it their all to recreate a detailed, sophisticated cake sculpture in two hours. A "Panic Button" is provided to a contestant who is in dire need of help which allows them to seek guidance from one of the judges for a total of "three whole minutes."
The contestant who doesn't poison the judges wins $10,000.
Here are some of funniest moments from Nailed It! Holiday! Season 2: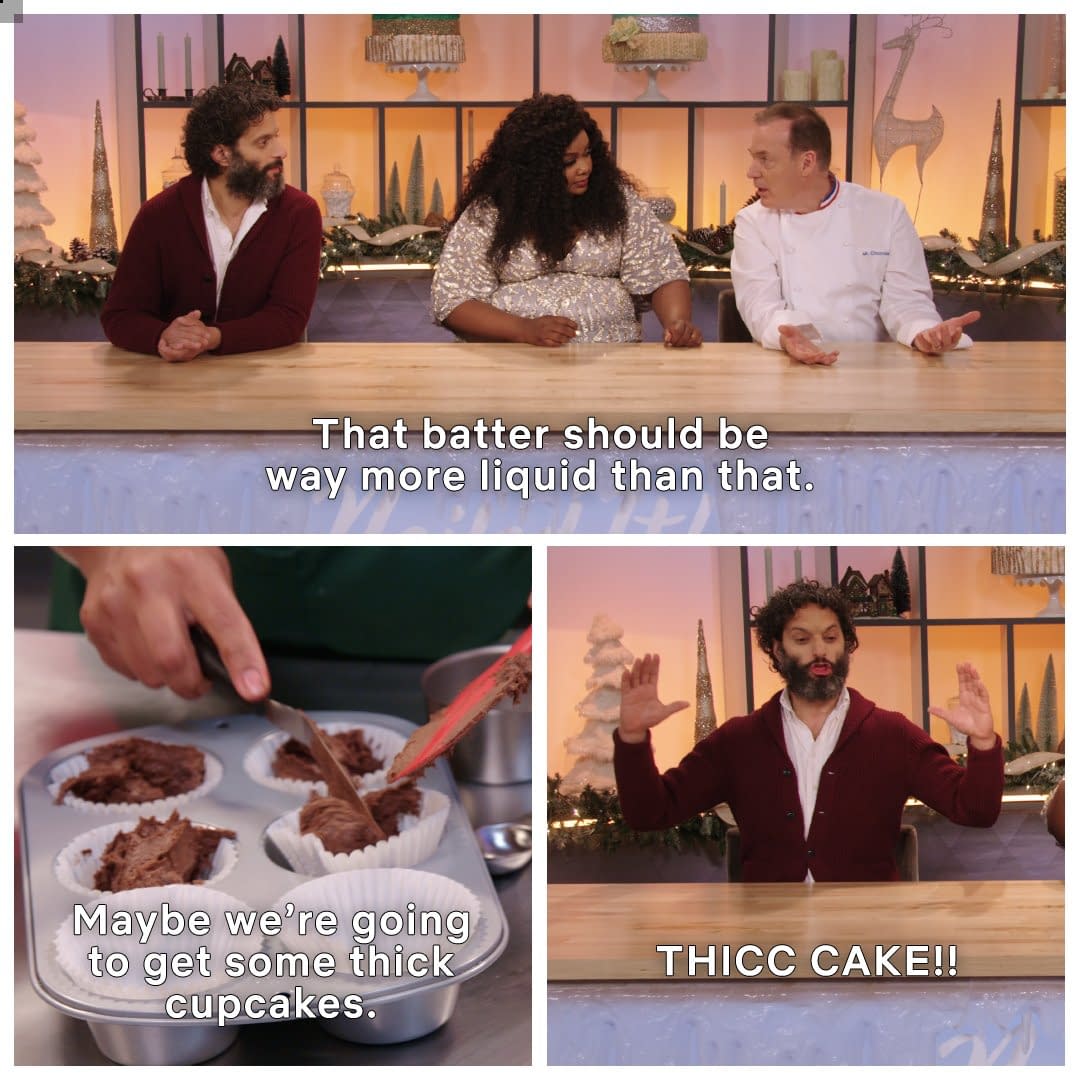 Episode 1 "We're Scrooged" Hellooooo Wes – our favorite production assistant is back and yummier than ever, a much needed eye candy to balance out some of the worst cakes ever created.
Round 1 Nicole challenges the contestants to create cup cakes with ghosts from the past, present, and future; all of them should have stayed dead in the past.
One contestant didn't have the strength to even open the fridge, nor roll out the dough, while another just bathed her cake toppers in tea.
The end products included a melted puddle with a collapsed dead cookie no judge wanted to taste; a Bart Simpson lookalike (won); and something that resembled cottage cheese with the black plague on top.
Round 2 Guest Judge Jason Mantzoukas had the competitors create a "scrooge face cake" – they should have just given up and left the kitchen, mayhem. Judges had fun jumping on tables and partying it up, while the competitors destroyed the kitchen.
End products were all frightening, one Scrooge appeared to be foaming at the mouth Exorcist The win went to a lopsided sculpture with upside down ears – in comparison to the other horrors, he deserved it.
Episode 2 "A Classic Christmas" Bring on the liquor – the judges drank, while contestants gave it their all to create vintage Christmas ornament cakes and a 'Sit on Santa's lap cake'.
Round 1: This episode the producers of Nailed It, must have just decided to torture the contestants. Making Christmas ornaments with chunky batter, runny under cooked cake, and essentially shit hanging off hooks.
The monkey ornament was frozen solid, another appeared to be electrocuted and the bunny was missing its torso and won
Round 2: "Sit on Santa's Lap Cake" with baby Wes on top had guest judge Maya Rudolph drinking out of fear.
One Santa looked like he ended his day getting shitfaced in a bar; the trophy went to a ghastly interpretation of Santa which tasted good
Episode 3 "Shalo-Many Fails!" welcomed guest judge Rob Ben-Israel a personal favorite of mine for a Hanukkah inspired bake off.
Round 1: "Menorah Donuts" with contestant faces on them. Seriously, where did they find these people?
One contestant freaked out and made so many batches of donuts, none of which were any good, another looked so terrible that Ben-Israel wouldn't taste it
A selfie had 3 M&M's for a face and won, while a dripping donut looked like blood was spilled.
Round 2: "Inflatable Hanukkah Bear Cake" got Ben-Israel to break out in song and dance and a contestant doing a mitzvah by splitting his win with his two losing competitors – awwww
One teddy bear went through dismemberment and was now being held on by metal rods, another got into a bar fight, while the third looked like it was created by a 5 year old.
Episode 4 "It's a Wonderful Life": Bridget Everett guest starred and helped herself to characters from the movie Saw (was supposed to be an angel) and mini Nicole's at the North Pole. Blenders fell apart, batter leaked everywhere, and baked goods were raw.
Round 1: "Angel Waffle Cone Tree Toppers" with musical instruments – who can make this, although Torres makes it look very easy.
The digital strategist won for his under cooked angel, because in comparison between a creepy clown and an angel with no head, well, a winner had to be chosen
Round 2: "Nicole at the Pole' surrounded by magical elves. There was absolutely nothing magical about this. One contestant was making scrambled eggs, nothing was being measured, and they were all talking to themselves.
The little Nicole statue which appeared to have been caught in an avalanche won, while Mr. Potato head and the cave with a dead body on top of it lost miserably.
Episode 5 "One Fail, Two Fail, You Fail!" If settled on watching only one episode, this is the one to see. Let's make some Dr. Seuss inspired creations, might as well fuck up a child's favorite story. A contestant brought a detergent pen? Ironically enough by the end of the two challenges she looked like she was in need of a bath, maybe she should have brought more than one.
Round 1: "Green Eggs and Ham Mini Cakes" contestants melted pans in the microwave, had batter flying everywhere, and had me losing my appetite
One cake wasn't even a cake at all merely rice crispies covered in green goo; another was a burrito with a dead man on top, and the winner was acid in taste and resembled The Pink Panther.
Round 2: "How the Grinch Stole Christmas Dinner" What was happening in this round? Things looked like slime and the kitchen was burning.
In the end, one of the cakes was still moving; another was a brick that an army of knives couldn't penetrate, and the win went to a cake that actually looked pretty damn good, but was so sweet that the judge's teeth rotted instantly.
Episode 6 "New Year, New Falls" A stunning Byers tortured contestants in this New Year's Eve inspired episode. Between one contestant hyperventilating and another petrified of a mixer, the bakers produced sub par creations that even a mother wouldn't taste.
Round 1: "Mascaraed cookie masks" masks fell of their pretzel sticks, and did not appear edible at all. One may have been made out of construction paper
The win went to a very pink masks which as long as it wasn't touched appeared to be ok, except for the creepy droopy eyes
Round 2: "Baby New Year Ball Drop Cake" is that even a thing? Guest judge David Burtka inspired the contestants to measure ingredients, and read instructions – a concept that none of them bought in to.
One competitor jacked hers up with sprinkles, just because, another added a building to his sculpture, what?
In the end the judges tasted a little Pigman baby with a strange after taste; a dirty baby on a ball (won), and probably what Times Square looks like AFTER the ball drops.
Love, Love, Love this show. This was by far the worst of the worst collection of competitors ever featured on Nailed It!. To make matters worse, the items to replicate this season were very intricate in their details, and it wasn't a question of anyone will actually be able to get it right, but how massively will they botch this up. After filming this season, I can only assume that Byers and Torres had to have their stomachs pumped.