"Nailed It!" Host Nicole Byer Stepped Into the Kitchen and "Sleighed It!" [REVIEW]
This week on the holiday spinoff Sleighed It!, Netflix's Nailed It! host-comedian Nicole Byer partners up with Sugar Rush Christmas host Hunter March to go against world renowned pastry chef Adriano Zumbo. Finally, we get to see Nicole get in the kitchen, just how much has co-host Jacques Torres taught her?
Apparently, a lot…
"Sleighed It!" Episode 3: For the first time ever, Nicole Byer participates in a baking challenge with Sugar Rush Christmas host Hunter March for this special episode of Sleighed It!. The hosting duo teams up against world-renowned pastry chef and Sugar Rush Christmas host Adriano Zumbo. Will Nicole's first time stepping out from behind the judge's seat be a success or will she be outmatched by the pro?
Torres tasks the competitors to get inspired by the Nutcracker and recreate a mouse king cake with a crown and all his jewels. With 60 minutes on the clock, Nicole and Hunter out number Adriano, which at the start of the challenge doesn't appear to be a good thing. Hunter clearly needs to stay out of the kitchen and allow Nicole to take the reins. Nicole doesn't disappoint quickly starting on the butter cream and having her lovable co-host give her some tips mid-way.
Is that cheating? I don't think so – after all, they are up against a killer chef.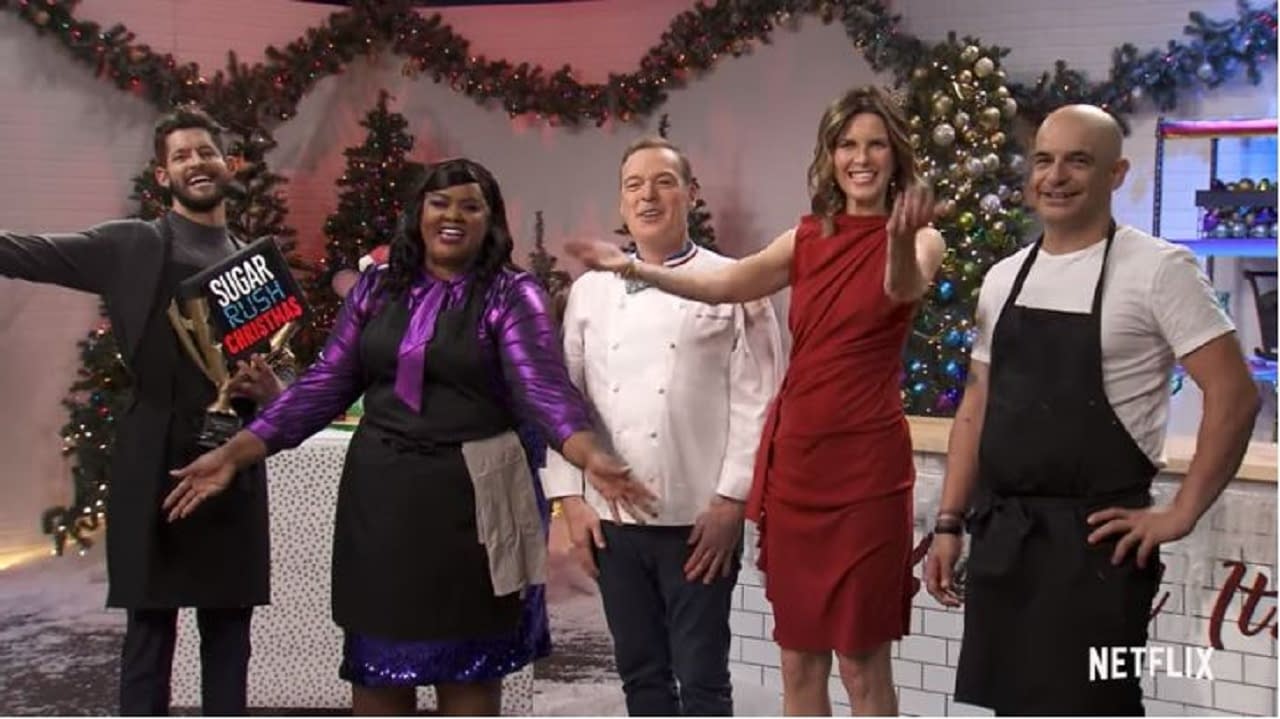 Adriano struggles a little with his allotted time, while Nicole and Hunter (mainly Nicole) are riding their sleigh to victory. Judgement time: Adriano mouse cake misses the mark with being completely finished and resembles an evil rat, his saving grace? It tasted fantastic. Nicole did not let Torres down, making him proud: "Team Nicole" created an amazing cake with stunning bling. Even though the finished product was a little on the sweet side, Nicole and Hunter took home the win.
Great Job, Nicole – I'd like to see you compete on an episode of Nailed It!.
(Make sure to check out our reviews of the first two episodes here and here.)